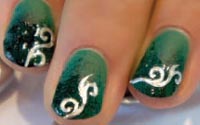 THE HISTORY OF NAIL ART
Sam Biddle, international nail artist, takes a look at how nail colour and nail art has developed throughout history, looking at the social implications of wearing polish and how closely nail art and fashion is linked today.
Nail art is by no means a new trend, it has been around for thousands of years, and every so often pokes its head up in the fashion world and makes an impact, each time becoming bolder and more expressive.
Over the years history has shown us that painted nails creates a statement about the wearers social status ,  how they feel or to express their views.  This is evident if we look at the history of nails and Nail art.
Traced back as early as 3000BC when the Japanese and Italians first started adding colour to their nails. The Chinese also applied a lacquer at this time made of flower petals, beeswax and gelatin.  This was painted onto the nails and left overnight resulting in a stained and shiny nail plate.  It was different for royalty in china; records show in 600BC The Chou dynasty wore gold or silver.
The Egyptians also used colour as a status symbol, Queen Nefertiti coloured her nails in red, the recognized colour of a higher rank and the lower you were down the social order the lighter and paler the nails became.
What is interesting is that the first recorded examples of actual nail art  was in the 13th century by the Inca's who painted images of eagles on their nails.
The 20th century really sees nail colours and art emerging as a fashion trend to stay, in 1917 women used to buff their nails with cake, paste or powder, or a Hyglo Nail polish which claimed to be long lasting and waterproof.
But it was in 1920 when things started to change for women wanting nail colour. With the development of car paint,  nail enamel was born. It was 5 years later when Beatrice Kaye, a manicurist at MGM Studios created the Luna manicure. She used a rosy red polish and left the Luna and free edge bare, the look has evolved over time, with some Luna's painted in contrasting colours. This look can be created in pinks and creams for a more demure feel, or funky in bright bold shades, and incorporating it in a traditional French or American manicure can high light the natural beauty of the nails. The shape and depth of the Luna can vary to create an illusion of a slender nail plate.
This manicure has not just been seen on the catwalk, it has be re-invented over time and has been worn by the stars; Ditta Von Tesse the burlesque dancer revives this nail trend from the '20s, with her tips painted scarlet and white crescent moons – a retro take on the French manicure.
It wasn't long before different methods of creating unusual looks where developed; in 1927 Max Factor introduced the Society Nail Tint. It came in a small porcelain pot containing rose-coloured cream and was applied to the nail and buffed, to give a natural rose colour. Society Nail White also hit the market, coming in a tube of chalky white liquid which women painted under the nail tips. The end result resembles the modern day French Manicure.  It was Revlon who introduced nail enamel as we know it today in 1932, Using pigments instead of dyes, Revlon was able to create rich-looking, opaque nail polish in a wide variety of shades never before available.
As the century wore on nail fashion continued to grow and nail colours began to communicate certain trends and sub cultures.  For example wearing black polish in 1970 was a cultural signifier, made popular by the punks and rock stars.
Now nail art has become more creative, and is linked to the changing trends and fashions. Polished fingers and toes are no longer an afterthought but a carefully considered accessory,  it is becoming this year's hot new trend which can be done at home with a little know how and some of this seasons newest colours or in a salon to get an elaborate hand painted design.  Either way nail art can be for everyone. 
Not just flowers and bows, or even animal prints and retro patterning, nail art can be as simple as using  colour effects to enhance nail shape or a cleaver use of the gloss and matt top coats to give a simple textured effect.
The improvements in varnishes over the years  means it is easier for us to create fantastic nail designs, not only do we now have varnish which dries in a  minuets like Rimmels 60 second vinyl shine,  or Marion Newman's revolutionary INKS,  which take just 20 seconds to touch dry!  There are also polishes which create some great effects like China Glazes crackle effects.  
The quality available of the polish now is superb because the demand has made it so.  The bristles on the brushes are perfect for the job and help you to apply the polish well, the bottles sit nicely in the hands and range of colours are up to the minute.  We want to look good, and completing an overall look with some perfectly painted pinkies couldn't be easier.
About Sam Biddle
Sam is an international nail artist. You can see her work at www.sambiddle.co.uk or contact her via info@sambiddle.co.uk