Berlin has been described as the Vegan Capital of Europe; which it certainly lives up to with plenty of places offering vegetarian and vegan food. Here are three of my favourites:
Vöner
A vegan donner kebab. Yes, really. It tastes fantastic, is healthier, less greasy and lacks the food poisoning risk of its meat counterpart. What more could you want?
The Vöner is freshly prepared every day from a mix of wheat protein, vegetables, pulses, soybean meal and herbs and spices. It is grilled on a spit and served in flatbread, Dürüm wrap or on a plate of chips, fresh salad and homemade sauces.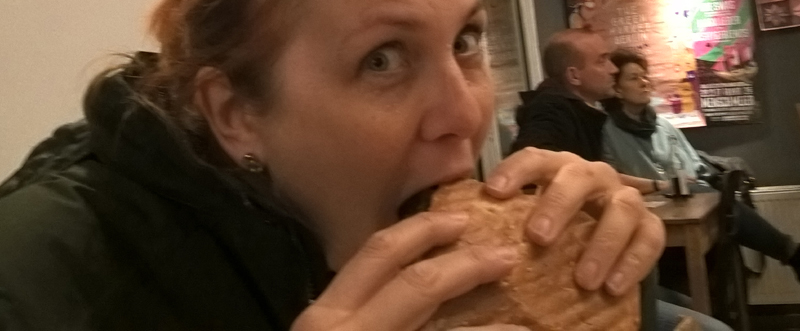 I had mine in a pitta with a peanut sauce – delicious. My friend had hers with a garlic mayonnaise – also yummy.
The place is packed in the evenings so you may need to wait a few minutes. There are tables inside and on the pavement, or of course you can ask for a take-away.
Almodovar
This hotel and bistro is just a five-minute walk from Vöner.  It is a truly 'green' hotel with sustainability at its heart. Attached to it is Bistro Bardot which serves only vegetarian and vegan food.
Open every day from 7am, it offers a wonderful breakfast buffet with delicious vegan meats and cheeses (as well as all the usual non-meat fare you'd expect). Breakfast is a good time to visit as you'll want to try all the different items in the buffet – so arriving with an empty stomach is ideal.

If breakfast isn't for you, or you've enjoyed the food so much you don't want to wait until tomorrow, then don't worry – they are also open for lunch and dinner.
All the food is prepared fresh and, as the owners are vegan themselves, you can be sure you won't be palmed off with a stodgy risotto or a boring plate of pasta.
See: http://www.bistrobardot.de/
Satyam
Indian food is often a good choice for vegetarians and vegans – but Satyam takes it a little further by avoiding meat and eggs altogether and adding Ayurvedic dishes. There is so much choice you'll need to allow extra time to ponder the menu – something I am not used to as a vegetarian!
The food is delicious, varied and bursting with flavour – even my meat eating friend loved it.
Satyam is open for lunch and dinner and is about a 10minute walk from the Kaiser Wilhelm Memorial Church in the tourist centre of the city.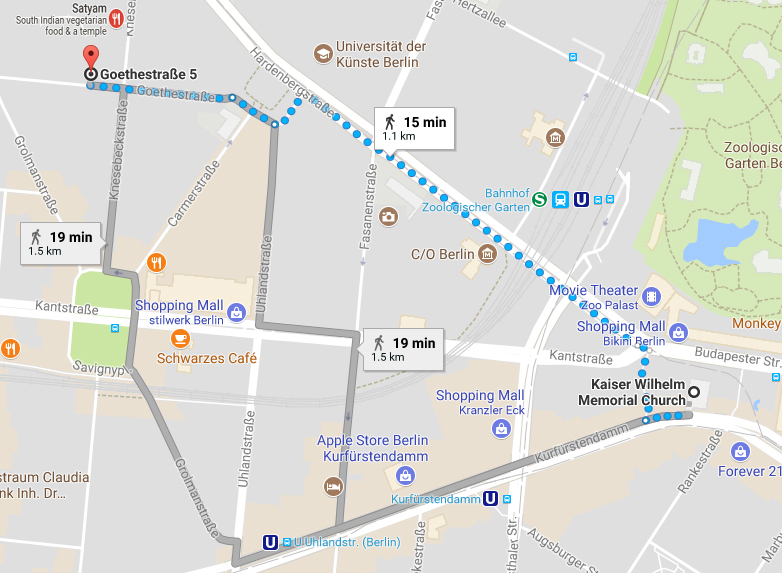 For more information about visiting Berlin see: https://www.visitberlin.de/en
ABOUT THE AUTHOR
Chantal Cooke is an award-winning journalist and broadcaster with a passion for the planet. In 2002 she co-founded the award-winning radio station PASSION for the PLANET and in 2009 Chantal was awarded London Leader in Sustainability status. Chantal also runs a successful communications agency – Panpathic Communications.