NORWEGIAN TOWN FINALLY SEES THE SUN – WITH MIRRORS
NORWEGIAN TOWN FINALLY SEES THE SUN – WITH MIRRORS
Every winter the Norwegian town of Rjukan suffers six months of darkness. Now, 100 years after the idea was first suggested, the dark town has bathed itself in winter sunlight – thanks to a giant bank of mirrors.
The innovative installation opens on 31 October 2013 – exactly 100 years after the idea first was suggested in the local newspaper.
Due to the high mountains surrounding the valley, among them the famous Mount Gausta 1883 meters above sea level, the Norwegian town Rjukan, deep in the narrow vestfjord valley in Telemark, does not see the sunlight during six months of the year (September to March).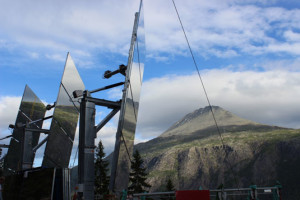 But this winter the darkness has come to an end with the installation of three giant mirrors (totalling 50 square meters) which reflect the sun and bring the sunshine back down to the town square, covering around  600 square meters.
The idea of a sun mirror was launched in 1913 by Sam Eyde. He saw the importance of giving his workers the opportunity to experience the sunlight during the winter months. The sun mirror did not become a reality for a hundred years.  But, in the meantime, Sam Eyde's successors managed to build a gondola up the mountain so that Rjukan´s inhabitants could see the winter sunshine.
Today´s technology has made the original idea possible; to bring the sun to the people of Rjukan.
A computer-driven heliostat, placed at the top of steep mountain wall 400meters over the town captures the sun´s rays and directs them into the centre of Rjukan. The three heliostats consist of computer-driven mirrors that follow the sun's movement over the horizon and reflect its rays into Rjukan´s market square.  The total cost for building the 'Solspeil' was 5million NOK, equivalent to about £500,000.
For more information see: www.visitnorway.co.uk