MAPLE SYRUP AT SUCRERIE DE LA MONTAGNE
MAPLE SYRUP AT SUCRERIE DE LA MONTAGNE   
By CHANTAL COOKE   
Think Canada. Think maple syrup.
But rather than just buying tin of this delicious golden liquid to take home, how about visiting a Sugar Shack and finding out how it is made? Plus, you'll get to taste maple syrup in just about every form and food you can imagine.
Sucrerie de la Montagne is less than an hour's picturesque drive from Montreal. It welcomes visitors all year round and Pierre Faucher (the bushy faced founder) or his son, the less bushy-faced Stefan, will be happy to show you around and explain their passion for all things maple.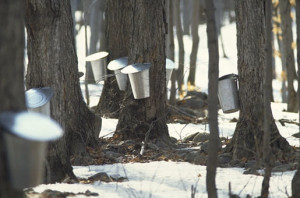 Maple water is collected from the trees between March and April. Small holes are drilled into the trees (which must be at least 40 years old) and spigots are inserted with a bucket attached. The maple water drains out into the bucket with the quantity determined by the temperature that day. The liquid is then boiled for a few hours in order to evaporate off the water and leave behind the thick sugary syrup. It can take as much as 30 litres of maple water to make one litre of maple syrup.
But syrup is not all that is made from the maple water. By heating it a little longer you get maple taffy, a bit longer gives you maple butter and longer still will deliver maple sugar. In winter the taffy is drizzled onto snow to create maple lollies – the ice and sugar melting delectably in the mouth.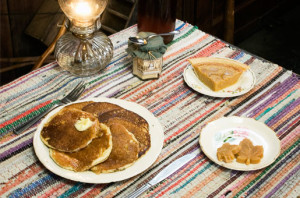 In the restaurant you can try a variety of food that has been cooked using varying amounts of maple syrup. The fluffy omelette soufflé, the smoky baked beans, even the tomato chutney have all been given the maple treatment! That's not to say the meal is all sugar (or at least not until you get to the dessert) but it certainly has a subtle hint of maple in every delicious mouthful. And, as Stefan says, "in case of emergency" there is a huge bottle of maple syrup on every table.
However when it comes to dessert – hint is not the word. Sugar pie, maple sugar ice cream, and of course, pancakes and maple syrup – all utterly delightful and all laden with maple syrup.
You can finish off with a slug of maple whiskey, or if you prefer port then try the red wine, port, maple syrup and ice cider mix that is unique to Sucrerie de la Montagne. Or sample the maple wine, or the maple beer or…
Still want more? Then take a stroll to the store and buy maple syrup, maple butter, maple sugar, dark chocolate and maple, white chocolate and maple… the list goes on! And it's all made from the locally harvested maple water.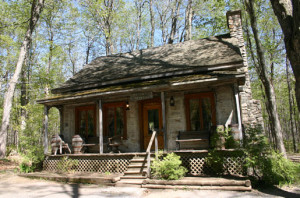 Although you can visit at any time of year – 'Sugar Time' is March and April. Thousands of people visit every day to join the celebrations of the maple harvest. There is a thick blanket of snow on the ground and the aroma of maple vapour and fresh baked bread in the air. It's more Christmassy than December 25th!
There is live music, folk dancing and you can learn to play the spoons; "It's easy to make a noise – but not so easy to make music." admits Stefan.
Inspired by the life of the early pioneers in this area? Then spend the night in one of the authentic wooden cabins. These are the genuine article – carefully dismantled from their original positions in the nearby village and rebuilt on the Sucrerie site. They are a real piece of history – that you can stay in.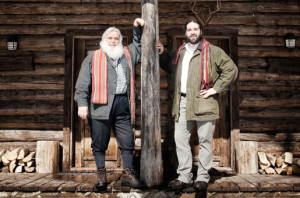 The entire experience is a step back in time; the traditional method of collecting and making the syrup, the wooden buildings with their wide 'chimneys' (typical of a the early sugar shacks), and the Quebecois food – served family style.
If you feel that your pancreas is about to go on strike but you'd still like a little more maple to take home with you – treat yourself to a bottle of maple perfume. It smells so good people will want to lick you… and according to Stefan, that's pretty much what his father intended when he dreamed up the idea!
FACT BOX
Sucrerie de la Montagne is just 45 minutes from Montreal
Air Canada flies direct from London to Montreal.
QuebecOriginal.com for useful tourist information about Quebec.
Hotels in Montreal: ALT Hotel Montréal Griffintown and Sheraton Montreal Airport Hotel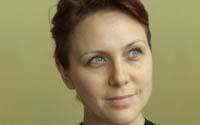 About the Author:
Chantal Cooke is an award winning journalist and broadcaster with a passion for the planet. In 2002 she co-founded the award winning radio station PASSION for the PLANET and in 2009 Chantal was awarded London Leader in Sustainability status. Chantal also runs a successful communications agency – Panpathic Communications.