ARE YOU LOOKING IN THE WRONG PLACES WHEN IT COMES TO PROBLEM SOLVING?
 By WILLIAM BUIST, FOUNDER OF XTEN CLUB   
If a business has a problem that needs solving, whatever it is, there tends to be a pattern as to where the business owner will look for a solution. Some will almost always look inward i.e. at the internal processes and systems, and other will almost always put their focus externally i.e. at the market and business environment.  While both have merits neither is sufficient on its own.
In order to solve any problem, and ultimately to increase profits and growth, you first need clarity about what the business is there to do and what your customers want from you. In other words you need internal and external clarity.
Successful businesses can see a problem from both the customer's perspective and the perspective of the business owner. Furthermore, in addition to solving business problems, successful businesses also make the customer feel good as part of their problem solving solution. Is your business doing this? If not, you are not only alienating current customers, but hurting your businesses brand.
If you have clarity about your business it means that as situations change or problems appear it's easier to identify the context of decisions that need to be taken and it's easier to think through the consequences of the alternatives. Clarity means better decisions taken faster. Better, faster decisions means getting ahead of your competition, and leading your market.
Clarity allows you to be purposeful, to do business on purpose, all the time. Purposeful, is defined as having 'determination or resolve'. This is why Simon Sinek extols us to 'start with why' – his TED talk tells us how great leaders inspire action by doing so – and he's right.
Clarity starts at the heart of every business model; at the core is the purpose of the business. That core purpose, when it's truly understood, gives businesses clarity about why they do what they do. When they have that clarity, they are purposeful at heart. Back to that definition, we are often told that a key capability of successful entrepreneurs is their determination and resolve. Where does that come from? It comes from working on purpose, which in turn comes from clarity.
Here's the important thing; we probably seek to get customers to remember us for all sorts of things but in reality, in any business, customers only remember you for one of two things: the problems you solve – or the problems you create.
So how can you improve your problem solving? Here are nine tips to help you get clarity and put your focus in the right place:
Clarify your marketplace. In order to solve your customers' most meaningful, relevant problems, you need to know what problems they are facing – and see these problems from their perspective. That starts with an in-depth understanding of the marketplace. What motivates your target customer? Are they concerned about high-quality products, spotless customer service, or finding the most budget-friendly solution? A solid foundation in market research makes good sense before moving forward, or you may back the wrong horse.
Clarify where your customers want to go. Effective problem solving is two-fold: it starts with an understanding of where your customers currently are, followed by where they want to go. This gap is, in essence, your customer's problem.
Once you know these two end points, you can tailor a solution that bridges the gap and solves their problem. Using this information, tailor your product or service pitch, so it's clearly the right thing for a customer to do.
Clarify with questions. Asking questions is especially important in the service industry. Let's say your customer is dissatisfied with their current CRM (customer relationship management) provider. If you simply pitch your customer on your service – using what you think are the best selling points – you may completely miss the problem that's affecting your customers.
Instead, start by asking questions to find out what part of the service is causing the customer dissatisfaction. Are they frustrated with ad-hoc account management versus automation? Do they need additional capabilities? Is the software simply too confusing or difficult to learn?
Asking the right questions is the  key to understanding the problem so you can better sell your customer on the right solution.
Clarify customer problems and proactively prevent them. What are the five most common customer complaints that products or services like yours currently receive across the market place? What are your customers saying about your competitors and about you? Keep in mind that these may not be complaints that are made directly – they could be criticisms posted on review sites like Yelp.
 Clarity around these concerns – e.g. high cost of service, diminishing returns, faulty or buggy products – allows your business to proactively prevent problems from occurring in the first place.
Don't make the problem bigger. Sometimes what you think is a customer's problem is actually quite different from the reality. This is why it is so critical to understanding the actual problem that your customer is facing – or you risk making the problem bigger.
For example, let's say a couple in their late 50's comes to your financial services firm for retirement advice. It's easy to assume that the problem they are facing is "How can I maximize my pension?" In reality, they may be more concerned about the type of legacy that they would leave for their children or other charities. By asking questions and taking the time to get to know your customers, you can help prevent "assumptions" from dictating your problem solving response.
Is Your Product Clear? What Do You Really Sell? Many entrepreneurs misunderstand the most fundamental question of what they do – what are you in business for? (Hint: it's not "making money"). If all you want is to make money, then you don't need to worry about creating a product. You can study the stock market or invest in precious metals, you can day trade on Forex or with cryptocurrencies. There are plenty of ways to cut out the middle man if all you want is to make money. Entrepreneurs create a product.
Are you clear about how to deliver the right experience? When we work with clients we are often amazed at how much of the design of the business is wrapped around activities that don't add value, aren't needed and which customers don't want. Focussing on the key activities, the ones that matter, and becoming exceptional at them is what drives a great experience.
What are you measuring? Are you measuring the things that matter to your staff, suppliers, customers, distributors, or measuring the things that matter to you? The bad news (or good news) is that what you want to do well doesn't matter, unless it's also what customers want you to do well. Find ways to measure it through their eyes rather than yours and you'll get better faster. That's how entrepreneurs in competitive markets get ahead.
Everything has a shelf life. We all intuitively know that and we check the shelf life of things like milk when we buy it. We want to have good value by knowing it's fresh. Do you know when you will replace your product, when you will next revisit the processes that deliver it, when you will need to make it fresh again? Why not (internally if you wish) have a refresh date in your business plan for that product.
Businesses with clarity make profits when others struggle, they grow whilst others stagnate and they outperform the market consistently.
Clarity gives us certainty and with it it brings success not confusion, and enjoyment not frustration. Successful entrepreneurs know that, and that's why they stop from time to time to take a hard look at their model, the products, activities, and markets.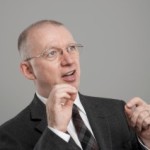 About the Author
William Buist is owner of Abelard Collaborative Consultancy, and founder of the exclusive xTEN Club – an annual programme of strategic activities for small, exclusive groups of business owners. xTEN helps accelerate growth, harness opportunity, build your business and develop ideas. William is also author of two books: 'At your fingertips' and 'The little book of mentoring'.
See: http://Abelard-uk.com and http://Williambuist.com 
Twitter: @Williambuist and @abelarduk
Facebook Page: https://www.facebook.com/AbelardUK
LinkedIN: https://www.linkedin.com/in/wbuist
Google Plus: https://plus.google.com/+WilliamBuist/posts