USING VIDEOS ON YOUR WEBSITE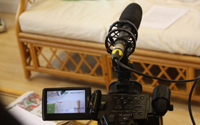 HOW TO USE VIDEO ON YOUR WEBSITE TO INCREASE SALES.
By DONALD BOUSTED.
Online video can deliver some of the highest "Return On Investment" (ROI) of any advertising medium today. In addition, if it's set up properly, video is actually ranked higher than text by the major search engines like Google. Short of spending valuable face-to-face time with a potential client there is simply no better way to forge a personal connection with them.
So, with more and more businesses choosing to use online video to promote their products and services, it's important to know the best ways of using your video and adding it to your site. You also need to make sure it's available on the top rated video sites.
Once you have a video for your business you have a choice of hosting your video on your own site or on an external site. You need to check with your web designer or hosting company about the video capability of your site. The greater the bandwidth you have available, the more views can be made simultaneously. The advantage of having the video hosted externally, with a specialist provider, is that you get more bandwidth, so this is definitely worth considering.
Having the video hosted externally doesn't necessarily mean you have to pay.
Here is a list of some free providers (some are completely free, some are free up to a certain bandwidth):
YouTube 
Definitely load your video onto YouTube. You can form your own channel to which you can add contacts – these are people you would like to notify about your new video. You can also add keywords so the videos will come up on search engines. If you have Facebook, Twitter and Google accounts you can now connect these new accounts to your newly uploaded video automatically.
Vimeo
Although YouTube now offers HD content as an option, Vimeo is a class above both in terms of the quality of the output and the style of presentation. Vimeo introduces itself as 'a respectful community of creative people who are passionate about sharing the videos they make'. You do need to be careful about the content and how you present it because Vimeo is not a business service – make sure you read their uploading guidelines first. Some large enterprises, such as the V&A, use Vimeo to promote their special exhibitions.
Blip.TV 
Rather like Vimeo, Blip.tv is more of a community but one based on the communication of ideas rather than to share films. It's a kind of video blog site. However, it does have the facility for you to upload videos, customise a player to show them on, and paste the piece of resulting code into your website like YouTube and Vimeo do, but with a little more customisation available. Again, this is not a business service but businesses do use it.
Vzaar.com 
Vzaar has more of a corporate bias although the quality is very compressed. The advantage is that Vzaar videos will play on almost any system, but the disadvantage is they don't look that good.
Easy Web Video 
This site offers an easy solution to encoding for websites including WordPress blogs (www.easywordpressvideo.com)
KickApps
A similar service to the above. The home page includes an easy to follow set up guide for creating a custom video player.
Alternatively, of course, you can pay for an externally hosted service. One such provider is Streaming Video Provider. They have a wide range of products available which are easy to set up, and can be paid for on a flexible basis.
Whichever service you choose, after you upload your video, and assuming you wish to host it on your own web site rather than simply link to it – as an external link – a line of code will be generated which you will need to forward to your web designer to paste in at appropriate point on your web site.
About the Author
Donald Bousted is founder of Best Bits Media, a dynamic young company redefining corporate film through imaginative and competitively priced video products. See: http://www.bestbitsmedia.co.uk/