STARS, STATEROOMS AND STOWAWAYS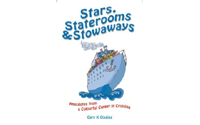 STARS, STATEROOMS AND STOWAWAYS.
By GARY K GLADING.
Today, we are living in a world where news stories spread like wildfire across the globe in mere seconds thanks to advanced technology and 24-hours-a-day news services. We see images of natural disasters, wars and plagues on an all-too-frequent basis.
What we need more of is the kind of story that uplifts our spirits, that shows how people can really make a difference in our seemingly ever-shrinking planet. Each of us can play a role in improving life on Earth, whether it be by doing charity work for an aid organisation, recycling our rubbish or signing a petition to limit damage to the environment.
Animal welfare has been my passion for as long as I can remember, so it was just a matter of time until I gave into those natural instincts to want to protect in a concrete way the abandoned and abused animals I found in the part of northern Italy where I currently live.
In order to fund the Hanalei Animal Sanctuary I collected anecdotes from my 25 years in the cruising industry and they were recently published as 'Stars, Staterooms and Stowaways' by Discovery Books in the U.K. International musical and recording star Marti Webb wrote in the book's foreward that she found them to be "sometimes touching, often very funny and always highly entertaining".
I have turned all my royalties over to this animal refuge, so in purchasing a copy of this book you are not only getting a enjoyable behind-the-scenes look at the world of cruising, you are helping to support animals that have at last found the love and care they were so cruelly lacking before arriving at Hanalei. Your help in this worthy cause is greatly appreciated by me and those wonderful creatures who don't have a voice to express their gratitude.
Here is an extract from the book:
Stars, Staterooms
and Stowaways
(Anecdotes from a Colourful Career in Cruising)
By Gary K Glading
When I embarked as an entertainer on my first cruise ship in 1985, I never imagined that more than 20 years later I would still be heavily involved in the cruise industry. Given the tremendous growth in worldwide tourism in the past two decades, cruising has seen unprecedented development at an often-alarming rate. Not only have the ships changed dramatically in that relatively short period of time, but the passengers are no longer just the aged millionaires who populated the great liners of the past.
Cruise ships now resemble floating hotels with very little to remind people that they are at sea. Glass lifts and eight-deck atria have replaced the warm wooden panelling and highly polished brass of bygone days. With profit-obsessed CEOs running the business these days, prices and consequently standards, have been lowered across the board. The democratic wave that hit the airline industry in the early 1980s has now engulfed cruising. Many welcome this change, happily turning up at the Captain's Gala Cocktail Party in blue jeans and a tee shirt, while others lament the passing of a more glamorous age, when sequins and black ties were worn at even the most casual affairs.
Since the first transatlantic liners began their regular crossings, celebrities have been associated with cruising. Stars and shipping companies have both benefited from this arrangement. As Cruise Director, I have had the pleasure of interviewing many of the greats from Hollywood's Golden Era, have danced cheek to cheek with others and even helped one or two back to their staterooms after they've had a bit too much to drink. In the pages that follow, I'll blow away some of the stardust that surrounds some of those famous names and faces.
Security is another area where the world of cruising has changed beyond all recognition. In the halcyon days before '9/11,' it was not uncommon for passengers to have friends and family visit them on the ship at our various ports of call. Now all of that is just a fond memory of gentler times. I also remember when wealthy dowagers were never seen on board without their little lap dogs clutched possessively to their ample bosoms.
In those innocent days of low-level security and less emphasis on germs and contamination, my own animal involvement was of a more humanitarian nature. There was a constant stream of meat and fish leftovers going from the ship's galleys to my cabin, to be carefully de-boned and put into bags for distribution to the starving cats and dogs awaiting our arrival at the next port. God only knows how long they had waited because their emaciated bodies always looked as if they had never had a full belly in their lives.
By the end of the communist rule in the USSR, blankets, clothes and food were also collected on board and discreetly handed out. Such overt misery always causes a pang in the heart and a lump in the throat. Medicines and basic products like soap or cooking oil were also smuggled ashore. The only in-bound traffic was the occasional cat in such dire need of attention that it could not be abandoned. Some were missing an eye, others had only three paws. All would be clandestinely spirited ashore at the next 'civilised' port and taken directly to a veterinary clinic. After getting all the necessary injections, medication and health certificates, the four-legged stowaway would be hidden in a jacket or bag and set free in my cabin, where my overly-tipped steward remained loyally silent about my furry guest. Those of you who know the copious rewards of saving a stray animal's life, will be heartened by some of the tales in this book featuring these 'adopted orphans.'
Another cruise 'innovation' is that the high-powered marketing experts have collectively decided that passengers should no longer be called passengers – they are now to be called 'guests'. I always thought that guests were people who were invited somewhere for free; at least that is still the case in my home. This attempt at manipulating the patrons' collective mindset hit a record high (or should I say 'record low'?) when I overheard the president of an American cruise line saying to the passengers walking on board one of his ships, 'Welcome home!' I don't know what it's like at your house, but where I live, I don't receive a bill every week for my food and lodging, nor do several thousand other people live there with me!
These days there are cruise options for just about every budget and taste. From one-day cruises to 'nowhere' (so the ship can legitimately become a floating gambling palace), to around the world cruises lasting over 100 days and all the mainstream one-week or fortnight possibilities in between. Whether going for a cheap and cheerful holiday at sea or opting for the luxury of a penthouse suite on a 5-star plus vessel, passengers share one thing in common: they are all people.
While that may sound simplistic, the majority of cruise goers resemble each other when it comes down to such basics as food, drink and creature comforts. We all laugh at certain things, we all cry at others and we can all be unreasonable when it comes to eating, drinking or pampering ourselves. This is why this compilation of cruising anecdotes collected over the past 20-plus years will strike a chord in the hearts of all travellers, be they cruisers or landlubbers. On the high seas of the world, in the arid deserts of this planet or in the bustling cities of our nations, people interact with people and we are a most fascinating species to study. With that thought in mind, I wish you a most enjoyable look at your fellow man as you discover the world of cruising from an "insider's" point of view.
About the Author
Gary K Glading is author of "Stars, Staterooms and Stowaways" published by Discover Books