LOOKING AFTER YOUR LUGGAGE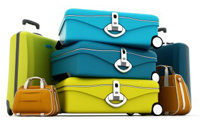 HOW TO LOOK AFTER YOUR LUGGAGE.   
By JENNY BOWEN.   
Loosing your luggage whilst on holiday can be considered a nightmare. Unfortunately there are not many things you can do to prevent this, unless you have a state of the art tracking system.
However, other stressful occurrences can happen to your luggage whilst in transit, which are more in your control. These include having your luggage rifled through by opportunistic baggage handlers, someone accidentally taking your luggage instead of theirs and the damage of your bag and items inside. Here are some top tips to reduce these things:
1. Secure your bag, preferably with a padlock, as this does prevent sticky fingered people pilfering some of your possessions whilst in transit. Strapping around your bags also helps and the best thing to prevent your bag being searched through is wrapping it in cling film. Not very environmentally friendly I have to admit. Cling film wrappers are often found at African airports. I wonder why that is?
2. Most luggage seems to be black and I have known people to inadvertently take the wrong piece of luggage home, much to everyones annoyance. To reduce the risk of a mix-up, I have some colourful Peruvian fluffy balls attached to the handles of my holdall, no self-respecting person will admit that this is their bag! So why not tie a colourful ribbon onto your bag? Peruvian fluffy balls not being obligatory!
3. Make sure that you wrap up anything that is fragile, or even better, put it in your hand luggage.
4. Put lotions and potions in re-sealable plastic bags to prevent spillage all over the contents of your bag.
My most important piece of advice to those of you that are travelling is to be smart when packing your hand luggage. Make sure you have valuables, such as phone, camera and camcorder, in your hand luggage.
In my hand luggage I pack a complete set of clothes (including underwear), sunglasses, bikini, sandals (for warmer climates!) and any medication that I am taking such as malaria tablets. It is also worth wearing walking boots, especially if you are going on a walking safari.
Be prepared, the likelihood is that none of this will happen. I hope you enjoy your travels, and pack wisely!
About the Author
Jenny Bowen is founder of specialist tour operator Sense Africa