THE SPA ON THE PRAIRIE   
By CHANTAL COOKE   
Surrounded by miles of rolling prairie grassland Midland in South Dakota is a surprise. As you drive westwards over the Missouri River the landscape changes and the towns become tinier. Many of them are simply one farm or a couple of buildings – blink and you've missed them.  And if you miss them then you can expect to wait a long time until the next one.
But Midland is different. For a start it's bigger, with a population of 250, although that's not really saying much.  What makes Midland stand out is its hot mineral baths.
This small town, 60 miles west of Pierre on Highway 14, was established in 1890. The first hot water wells were dug by the railroad in about 1906, when the Chicago North Western trundled through the area. The hot spring was the only source of water available for use in the steam engines.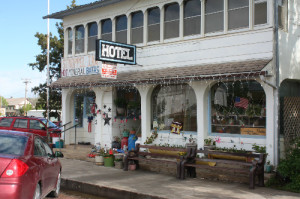 It wasn't until 1939 that the mineral baths were established in Midland – by John and Violet Stroppel. They established the Stroppel Innhttp://www.stroppelinn.com/  and drilled a well 1784 feet deep. The well produces 33 gallons per minute of piping hot mineral water. This is used for the mineral baths and to heat the house during the winter.
The Stroppel Inn is difficult to miss – with so many ornaments and fairy lights outside, it's also difficult to find the front door – but it's worth making the effort.
However before I can even dump my bags Grandpa is keen to show me the fabled waters, which he describes as like a spa treatment with people coming from miles around to use the baths to soothe their arthritis and other aches and pains." If it hadn't been for the water we'd have gone out of business long ago" he explains. He also tells me that he developed a heating system to allow the water to heat the house "back then no one had any idea about this sort of thing, so I went ahead and did it myself".
I climb the stairs to my room – the house is full of small town charm, with "welcome" stencilled on the walls and suggestions to "laugh heartily, love deeply and live happily" painted above the stairs.
The room is simple and clean and probably wouldn't get any stars back home – but here in Midland it's just perfect.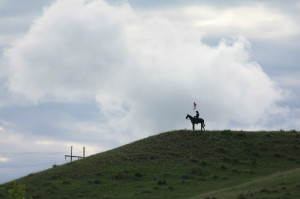 Across the road is the only bar in town; Just Tammy's.  As long as you eat meat, there's plenty to choose from on the menu – although steaks are only available June to August. One bored waitress looks up as I enter, but decides to finish texting before serving any drinks, and the locals try not to stare.
Perhaps a person with a thinner skin might be offended, but for me, this was exactly why I'd decided to travel the west.
If you're looking for luxury and five star treatment – move on, California is only a week away. But if you want a slice of the authentic west, off the tourist trail and away from the manufactured "1800s town" and" the stuffed animal experience" then Midland is a must stop on the car journey west.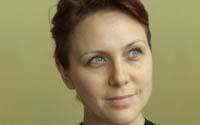 About the Author:
Chantal Cooke is an award winning journalist and broadcaster with a passion for the planet. In 2002 she co-founded the award winning radio station PASSION for the PLANET and in 2009 Chantal was awarded London Leader in Sustainability status. Chantal also runs a successful communications agency – Panpathic Communications.