GAIA'S FEASTS; VEGETARIAN COOKBOOK BY JULIA PONSONBY
GAIA'S FEASTS; VEGETARIAN COOKBOOK BY JULIA PONSONBY
"With its emphasis on enjoying, sharing and appreciating food in the most profound sense, this book will not only make you want to cook, it will make you want to cook for other people." – from the foreword by Hugh Fearnley-Whittingstall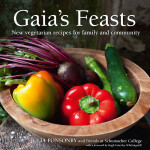 Filled with delicious recipes and mouth-watering pictures, this book is ideal for anyone who loves exciting, tasty and original vegetarian food. Alongside the quantities needed for cooking for a group of 4-6 family members or friends, Gaia's Feasts offers the unique option of scaling up the recipes in order to cook for groups as big as 50, making it ideal for large family gatherings or community events.
Julia's first book, Gaia's Kitchen, was awarded the Gourmand World Cookbook Awards 'Best Vegetarian Cookbook' in 2001, and demands for a second book have been overwhelming. Gaia's Feasts builds on Gaia's Kitchen with stunning full-colour imagery and a range of recipes that are perfect for every occasion, no matter the size of the gathering. This unique book charts a way forward by cooking up a menu for delicious gastronomy that has sustainability at its heart. The recipes cover a full range of food, including: soup, mains, salads, dips, desserts, cakes, biscuits and breads.
There are several key themes that run through the recipes in Gaia's Feasts:
1. Food and the environment
2. Slow Food and Local Food movement
3. A celebration of food
1. Food and the environment
When the first freezer ships allowed us to import foreign fruit and vegetables, our desire for these exotic flavours overwhelmed our tradition of preparing and consuming an abundant harvest of local food, even though it better met our needs in the longer term. We have lost many seasonally – and locally – adapted varieties of fruit and vegetables because of this, and we have forgotten the art of preserving.
As awareness of climate change moves into a more action-based phase, more and more people are returning to produce from their own gardens and rediscovering the joys of an ever-changing menu that makes the most of fresh local food in-season.
In Gaia's Feasts this awareness of seasonality is carefully balanced against conscientious buying practices, creating a sustainable, diverse menu.
While imported foods have developed our taste for the varied flavours of international cuisine – Mediterranean, Indian and Asian foods have become mainstays of the British diet – locally grown and sustainable foods can provide this variety and the exotic flavours can remain at the heart of cooking, along with old favourites.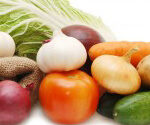 A good recipe can accommodate the fluctuations of seasonal foods, allowing for creativity in finding alternatives – or in making the most of preserving methods to keep an ingredient available throughout the year.
There will always be some ingredients that you can't source locally and you can't do without. For these, it is simply a case of making sure that they are ethically sourced, and that their impact on the environment is kept to a minimum.
2. Slow Food and Local Food movements
In recent years two food-based initiatives have spread across the world, linking food production with environmental and personal wellbeing: the Slow Food movement and the Local Food movement.  Slow Food is an international grassroots movement that is centred around the link between the pleasure of food and the importance of community and the environment. At its heart is a love not only of good-quality, sustainably sourced ingredients, but also of the processes that bring out the best of the flavours, and of cooking and enjoying food together.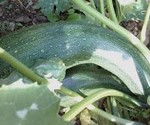 The Local Food movement embraces food that is grown and produced locally, helping to build economies and create a closer sense of community. It looks at all aspects of local food – from people growing their own fruit and vegetables, to farmers that sell their product to customers close by.
This emphasis on community not only brings people together, it also helps to build a network of good quality food that is sustainably produced with very low 'food miles'.
Together, these two movements show a global change in attitudes towards food. People are returning once more to the techniques of previous generations as they reclaim their kitchens, and reclaiming mealtimes as a social activity.
3. A celebration of food
Food and celebration go hand in hand, and celebration should be a part of all mealtimes. This doesn't mean that every meal is a sumptuous feast running into many courses, but that it is well prepared and abundantly enjoyed both in cooking and in eating together. Cooking needn't be a solitary activity and time spent eating can also be time spent engaging with people, developing a healthier attitude towards food as a part of a healthier lifestyle.
As Julia Ponsonby says: "good food deserves a good setting – not a sofa in front of the TV. It needs to be thoroughly enjoyed at the table, in the company of friends, becoming a central part of the conversation at one moment and dropping into the background at the next….not slopped onto cushions, over-dosed with salt (or sugar) or taken for granted."  With good-quality food, mealtimes can be reclaimed as a celebration of both the food and the company.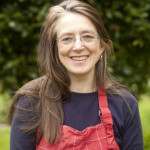 About Julia Ponsonby: Head of Food at Schumacher College, a role that she took up after visiting the college to learn more about sustainability and a green future nearly 25 years ago. Julia's culinary style developed to fit those founding principles; local, sustainably sourced ingredients prepared using cooking methods from around the world.
Book Details:
ISBN:                      9780857840523
Publication Date:    4th September 2014
Price:                      £19.99
Publisher:               Green Books