Aeroplanes seem to be full of bugs – lots of people, an enclosed space, limited fresh air. It's no wonder that traveller often pick up a cold or other bug after flying.
As I travel a lot I try to ensure that my immune system is 'topped up' before I fly so that I can avoid any sore throats and sniffles while I am away.
So I was interested to discover ImmunPRO Infection Blocker. These are small tablets that contain the plant extract Cistus villosus which creates a physical barrier in the throat against bacteria and viruses.
German scientists discovered its action when investigating preventative treatments surrounding the H1N1 outbreak.
Cistus villosus is naturally rich in tannins (polyphenols), which, due to their large molecular structure, are not reabsorbed, but instead form a protective film that stops viruses from penetrating the mucous membrane of the mouth and prevents a virus from docking with host cells.
Suck one tablet before you get on the plane and it will give you around two hours' protection.
They taste ok (in fact they don't taste of much at all really) and they dissolve quite quickly.  I tried them out on a recent flight to Vienna – and didn't pick up any bugs.
Although it's difficult to tell whether this was due to the tablets or not, I think anything that gives you a bit of extra natural protection can't be a bad thing.
Hübner, the makers of ImmunPRO, also claim you can take them at the onset of infection and because of the tablet's purely physical action it prevents the possibility of viruses building a resistance to the treatment.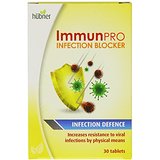 FACT BOX
Hübner's ImmunPRO is available in Boots, Holland & Barrett, health food stores and online at www.healthy2u.co.uk priced at £7.95 for 15 tablets.
ABOUT THE AUTHOR
Chantal Cooke is an award winning journalist and broadcaster. In 2002 she co-founded the award winning radio station PASSION for the PLANET and in 2009 Chantal was awarded London Leader in Sustainability status. Chantal also runs a successful communications agency: Panpathic Communications.