RUSHING vs WALKING EVERYWHERE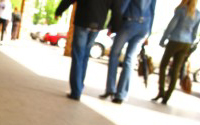 RUSHING vs WALKING EVERYWHERE
Everybody is in such a rush nowadays. Rush to work, rush to sort out errands, running around after deadlines… The bigger the town or city we live in, the faster the pace of our lives.
Have you ever stopped to think about how much better and healthier your life might be if you stopped running and simply walked? You could stop and really think about all the things you'd like to do, rather than everything you should. You can stop and play on CheekyBingo, got out for a relaxing meal, take stroll.
There's a reason they say that those who live in the country have healthier lives. It isn't just the fresh air, it's the lack of stress. You only have to travel by public transport for a few days, and you find yourself growing impatient and adapting to a faster life. By comparison learning to relax in a slower environment is difficult. Which is precisely why you should do it. It's good for you.
What if you were to walk everywhere though? Or even cycle. Not only would your footprint in the sky decrease, but you'll be healthier for it. Now obviously for many of you it isn't an option to simply walk everywhere. Your job is too far away from your home, and you have to get the train into the city. Instead of getting the usual bus from the station to your work place though, you could walk the route instead.
There are so many options to take that could slow your life right down. Walking improves your fitness, helps you burn off the calories you take in during the day, allows you to get away from the stuffy office, and clears your mind. Not to mention you will actually open your eyes and see the world around you again.