VOLUNTOURISM WITH GVI – DE-BUNKING THE MYTHS
VOLUNTOURISM WITH GVI – DE-BUNKING THE MYTHS
As growing numbers of travellers head across the world to embark on community volunteer projects, the emergence of some dis-reputable companies and poorly managed projects has created some speculation on the ethics of voluntourism.
GVI, the award-winning social enterprise, offers volunteers the chance to join projects of all sorts, from critical global initiatives to grassroots community issues across the globe. With conservation and environmentalism at the forefront, as well as education and social enhancement, the projects are truly committed to creating long-term benefits in local communities.
Steve Gwenin, GVI's Chief Executive, gives us his views on some of the myths and facts in this debate.
Myth: Voluntourism does more harm than good
Fact: Some argue that the combination of short projects and unskilled workers leaves local community projects in a worse state than when the visitors arrived. GVI was created with this issue in mind. The company mission statement has asserted, from the very beginning, that their projects involve long-term, sustainable programmes that have an ongoing positive impact, regardless of the length of each individual volunteer's placement.
GVI operates all of their projects in partnership with local organisations, meaning that the work doesn't stop when the volunteers fly home. Local, insider knowledge brings expertise to the projects, while GVI provides the resources and the volunteers. These strong, long-term partnerships ensure that every individual project is run with the specific needs of the community in mind. With a constant influx of volunteers – over 2,000 each year – as well as thorough training and local immersion, locals can witness a steady and constant positive impact from GVI's projects.
Ranging in length from four to twelve weeks, the Fiji Community Expedition Project is one of the finest examples of the longevity of GVI's work. Working alongside local people on a range of community development initiatives, volunteers travel to one of two possible bases in Fiji. The projects are directed and owned by local organisations, including the Fijian government, and evolve depending on the needs on the ground at any given moment, meaning that travellers are sent to the location that requires the most support at that time.
GVI helps these organisations to implement the programmes by providing volunteers to assist in critical activities such as installing rainwater harvesting systems, setting up income generating projects and building vegetable gardens to name a few. The four core goals of the project are water, agriculture & nutrition, income generation and education, all of which are closely observed by the local organisations.
Myth: Only the volunteers benefit from these projects
Fact: From its inception in 1997, GVI has been committed to ensuring that their projects are vitally important to the local community in which they operate. The social enterprise works hand-in-hand with local suppliers and businesses, encouraging the local community and helping to sustain the economy. Partnering with highly respected organisations, such as Save the Children, Rainforest Concern, Kenyan Wildlife Service and many more, GVI ensures that their organisation advances alongside the local community.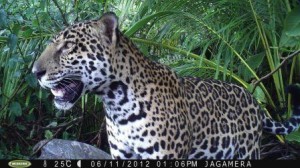 One of GVI's most exciting programmes is the Jaguar Conservation Project in Costa Rica. Working alongside Panthera, the world's leading conservation organisation for wild cats, the project's main objective is to increase the knowledge about jaguars and their prey species in Tortuguero National Park, using camera traps to study jaguar presence and predation of sea turtles in the park. The population of jaguars has plummeted to an estimated 14,000 in recent years, so extensive training and a hands-on experience provides volunteers with a plethora of skills with which they can help to advance this project. 39 semi-permanent camera traps were set up in 2013, and 22 jaguars have been identified since May 2011. This study offers a fascinating insight into the behavioural patterns of the threatened jaguar population, and helps to inform the Ministry of Environment's decisions regarding the park and its jaguars.  
GVI's National Scholarship Programme offers local people the chance to join in the projects themselves. Through this immersion, GVI has trained countless people across the world, from fishermen in Kenya to English language students in Mexico.
Myth: Voluntourism is an expensive option that goes straight into the organisation's pocket
Fact: While long-term volunteering can be an expensive undertaking, there are valid, justified reasons for these costs. A volunteer's initial planning stages involve finding the project itself and speaking to the organisation, which requires times and resources on GVI's part. Upon arrival, airport transfers, training information and accommodation are all necessities, each of which costs money. Constant support for the duration of the project requires funding, as does follow-up correspondence once volunteers have left to keep them updated on the statues of their projects.
At the very least, volunteers should not be costing the organisation money. GVI is proudly transparent about their finances, with an average of 60 to 70% of funds going directly into the field projects. Unlike many lesser organisations that simply send volunteers on rigidly planned projects, GVI estimates the costs on a case-by-case basis. For example, at times of year when recruitment is low, or in times of political unrest or natural disaster, 100% (and often more) of any given volunteers donation can be put into the project. The quality and efficiency of the project is the priority; a fact which is reflected in GVI's flexible and varied costing.
Myth: Volunteers are simply trying to avoid getting a real job
Fact: In the transitional period between school and university, or university and a career, it can be difficult to know what step to take next. A recent survey has revealed that skilled volunteer work makes job applicants look more appealing to hiring managers. For recent college graduates, skilled volunteer work could be just the thing to set them apart from the competition. A new survey from Deloitte demonstrates that 80% of executives surveyed would be more likely to hire a graduate with skilled volunteer experience. Offering volunteers useful, transferrable skills, as well as an eye-opening opportunity to see the world, partaking in a GVI project truly has lasting advantages for all involved.
GVI programmes start from 2 weeks in length and cost from £850pp.