TOP NOG IN VANCOUVER     
'Tis the season to indulge in traditional holiday favourites – and what better way to kick off the holidays than sampling some of Vancouver's best handcrafted eggnogs? Gather your friends and loved ones (19 years and older, of course) and follow this tasty Yuletide trail.
Pourhouse's BrandyFlip. Situated in a 100-year-old building in Gastown, Pourhouse is one of the city's most popular cocktail taverns, serving century-old drinks. Want to learn about the history of eggnog? Pull up a seat and chat with one of the establishment's ever-so-knowledgeable bartenders – they'll provide you with a quick history lesson on the drink's debated origins while creating your holiday concoction. We recommend the Brandy Flip, consisting of an egg, Spanish brandy, simple syrup and freshly ground nutmeg ($13, plus tax).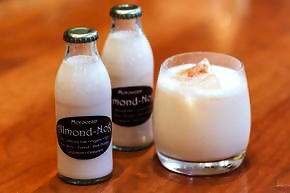 West Restaurant's Moroccan Almond Nog. Known for its fine dining cuisine and sophisticated atmosphere, West Restaurant is home to one of the city's most acclaimed bartenders, David Wolowidnyk. To make his Moroccan Almond Nog, David combines eggs, sugar, gin infused with Moroccan spices, cinnamon, gently crushed cardamom pods, fennel seed, pink pepper corn, star anise and almond milk ($11, plus tax). Bonus: the restaurant is conveniently situated in Vancouver's South Granville neighbourhood, making it the perfect spot to relax with a festive drink after a long day of gift shopping.
Chambar's Mount Gay Eclipse. Since opening in 2004, Chambar has gained a reputation as one of Vancouver's culinary hotspots. Located on Beatty Street, the restaurant will close its doors in May 2014 – but don't worry, it'll open just steps away in an even bigger and better space. The new and improved Chambar will also see exciting additions, including a 50-seat patio and daily breakfast, lunch and weekend brunch. Until then, visitors and locals can indulge in Chambar's unique spin on traditional nog. Served hot or cold, The Mount Gay Eclipse consists of caramel and chili-spiced reduced milk, egg, Mount Gay Eclipse rum, Drambuie (a sweet liqueur), black walnut bitters and freshly grated tonka beans ($12, plus tax).
Bel Café's Rum and Eggnog latte. Warm up this holiday season with a rum and eggnog at Bel Café. Located within the historic walls of Rosewood Hotel Georgia, the café is overseen by renowned chef, David Hawksworth and his team of culinary experts. Made in-house daily, the team's eggnog recipe consists of milk, cream, sugar, vanilla beans, egg yolk, cinnamon, cloves and nutmeg. The combination tastes delicious in your piping hot latte, and even better with a splash of rum ($8, plus tax).
FACT BOX:
Canada Tourism – http://uk-keepexploring.canada.travel/
Air Canada – www.aircanada.com