URBAN ART TOUR IN ESTARREJA, PORTUGAL
Some towns and cities have a natural beauty delivered by their architecture – Buenos Aires (Argentina) with its stunning wrought-iron work, Vienna (Austria) with its Secession decorated buildings, and Aveiro Portugal with its Art Nouveau architecture.
Others need a little help. For example Vernon and Dawson Creek in British Columbia, Canada, have both turned the sides of their rather dull, square buildings into giant works of art celebrating their history. Kosice in Slovakia, although beautiful in the old town, is less appealing when you travel to the skyscrapers on the outskirts – until you notice the giant murals and art projects using the tower blocks as their canvas.
And that inspiration has also travelled to Estarreja in Portugal where the ESTAU, as part of the Urban Art Festival, has used murals, installations and workshops to bring the community together.
There are numerous pieces of art dotted around the town – some tiny, some integrated into the buildings so they are not immediately obvious, and some standing proud shouting out their dramatic colours and designs.
Although a stroll around town will introduce you to many of them – a guided tour is the best way to experience this urban art.
For example, one beautifully bright and joyful mural was painted by local people as part of a workshop by LATA 65 to introduce the over 65s to street art.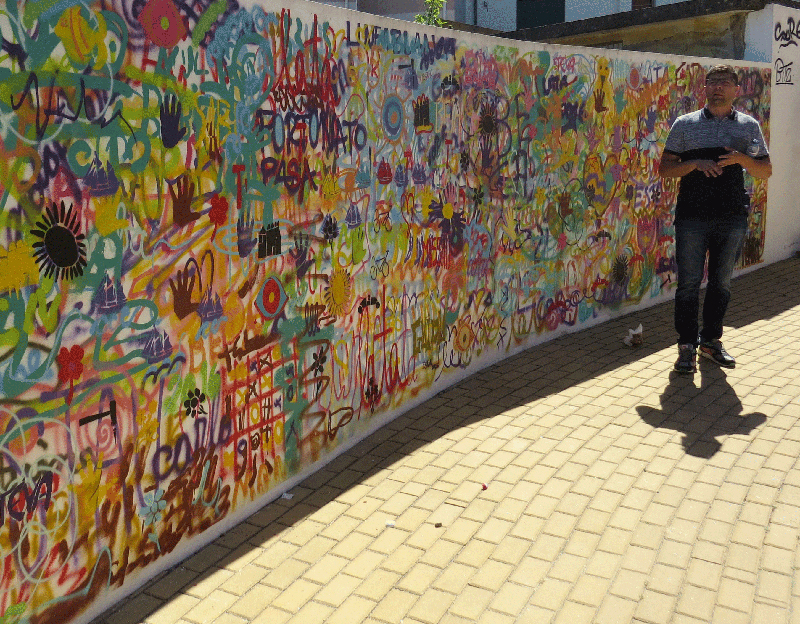 Each participant chose their own street name (often based on their career) and then designed an image to represent that – their signature if you like. The resulting artwork is vibrant, colourful, abstract and full of fun.
Isaac Cordal, a Spanish artist, chose a more subtle approach – dotted around the town you will spot (if you look carefully) tiny (about 20cm tall) sculptures of grey suited men.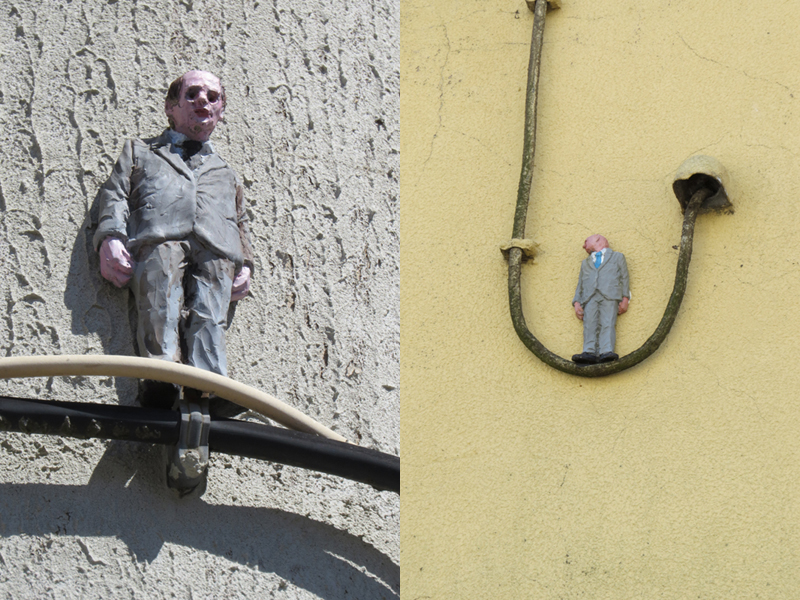 They cling precariously to the drain pipes, cables and ledges, seeming to contemplate whether to end it all with a jump to the pavement below.
Add Fuel chose to highlight how modern living is covering up the heritage of the area.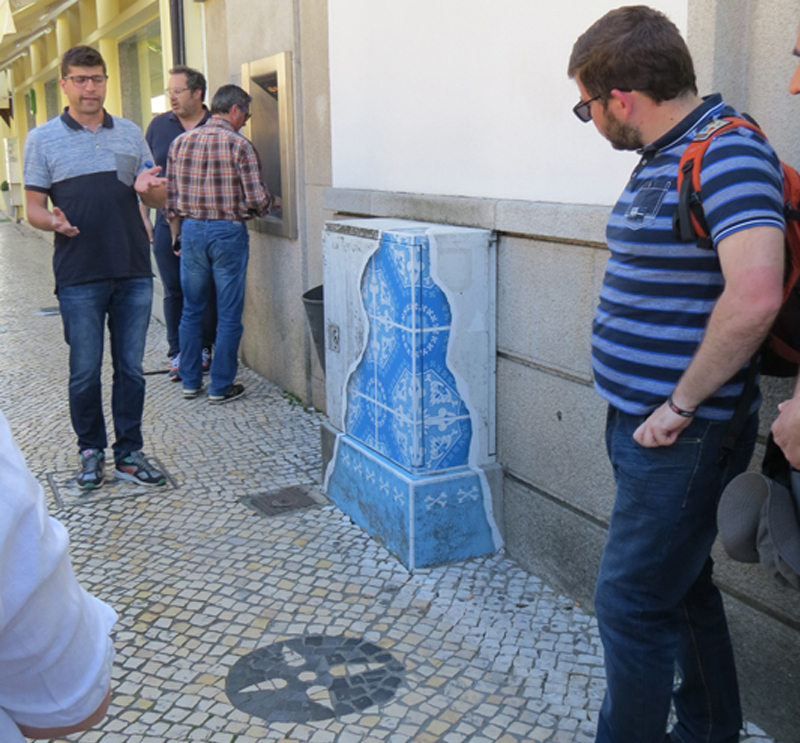 The Portuguese artist chose to represent this using images of the traditional decorative tiles that used to be so common and have now disappeared in many places.
Australian artist Fintan Magee looked to the local youth for inspiration and painted one of the young volunteers – with her head in the clouds, symbolising how today's young people are living with their heads in the clouds. This giant mural covers the side of an entire block of flats turning a boring rectangle into something worth stopping to look at.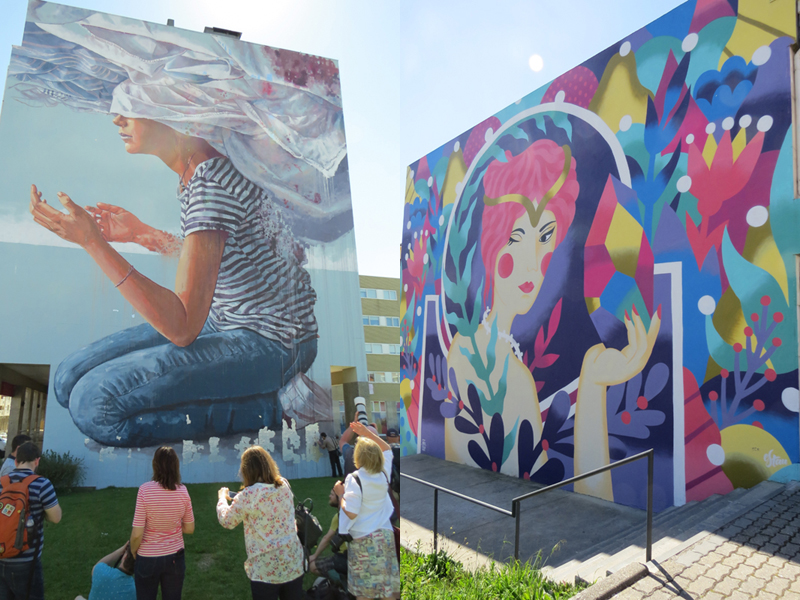 Portuguese artist Kruella d'Enfer is inspired by Art Nouveau and loves to work in bright colours creating images that cheer up any street corner. Her painting adds a whimsical beauty to the street.
Taking inspiration from the music and the wildlife of the area, Brazilian artistic duo Bicicleta Sem Freio painted this giant brightly coloured and slightly surreal mural on the side of the theatre.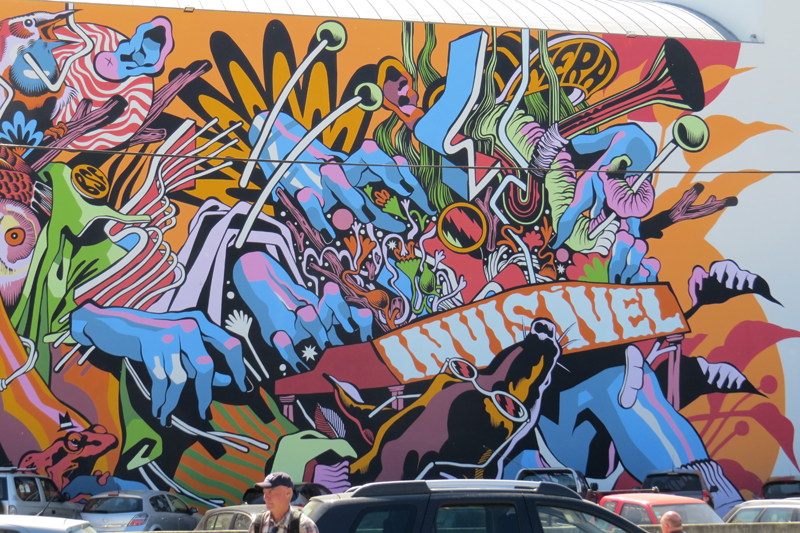 It's so full of twists and turns and hidden imagery that you see something new every time you look at it.
And my personal favourite, which also happens to be the very first piece of urban art to grace Estarreja, is the giant sculpture of a Kingfisher.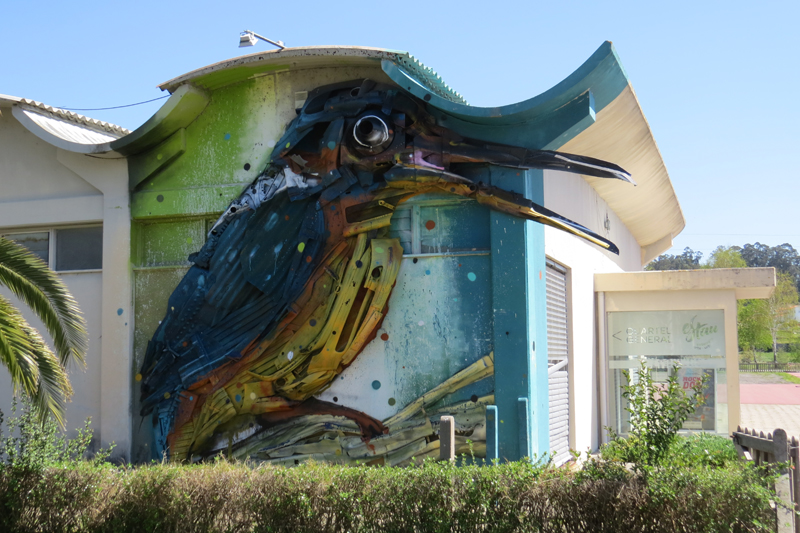 In order to gauge the reaction of local people to the project, the council commissioned Bordallo II to create a piece of art to showcase what the project could bring to the town. Bordallo II used rubbish he collected locally and created a three-dimensional wall-art inspired by the wildlife of the area. The giant male Kingfisher, made from old car parts and broken electrical items, reminds us of the damage our waste does to the local environment and the beauty there is for us to see in nature.
FACT BOX
Nature walks at Bioria-Salreu
TAP Portugal flies direct from London Gatwick to Porto 13 times a week, prices start at £44 one way including taxes and surcharges.  Tel: 0345 601 0932
About the Author:
Chantal Cooke is an award-winning journalist and broadcaster. In 2009 Chantal was awarded London Leader in Sustainability status, and in addition to co-founding PASSION for the PLANET. Chantal also runs a successful communications agency – Panpathic Communications.
Save