By Jenny Bowen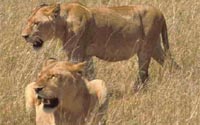 Lion-watching is always high up on people's lists when they come to Africa.
 
Here are some golden tips for your unforgettable lion encounter:
 
1.  Get out in the early morning or the late evening as this is when lions are most active.  It is also cooler making conditions more comfortable for you.
2.  Once you have found a pride, stay in that position and make sure that your guide turns off the vehicle engine.  This will prevent the lions becoming spooked and allows them to behave naturally. Don't encroach their space.
3.  Don't try to get as close as possible or ask your guide to do so.  You will see the best lion interactions when they are relaxed.  I have seen (other) people slamming their doors to get a reaction – obviously I was not happy with that!
4. Be patient – lions will not just get up and pose for you as soon as you arrive.  Wait and watch, you will learn from observing as well as truly experiencing lion-watching to the full.
5.  Relax, sit back and let the story unfold before your eyes. You may have to wait a while, lions are never really in a hurry, but believe me, it will be worth the wait.
And if you get the opportunity to track lion on foot, leap at it.  It is an exhilarating alternative to the classic game drive and is where you can learn the signs of a passing animal such as a bent twig, a patch of flattened grass, a scat or a vague footprint on the hard ground.
 
I am always amazed at what the local trackers can find and how they interpret the signs of passing animals.
About the Author
Jenny Bowen is director of travel company Sense Africa and an expert on travelling the African continent. www.senseafrica.co.uk