TOP TIPS FOR TAKING YOUR DOG ON HOLIDAY
Coming in all shapes and sizes, our pet dogs are our best friends and family members, and it's tough to leave them behind when we go away.
But there really is no need to miss your four-legged friend when you go on holiday – there are many options for them to travel with you too meaning there's no need for you ever  to be apart. If you're thinking of taking your precious pup away with you, you need to make sure they're safe, comfortable and cared for, so here's our guide to happy holidaying with your hound.
Which way is best?
There are plenty of safe ways to travel with your dog – they are generally permitted on cars, ferries, trains and even planes, but each comes with its own set of rules.
When driving, you'll need to make sure they are secured so that they don't distract you when you're behind the wheel, and that they have plenty of cool air so they don't overheat. Definitely don't leave them in a locked car without opening the window an adequate amount for fresh air to filter through, and avoid shutting them in the car altogether if it's a hot or very cold day –hundreds of animals are killed every year in this way.
If travelling by train, check the rules of each network before travelling and consider introducing your pet to trains with short journeys initially, so that they can get used to the new sensations before taking a long trip.
If you are travelling overseas, your dog will need to be micro-chipped, have had a rabies vaccination, have a pet passport, have been treated for tapeworm and, if travelling outside of the EU, have had a blood test at least 3- days after their rabies vaccination – so make sure you're up to speed with all of these, otherwise they won't be allowed with you.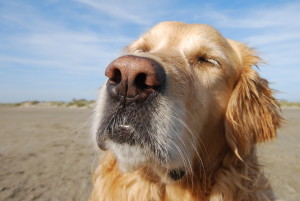 Also consider how you will be reaching the airport to minimise stress for both you and your dog. For example, Purple Parking offers a Meet and Greet service at Heathrow Airport that allows you to drive your car directly to the airport and drop your vehicle off with a representative to park it for you. Likewise they will be waiting for you with your car when you arrive back home, saving you and your pet the hassle of public transport after a flight.
Air travel with a dog
In order to fly overseas, you will first need to ensure that your chosen airline will allow your dog to travel as not all will agree to transport pets, particularly budget airlines. Sadly, many snub-nosed dogs, like bulldogs, pugs and boxers can struggle with their breathing when flying and so are not permitted on most flights.
Some will allow smaller pets to accompany you in the cabin, as long as they are secured in their carrier and can fit under the seat in front of you. Most airlines however, require your dog to travel in the hold and will ensure the temperature is suited to keep your pet happy. See this guide to travelling with pets for more information on individual airline policies.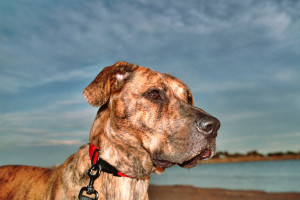 You will also need to have a comfortable carrier that is IATA approved so your dog is well protected when flying. Make sure it allows plenty of room for your pet to move around and lie down, is well ventilated and fastens securely. Provide them with food and drink for the journey and consider including their favourite toy or blanket to help them feel safe and secure.
Weighing up the cost
Be aware that many forms of overseas travel, particularly flying, can be stressful for your pet – especially if they've never experienced it before. Train travel, cars and ferries are less distressing, although can still be a little confusing for dogs. It's great to have your beloved pooch with you, but weigh up the benefits of having them keep you company against the toll it may take on them before booking them on holiday with you. The RSPCA has a good guide to the implications for pets of various forms of travel.
If you decide not to travel with your pet, perhaps you can leave them with a trusted family member or friend while you're away. Or if you simply can't bear to be parted, consider a holiday closer to home. Holiday companies like Forest Holidays offer luxurious, pet-friendly accommodation with lavish extras like hot tubs in a variety of UK-based locations, so you can both enjoy a getaway together with minimal stress.
About the author:  Laura Wilkins is a travel expert with Heathrow airport parking specialists Purple Parking.