SANDS OF THE INDIAN OCEAN
The many islands of the Indian Ocean are famous for their white sand beaches and beautiful turquoise waters. Although gorgeous to look at, these paradise beach images can give the impression that the Indian Ocean islands are all very similar to each other. In fact, when you take a closer look, the Maldives, Mauritius and other destinations are all very different from each other.
Luxury travel experts Kuoni has launched its collection of microscopic sand photo graphs taken from their seven resorts in the Indian Ocean. The initiative behind the project is to show travellers that when you take a closer look at the smaller details, the islands of the Indian Ocean are all completely unique from one another.
The different sand grains reflect the geology of each island, giving clues as to what kind of activities you can enjoy there.
For example, the sands from La Reunion (an island just west of Mauritius) have yellow lava crystals and black grains made from volcanic basalt. These point to the volcanic origins of the island and travellers here can indeed trek through the forests to see amazing craters and live volcanoes. On the other hand, the grains from the Maldives show six tiny snail shells and a rod spine from a sea urchin, pointing to the amazing snorkelling and diving opportunities to be found in the coral reefs of the Maldives.

Left to Right: Selection of shell, sea urchin and foram grains from the Maldives; an encrusting pink foram that forms on shells and coral in the Seychelles; a lavender coloured fragment of coralline algae also from the Seychelless; a selection of peridot yellow crystals and black volcanic basalt from La Reunion.
The Maldives provides some excellent holiday options for eco-conscious travellers. Find out more about their luxurious hotels for green-minded holiday makers that have fantastic sustainable and environmental initiatives:
Eco-Friendly Indian Ocean
With the Maldives set to introduce a 'green tax' in November 2015 to help fund conservation efforts, we take a look at three luxurious hotels for green-minded holiday makers that have fantastic environmental initiatives:
Soneva Fushi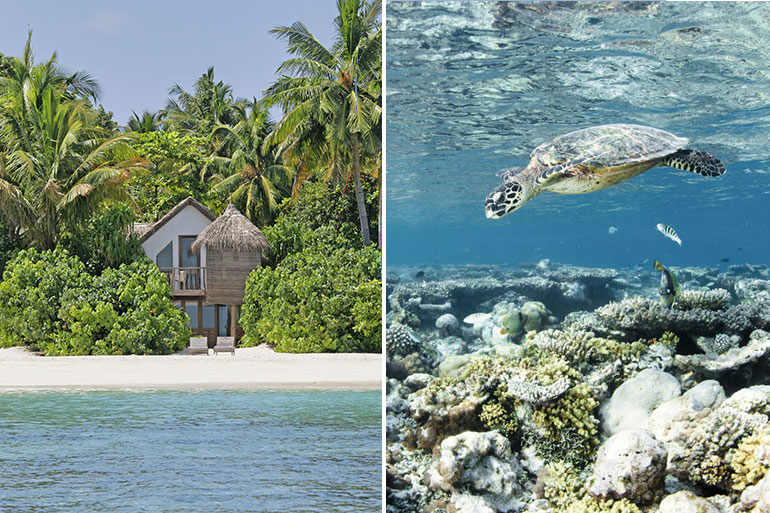 This resort lives by the 'S.L.O.W. L.I.F.E' philosophy (Sustainable Local Organic Wellness, Learning Inspiring Fun Experiences). With a carbon offset programme, its own organic food production and facilities for on-island bottled water production, this beautiful resort pairs great eco credentials with 'intelligent' luxury. Secluded chic beach villas and a 'Mr Friday' butler service are available for guests, and wildlife fans will appreciate the stretches of undeveloped shoreline that have been left to encourage turtles to continue nesting on the beach.
Coco Palm, Dhuni Kolhu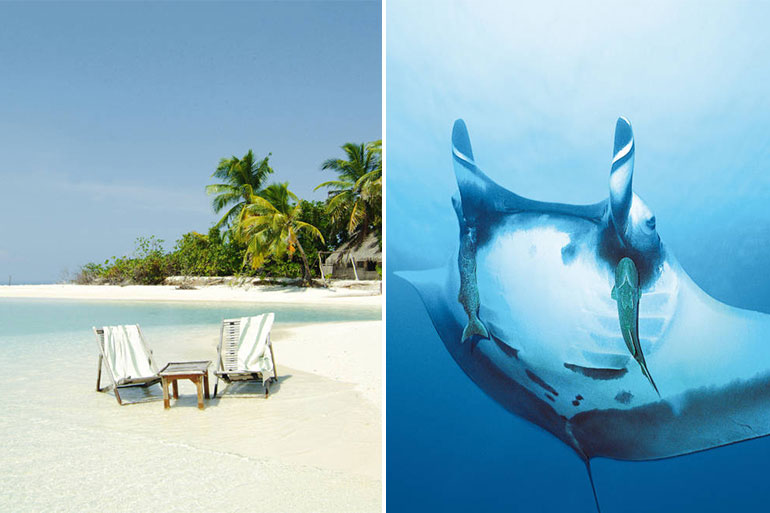 This resort is ideal for those passionate about marine wildlife. A 'Manta Ray Day' is held every Wednesday, where guests are led by Coco Palm's resident marine biologist into the shallows to observe the island's beautiful creatures. As well as manta rays, the house reef provides excellent snorkelling opportunities with chances to spot whale sharks and dolphins too. Coco Palm is also located in the Baa Atoll, a designated UNESCO World Biosphere Reserve whose resorts work together to conserve the area.
Kuramathi Island Resort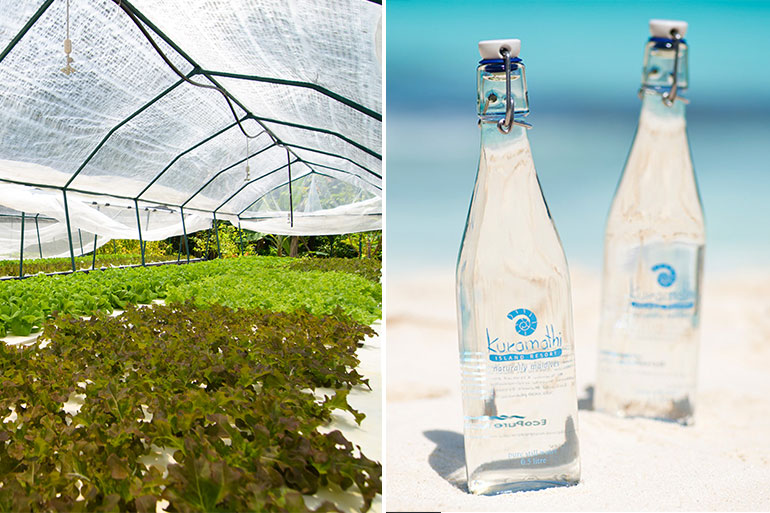 There's a long list of green initiatives being undertaken  by Kuramathi, one of the biggest islands in the Maldives. There is an education eco-centre, filters and ozonators to save water in the modern Jacuzzis, water recycling system, energy saving air-con in the newer villas and a hydroponics garden where fresh salads and herbs are grown for the resorts kitchens.
Find out more about these eco-friendly resorts here.