SAIL AND EAT LIKE A TRUE VIKING IN NORWAY
SAIL AND EAT LIKE A TRUE VIKING IN NORWAY
The British Museum is bringing the Vikings to Britain, with the biggest attraction being the world's longest Viking ship ever found, built in southern Norway.
Norway was the homeland of many of the most famous Vikings coming to shore in the UK, being Erik Bloodaxe or St. Olaf, and is full of Viking treasures.
In Norway, visitors can indulge in Viking experiences like the Viking Ship Museum in Oslo and the Lofotr Viking household with mjød and axe throwing as well as experiencing Vikings as far more than uncivilized villains coming from the North to pillage.
Top Viking attractions in Norway: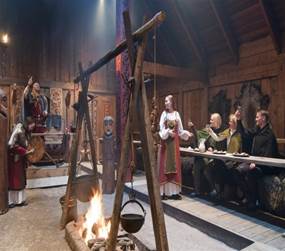 1 – Lofotr Viking Museum, Borg, Lofoten Islands:
Travel back in time and experience life in a Viking household in Borg, near Leknes, where remains of the largest known Viking Age longhouse were found. Hear Viking stories of power, glory and wealth. Guests can join a proper Viking feast, with entertainment and traditional food, and not least mjød – the Viking beer. In summer, visitors can row a Viking ship, horseback riding, and join in at throwing axes and shooting with bows and arrows.
Read more: http://www.visitnorway.com/uk/Where-to-go-uk/North/Lofoten/What-to-do-in-Lofoten/Lofotr-Viking-Museum-at-Borg-in-Lofoten/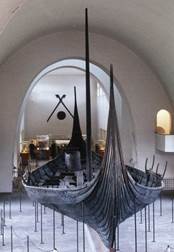 2- Viking Ship Museum, Oslo:
The world's two best-preserved wooden Viking ships, both dating from the ninth century, are displayed here. Smaller vessels, sledges, a cart with exceptional ornamentation, plus a range of tools, harnesses, textiles and household utensils complement the exhibition. Beautifully located in the Oslo Fjord, just a 10 minute boat ride from the city centre.
Read more: http://www.visitnorway.com/uk/Product/?pid=29095
3 – Stiklestad National Culture Centre: the Battle of Stiklestad, and fall of St.Olav, Mid-Norway
Stiklestad is the battlefield where King Olav Haraldsson fell 29. July 1030, and he became known as St. Olav. The battle of Stiklestad represents the introduction of Christianity in Norway. The battle and the saint king made it possible for Stiklestad to act as a symbol of both Christianity and the kingdom.
UK related: You find several buildings and churches named after St.Olav /Olaf in the UK today, as he became one of the biggest 'name's within Catholicism all over Europe.
It is also claimed that the well-known children's song London Bridge is Falling Down relates to the supposed destruction of London Bridge by King Olav –as he was working as a soldier on behalf of the English king against the Danish Vikings.
Read more: http://dailymedieval.blogspot.no/2012/09/london-bridge-is-falling-down.html
Events: The St Olav Festival in August features a medieval market, an art exhibition, concerts, theatre performances, seminars and more. Also popular is the St Olav Drama, which is performed each year at the end of July. It started in 1954 and is the longest running open-air play in Norway, and the purpose-built amphitheatre is also the largest open-air theatre in Scandinavia.
Read more: http://www.visitnorway.com/uk/Product/?pid=140012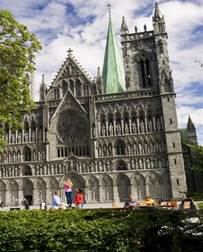 4 – Karmøy Culture Experiences,  Haugesund, Fjord Norway

Situated on one of the most important historical landmarks in Norway, this place is where the first united Kingdom of Norway was introduced by King Harald Fairhair.
Come to the open air museum for Viking feasts in the Viking settlement, historic sagas, concerts in the St. Olav's church, and a taste of traditional food.
Read more: http://www.visithaugesund.no/en/Product/?TLp=39115&Karmoy-Kulturopplevelser-AS=
News: The world's largest Viking Theme Park is planned to open in 2017 on Karmøy. The park, named Viking Park, will be a Viking heritage amusement park, working together with the same producers behind DisneyLand and SeaWorld.
Will feature long ships and villages, and portray a softer side to Norwegian Viking history – that they were fun-loving people, and pioneers in e.g placing women in strong positions.
5 – Set sail on your own Viking ship

Set sail on a Viking ship replica in the wild nature north of the Arctic Cirle
Read more: http://www.visitnorway.com/uk/Where-to-go-uk/North/Helgeland/What-to-do-in-Helgeland/Sailing-a-Viking-boat-on-the-Vefsnfjord/