NATIONAL PARKS IN AUSTRIA
NATIONAL PARKS IN AUSTRIA   
Austria's National Parks offer visitors the chance to discover nature in its original, unpolluted state. They are the perfect opportunity to come face to face with Austria's scenic beauty at its most imposing.
Austria's parks cover at least three percent of the country and many were declared as nature reserves only recently.
The majority of National Parks are located in sparsely populated areas and provide a habitat for a vast number of indigenous flora and fauna species, some of them endangered. The protection of this eco-system has ensured the long-term survival of such flora and fauna, but the National Parks' pristine environment also benefits people in search of some quality rest and recreation. It goes without saying that visitors must keep to sign-posted paths and only enter the sensitive eco-system if accompanied by a trained National Park ranger.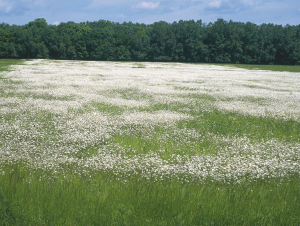 Danube Meadows National Park
Central Europe's largest continuous landscape of riverside meadows, The Danube Meadows National Park, serves as the ideal habitat for some 5,000 animal species. With a length of 38 km and a width of 4 km, this "green wilderness in the stream" is a delightful natural environment that can be enjoyed not only on foot, but very pleasantly on a cycle tour along the Donauradweg or indeed by boat.
 Gesäuse National Park
The Gesäuse is Austria's third largest and also newest National Park. Gesäuse National Park is characterised by steep mountain slopes and gorges, in a valley formed by the River Enns.  The altitude ranges from 490 m at its deepest point up to 2,370 m at the peak of the Hochtor. This is a natural habitat for 90 species of breeding birds, marmots, chamois, deer and roe deer, plus around 50 different wild orchids can be admired.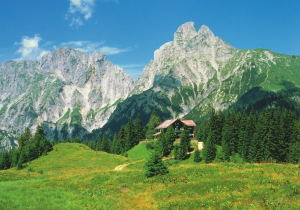 Trained National Park rangers organise guided tours during which they share their knowledge of the habitat and its complex interaction with nature. You can stay in hotels and pensions, on an organic farm, or in mountain huts directly in the National Park.
Hohe Tauern National Park
The largest National Park in Middle Europe covers territory in the provinces of Carinthia, Salzburg and Tirol. With mighty mountain peaks such as the Grossglockner (Austria's highest peak) and the Großvenediger, vast glaciers and the spectacular Krimmler waterfalls, the Hohe Tauern National Park is a many- faceted natural wonder. In the Park's central zone the natural environment is left totally undisturbed, while in the outer zone there is a harmonious combination of natural habitat and sustainable management by Alpine farmers.
A network of hiking trails gives access to this unique world, which you can explore on your own or accompanied by a qualified National Park ranger. A shrewd motto for guided rambles is "you only see, what you know".  Between July and September a choice of 26 rambles are on offer every week from Monday to Saturday – on themes such as "observing wildlife", "the origin of glaciers", "everyday life on an Alpine farm" and "on the trail of smugglers".  A ramble from the valley up into the land of eternal ice is the geological equivalent of a journey to Antarctica.  In addition, five special excursions are organised on fixed dates, for example with an overnight camp by a mountain lake, a wildlife photographic tour, or to observe the rut of the stags.
The hiking network and system of Alpine via ferrata extends to around 1,200 km.  More than 80 mountain refuges and snack stations form the perfect infrastructure for extended hikes and excursions to the south side of the Tauern chain, where 240 peaks soar more than 3,000 metres high.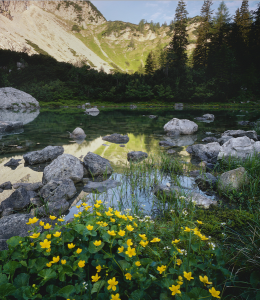 Kalkalpen National Park
Kalkalpen National Park is home to the largest uninterrupted forest in Austria.  Spruce, fir and beech trees cover four fifths of the terrain, where trees are left to grow, mature and die as nature decrees, because the fallen trunks are an important habitat for countless species ranging from beetles to woodpeckers.  And while the new generation of trees grows on decaying trunks, insects and micro-organisms break the remains down to produce fertile topsoil. This cycle of nature can be very well observed in Kalkalpen National Park. There are also spectacular canyons and gorges dug deep into the rock, picturesque waterfalls and lakes to admire.
The whole family can explore the National Park: a hike to one of the many inviting mountain inns makes for a great day trip, or you can join a guided adventure ramble with a forester in the early morning light or watch the rutting of the deer in autumn.
For experienced walkers, the Ebenforst-Alm (Alpine farm with rooms and restaurant) located on one of the forest-free high plateaus is a good starting place for hiking in the surrounding mountains.  A two-day trek across Hohe Nock in the Sengsen massif (1953 m) is a fantastic adventure.
Neusiedler See National Park
This national park, which opened in 1993, crosses the border into Hungary and has a distinctive steppe landscape. It is one of the most fascinating natural environments in Europe, featuring reed beds, marsh meadows and saltwater lakes, which periodically disappear and reappear. The reed belt around the Neusiedler See is, after the Danube Delta, the second largest of its kind in Europe. Eastern and Western European flora and fauna come together here to produce an extraordinary display.  Species from the Alpine, Pannonian, Asiatic, Mediterranean and Nordic regions live in harmony in the steppe landscape of this National Park: the Balkan frog croaks while the Danube warty newt hunts for earthworms and slugs; Austrian mugwort thrives alongside Hungarian astragalus. Furthermore, the lake's shores form one of the most important bird sanctuaries in Europe – a paradise for ornithologists, but also for cyclists, walkers and horse-riders.
 Thayatal National Park
Due to many decades of life under the Iron Curtain, this valley on the border with the Czech Republic has remained virtually undeveloped. Due to its marginal location and inaccessibility, 90% of the forested territory in Thayatal National Park and in the Valley itself has been spared disturbance by the forestry industry. Nearly half of all plants indigenous to Austria grow here in a relatively small area:  In other landscapes of Austria you must travel some distance to observe a visible change in the forest's tree stock.  In Thayatal you can just follow a river bend and find yourself in completely different kind of woodland. Overgrown castles and ruins are reminders that times were not always as peaceful as today.  And what was unthinkable just a few years ago is now simple: Part of the National Park lies in the Czech Republic and can be explored on a frontier-crossing hike or cycle tour.
FACT BOX
For more information see: www.austria.info