Q&A: CHRIS HILL FROM HANDS UP HOLIDAYS
CHRIS HILL FROM HANDS UP HOLIDAYS   
Hands Up Holidays is a luxury travel company with one BIG difference. They aim to ensure you have more than just an amazing vacation; they create the luxury travel experience that you will treasure forever, by combining expertly-led sightseeing with meaningful community development through volunteering or philanthropy.
Here we hear from Chris Hill, the founder of Hands Up Holidays, in his own words…
1)             What inspired you to start up Hands Up Holidays? 
My background is that I graduated with Law and Business degrees in 1995, and in 1996 started a career in Investment Banking in London, and after six years, I had learned some good business skills, but was not entirely fulfilled in my career.
In 2002, on a trip to South Africa, in addition to encountering wildlife on a fabulous safari and enjoying the sights and sounds of Cape Town, I also helped build a house for a family in one of the townships. It was through doing this that my travels gained an extra dimension: I got to interact meaningfully with the local people, hear their stories, gain insights into their lives, and make a difference. Travel became much more enriching, and I decided to create a company that would make it easy for other people to have similar experiences.
That trip gave me the inspiration to start Hands Up Holidays, and I spent the next two years travelling the world, building relationships with different communities and partners.
I haven't looked back since!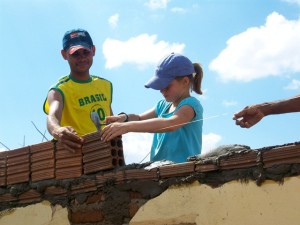 2)     What is your aim/ethos?
Our aim is to be the world's leading responsible luxury tour operator. We provide people with amazing responsible luxury travel experiences, and enable our guests to make a lasting difference through hands-on philanthro-volunteering.
What this means is that the primary benefit our clients bring to communities or to the environment/wildlife is the funding they provide to meet a need, such as a house for a family in dire straits.
However, we encourage our clients to do more than provide the funding: they roll up their sleeves and get involved, in order for them to get that extra dimension for their trip by getting to know the people they are helping, along the lines of what I experienced when I helped build a house in South Africa back in 2002.
The beauty of this model as well is that it counters a criticism of voluntourism: that it takes jobs away from the local people. In contrast, by providing funding, our clients actually create jobs by hiring local experts to do the bulk of the building, and oversee their efforts.
Our ethos is also to be holistic, so we don't focus exclusively on the philanthro-volunteering: we also take into account aspects such as:
Recommending eco-luxury hotels (those luxury hotels that take their environmental and social responsibilities seriously) to our clients
Recommending restaurants that use locally sourced/low food miles/organic ingredients
Employing expert local guides
Using eco-friendly transport where available
By focusing on luxury, our aim is to make volunteering accessible for people who may be put off at the thought of having to rough it; most of our clients are families, retirees, honeymooners, and also companies wanting to enable their employees to help and make a difference, perhaps as part of an incentive trip or leadership development programme.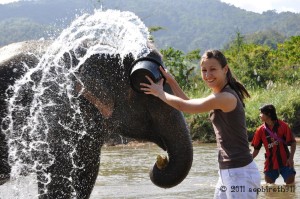 3)      How do you choose the projects you support?
Our main criterion is that there has to be a genuine need. This requires us to consult with communities and understand their needs. And if the community would like outside help, and if the destination fits with being a good holiday destination, then we are happy to promote it.
For example, Zambia has a big problem with children becoming orphaned due to AIDS/HIV; so quite often children end up being cared for by their grandparents, and their homes are inadequate to protect them from the heavy rains they get, so our clients help, in villages near to Victoria Falls, to build houses for these families.
Or in Thailand, elephants are in crisis, especially after logging was declared illegal, as elephants were extensively used for logging, and it is very expensive to feed them, so our clients pay for their upkeep and get to help prepare the elephants' meals, feed them, even help bathe them, and learn an enormous amount about these amazing creatures along the way.
4)      So how does it work?
Our starting point is that this is your holiday, and our aim is to make it awesome, inspiring and meaningful, so we consult with our guests to truly understand what they want to get out of their holiday, including how they would like to help, what skills they have, what sort of sightseeing activities are they interested in, how many pure relaxation days would they like, what is their preferred style of hotel, etc.
From there we prepare a suggested itinerary, which is a combination of sightseeing, relaxation, volunteering and cultural interaction, all tailored to the preferences of our client, and all in (eco)-luxury accommodation throughout.
So for example, a family trip to Cambodia may combine exploring the temples of Angkor by bicycle with an expert local guide, visiting the floating villages on Ton Le Sap lake and the bird sanctuary there, then build a home for a needy family whilst getting to know the family and others in the village, and finish up with a few days' relaxing on the eco-luxury resort Song Saa on Song Saa island.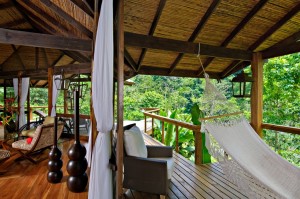 5)      Why do you think this is a popular combination?  
I think it is popular because it gives our clients access to authentic experiences that they often miss out on: getting to know and interact with the people in their chosen destination: the real treasure of any country. Furthermore, families love travelling with us because their children learn the value of helping others, appreciate how fortunate they are, and they bond together as a family. Honeymooners like travelling with us because they can get their marriage off to a positive start together, and we are popular with retirees because we enable them to leave a legacy and make a difference in the lives of the next generation.
6)      How do you see tourism changing in the coming decade?
Tough question! In many ways, my guess is that tourism will continue pretty much as it currently is, especially 'mass market' tourism. What I am more knowledgeable about, and I think has more potential for change, is the luxury segment: here I think luxury will come to be associated more with unique, authentic experiences than with luxury hotels and gourmet dining.
For example, fly fishing in a remote part of Alaska, getting immersed in a (non-touristic) Masai community where at the end you feel like you are Masai, or tracking desert elephants and rhinos in Namibia and helping reduce elephant-human conflict. These experiences touch the soul, are life-changing even, and luxury travellers will increasingly move beyond the infinity pool and seek these out, in my opinion.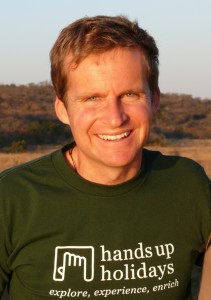 7)      How can people get more information?
Contact me directly! Chris@handsupholidays.com
Other than that, the best places are our websites:
www.handsupholidays.com  – for families, honeymooners, retirees and solo travellers;
www.handsupincentives.com – for companies wishing to reward and retain their employees, and be socially responsible
You can read a guide to making your luxury holiday meaningful here: http://issuu.com/handsuptravel/docs/ethical_luxury_travel_guide  and how to make your luxury family holiday meaningful here: http://issuu.com/handsuptravel/docs/family_volunteering_holidays
We also have Facebook pages:
https://www.facebook.com/luxuryvoluntourism
https://www.facebook.com/CSRIncentiveTravel
Twitter: @handsupholidays / @EthicalRewards
LinkedIn: uk.linkedin.com/in/sustainableevents
Pinterest: https://www.pinterest.com/handsupholidays/