AUSTRALIA'S TOP GREEN HOSTELS
Environmentally friendly practice is now standard fare in the hospitality sector's marketing initiatives around the world, and a growing group of travellers want to see evidence of real commitment to community, place and the environment.
YHA (the Youth Hostel Association) is committed to carbon reduction and has a carbon-conscious ethos that goes back a long way.
All 4,000 hostels around the world must comply with the organisation's environmental charter for conserving resources, recycling, caring for nature and educating its members about the environment. From eco-hostels built using sustainable materials to properties growing their own vegetables, many YHAs go the extra mile.
YHA guests have donated more than $100,000 towards the YHA's Carbon Reduction Program since 2007, which is helping to shift its long-standing practice up a gear by transforming a number of Australian hostels into models of sustainable practice.
Australia's 90 YHA hostels are blessed with plenty of one natural resource – sunshine– and it is being put to good use. Many have installed solar panels to power hot water and lighting, systems for harvesting rainwater as well as water saving devices. Guests are encouraged to take shorter showers and turn off taps after brushing teeth and cleaning dishes. None of this is rocket science, but in a country prone to drought, like Australia, water conservation is extremely important. YHA Australia also stopped selling water bottles to encourage guests to refill the ones they have from taps – and has installed water bubblers with cool filtered water for guests.
There are many examples of 'green' YHA hostels in the Australian network. Below we have selected our top eco-conscious hostels.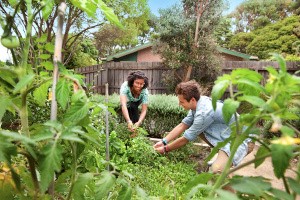 Eco Beach YHA in ApolloBay
Eco Beach YHA in ApolloBay in Victoria has been built with a passive solar design, which retains heat from the sun in winter and minimises its penetration in summer to keep the building as cool as possible and reduce the need for air-conditioning. Its aim is simple: to leave as little impact as possible on the environment.
A solar-powered hot water system supplies heating for the showers, and water saving devices have been fitted on all taps and showerheads. Rainwater tanks irrigate the landscaped gardens, and lawns and buckets are supplied for guests to save shower water for the gardens. The hostel is ideal for exploring Australia's beautiful nature. Guests can book scenic cycle tours and organised walks.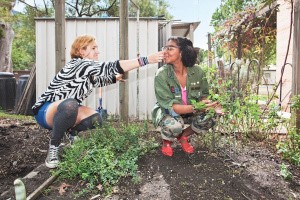 Grampians YHA
This hostel in Victoria was designed to be environmentally sustainable from the start, using rammed earth, stone, reverse brick veneer, corrugated iron clad walls and burnished concrete floors. It grows its own fruit and vegetables for the use of guests, has a herb garden and even has its own 'chooks' (hens to those who don't speak Australian) laying fresh eggs.
The hostel uses a passive solar design for electricity and hot water, which maximises winter sun penetration and protects the building from the effects of sunshine in the summer. It provides grey water recycling to save energy and has reverse-cycle overhead fans in the main guest lounges.
There is plenty to see and do in this rugged mountain range renowned for its breathtaking rocky views, rich culture and stunning wildflower displays. Visit Aboriginal rock art sites, spectacular lookouts and awe inspiring waterfalls. Or guests can enjoy bushwalking, rock-climbing, picnicking, bike riding or fishing.
The local nightlife includes seeing kangaroos eating at dusk on the hostel lawn as well as some excellent restaurants and the local pub. Alternatively, you could curl up by the fire with your fellow backpackers.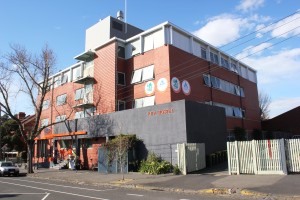 Melbourne Metro YHA
One of the first city accommodation facilities to received Eco-TourismAustralia accreditation, Melbourne Metro YHA has also formalised its environmental commitment through an AAA Tourism Green Stars endorsement of its 4-star rating.
Located on the city fringe, it provides panoramic views of MelbourneCity from the rooftop lounge and BBQ.
The hostel uses a solar system which generates 75 per cent of the hot water it uses. It has ten 440 litre units, each with three solar panels. The combined environmental savings of these units equates to around 70 tonnes of greenhouse gas. It offers a comprehensive recycling system in the kitchens to help guests recycle their paper, plastic containers, glass bottles and aluminium cans. Electronic thermostats have been installed on all heating devices that power-off the system once the temperature reaches the programmed level. And, last but not least, all 52 toilets now operate dual flush cisterns to cut down the amount of water used for sewerage disposal by as much as two-thirds.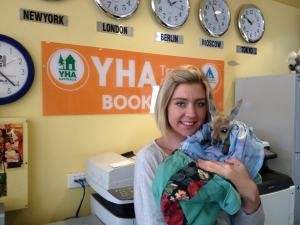 Alice Springs YHA
This hostel, nestled in the centre of this atmospheric outback town, launched its solar powered carbon reduction initiative in January 2012 after successfully winning a grant from the Federal Government's SolarCity project as well as funding from the YHA Hostel Carbon Reduction programme. It allows YHA members and guests to contribute a dollar for each booking made using YHA's website, yha.com.au.
Given its desert location, it is an ideal spot to capitalise on Australia's year round sunshine to generate electricity. The hostel uses a 10.64 kilowatt grid tie solar panel system on its roof, which has 56,190 watt modules, and it will also have a wireless link to the environmental panel to show how much energy it is saving.
Built within the grounds of an historic outdoor movie theatre, the hostel pays homage to the site's history by continuing the tradition of showing movies every night under the stars.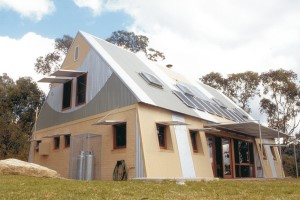 Hawkesbury Heights YHA
This New South Wales hostel, located in the lower Blue Mountains, generates enough solar power for its own use – and more to feed back into the electricity grid. Purpose-built and with great city skyline views, the hostel offers a bush setting close to Blue Mountains National Park with its waterfalls and amazing vistas. See the wildlife – wallabies, possums, lyrebirds and more – or just relax and enjoy the view.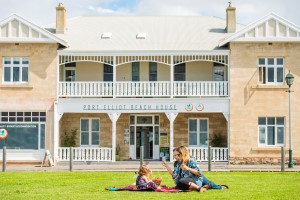 Port Elliot Beach House YHA
This beautifully reconditioned historic building incorporates three organic vegetable beds for guests to pick and cook their own greens. Built on South Australia's spectacular Fleurieu Peninsula, it has 270-degree views to die for. Port Elliot beach is just a short stroll across the road for excellent surfing, swimming and kayaking. Guests can join whale-watching expeditions in the winter months, go bike riding, explore Port Elliot and the seaside resort of Victor Harbor, or try sky-diving or ballooning.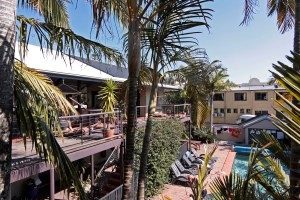 Byron Bay YHA
Byron Bay YHA deserves a mention as the first to be funded under YHA's Carbon Reduction Program. Its solar panels were installed to reduce its dependence on gas to heat water and it is expected to yield a 20 per cent saving in carbon emissions. Savings from reduced energy costs are put back into YHA's Carbon Reduction Fund to buy and generate other renewable energy sources.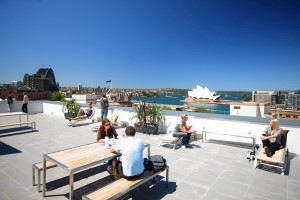 Sydney Harbour YHA
Located in the city's historic harbour-side precinct next to the diamond-sparkled waters of The Rocks, where Sydney first began, this hostel offers deluxe accommodation at a fraction of the prices charged by neighbouring hotels. Close to all the major attractions, from Sydney Harbour Bridge to the cruises on offer in Sydney Harbour, the hostel boasts stunning views of the famous Opera House and harbour.
Built over an important archaeological site of early colonial history, the hostel has over A$1million worth of environmentally sustainable features, including solar hot water panels, a gas powered generator for lower carbon footprint, restricted air conditioning combined with window shutters in bedrooms, rainwater and storm-water tanks for flushing toilets, low energy bulbs, water saver taps and a key card power activation system. An extensive recycling programme is applied throughout the hostel and parking for bikes is provided to encourage guests to use public transport.
For more information about YHA Australia, visit www.yha.com.au.