AFFORDABLE SUSTAINABILITY IN AUSTRIA
AFFORDABLE SUSTAINABILITY IN AUSTRIA   
By CHARLIE FURNISS   
In the UK, sustainability and environmental awareness often seem to be the preserve of the privileged. But in Austria, there are a huge number and variety of affordable places to stay – from B&Bs and guesthouses to campsites and mountain huts – for the environmentally-conscious visitor.
Around 200 tourist accommodation have achieved the standards of the 'Österreichische Umweltzeichen' – Austrian Eco-label – a government-run scheme that attaches particular importance to efficient waste and energy management, easy-to-use recycling systems, minimising the use of packaging and using seasonal, local, organic food, sustainable materials in bedrooms and 'soft chemistry' to clean bathrooms.
It's the same story up in the mountains. In fact, Austria has the largest number of eco-friendly mountain huts of any country in Europe. The 40-bed Adolf Nossberger hut in Carinthia's Schober Mountains is one of 63 that have achieved the prestigious Austrian Alpine Association's 'Seal of Environmental Excellence'. It uses solar-charged batteries to power low-energy light bulbs, sustainably sourced wood for heating and a combination of filtration and composting to process toilet waste. It goes without saying that owner Roland Hummer sources food from local suppliers and minimises the amount of packaging that he uses. However, it seems he will stop at nothing in his quest for sustainability: during the summer months, he lugs 20kg of supplies up the mountain three times a week in order to reduce the number of helicopter flights needed to supply the hut.
For many Austrians who have a traditional respect for the environment, remaining close to nature is an integral part of protecting it, and there are countless opportunities to experience Austria's natural beauty and a traditional way of life.
Farm Holidays in Austria, for example, offers strung-out city dwellers the chance to relax, unwind and reconnect with nature. These farm holidays enable visitors to experience a slower pace of life, where people still make bread, cheese and butter in the traditional way and live their lives according to rhythms of nature – dictated by their animals, the seasons, the weather and so on.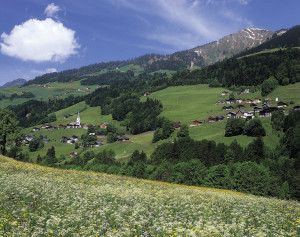 Of course, one of Austria's major attractions is its extraordinary natural beauty. And with more than 60% of its landscape covered by forests, wetlands and grasslands, and almost 30% of it protected, there are no shortage of opportunities to experience this first hand. Visitors to the Great Walser Valley Biosphere Reserve in the western province of Vorarlberg, for example, can, not only enjoy superb high alpine hiking in summer and skiing in winter, but also enjoy the tranquil atmosphere of picturesque villages such as Sonntag and Fontanella where local residents maintain a peaceful, traditional way of life in perfect harmony with nature.
Eco infrastructure
The idea of sustainable tourism however, goes beyond simply offering you a low impact hotel, with several Austrian towns and villages promoting the concept of car-free holidays and low-traffic or vehicle-free zones. At the alpine resorts of Werfenweng, Neukirchen am Grossvenediger and Hinterstoder, for example, subsidised shuttle buses are on hand to transfer visitors to and from the train station and hiking and cycling trails. Solar-powered cars and electric bicycles can be hired at minimal cost, and guests are also provided with free mobile phones with which to hire taxis.
But it's not just the tourist resorts which offer opportunities for low-impact travel. Many of Austria's cities are converting their public transport to clean fuels. Graz, in Styria, is leading the way, the first city in the world to have converted its entire municipal bus fleet to biodiesel.
Environmentally-conscious visitors to Salzburg have it easy in a city where the volume of waste sent to landfill has been reduced from almost 100% to just 15% in the last 15 years. The same is true in Vienna, which aims to reduce the figure to two per cent and where concerts, festivals and other public events now use reusable glasses and cups.
In fact, so high are its everyday environmental standards, that a holiday break in Austria could redefine the meaning of eco-tourism altogether, becoming the term used to describe a holiday where visitors have an opportunity to find out what life could be like in a world where sustainability is a reality.
FACT BOX:
 For more information see: www.austria.info or follow on Twitter: @Austria_UK