5 TRAVEL TIPS EVERYONE SHOULD KNOW
By Lynda Carter and Chantal Cooke
These simple tips will save you time and hassle when travelling…
Tip 1
Scan the page of your passport with your photo and details – and save it as a jpg. Email this to an email account that you can access remotely. If you have a problem later, for example your passport is lost or stolen, then you will have all the details to hand if you can get online. This will speed up the process of reporting it to the police and obtaining a new one.
This simple tip can make a big difference. Recently friends, while on holiday in Spain, had their apartment safe broken into the day before returning home. Two of the family's four passports were stolen. However with an incident number from the police and a scan of their passports on their phone, they were able to travel home on the ferry without the need to wait for replacements. This may not work in all cases BUT it will help!
Never, never part with your passport (apart from at immigration). Take colour photocopies (or prints of the scan) with you to show to receptionists at hotels, cruise ships etc. who ask for the original passport when you check in. They can check that the info on the copy is the same as the original passport and then they can keep the copy – not your original. They do not need the original and there is no legal obligation to let them keep it. If they lose your passport it's a nightmare and in most cases they will say it's not their problem and pass the hassle straight over to you! I have had a few "involved" conversations about this with hotel staff, but just stay firm; it is YOUR RIGHT to keep your passport. It is not their right to take it.
Tip 3
Mobile phones, cameras, kindles, tablets, kettles, hairdryers – the list of small electrical items we now travel with seems to get longer and longer! And yet hotels still seem to have only one, difficult to reach, plug socket in the room! Buy yourself a four-gang three-pin plug on a lead approximately one meter long, then you can plug this into your one travel adaptor plug and charge up to four electrical items at once. The one meter lead also helps if the socket is not located in the most convenient place – which they seldom are!

Tip 4
Attach two address labels to the outside of your suit case – ideally the type that hides most of your address until opened. Remember to add the mobile phone number that you are traveling with. Cases now usually have more than one handle so it is easier to fit the labels. Also, very importantly add your name and address to the inside of your suitcase, ideally clearly visible when it's first opened or unzipped because if it's ever lost this will help ensure it gets returned to you – even if the case has been damaged and the external labels have been torn off.
Tip 5

These days, lots of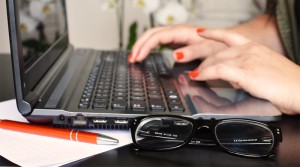 travel documents are emailed to us, for example, e-Tickets, holiday insurance, hotel booking references, etc.  Email these to your remotely accessible email account as well as taking printed copies – so if you mislay them you can find the information quickly and easily. If you only receive these as hard copies, scan them and email them to your remote account. You can even set up a gmail or hotmail account just for your holidays and trips. (But if you do, remember to send an email to and from the account from time to time as dormant accounts are sometimes shut down.)
ABOUT THE AUTHORS
Lynda Carter is owner of The Wall Art Company and a seasoned and well organised traveller. Chantal Cooke is a travel writer and founder of PASSION for the PLANET radio.