SUSTAINABLE PROJECTS IN AUSTRIA
SUSTAINABLE PROJECTS IN AUSTRIA    
Holidays are a time for relaxing and enjoying yourself, however, for the environmentally-conscious traveller this can be a problem. If we're honest about it, most holidays will always weigh in on the negative side of the sustainability equation if we are to have any chance of enjoying ourselves. So, how can there be room for indulgence, relaxation and luxury?
In Austria, a progressive eco-tourism infrastructure is helping the eco-conscious traveller make the best of both worlds – a relaxing holiday with green credentials…
Pielachtal
The Pielachtal valley was awarded the title of "best upcoming rural region" in recognition of its development of sustainable tourism. Here, all travel experiences are built on sustainability – from gardens celebrating the natural landscape, to walking and cycling paths, to regional products and the preservation of rural culture. http://www.pielachtal.info/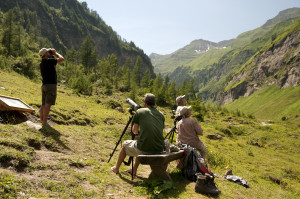 Nationalpark Hohe Tauern
Hohe Tauern National Park offers guided walks, park ranger-led activities, shuttle buses for walkers, regional seasonal gastronomy with a 'zero kilometre' balance sheet, and a special national park active card for easy access to these programmes. Local hosts and regional visitor guides are becoming the most important promoters of natural conservation areas and the diversity of species. http://www.hohetauern.at
Boutiquehotel Stadthalle, Vienna
Vienna's Boutiquehotel Stadthalle is the first hotel in the world with a zero energy balance sheet in an urban context. It is constructed to passive house quality, and meets its heating requirements via groundwater heat pumps (combined with a thermal solar facility) and its electricity requirements via a PV unit. www.hotelstadthalle.at
E-Mobility: Lech-Warth in Vorarlberg
Visitors can hire e-bikes and e-cars, and are provided with all the necessary information about this in hotels and public venues. In addition, the communities of Lech and Warth source 75% of their heating requirements via regional biomass heating plants.
Villa Vita Pannonia, Pamhagen
In 2009, the Villa Vita Pannonia hotel was awarded the national prize for tourism for its 'Eco-Tourist Centre for Renewable Energies' project. In the Eco-Tourist Centre, visitors can learn about sourcing alternative energy, visit the biomass heating plant and get information about photovoltaic systems and solar collectors. More
Building culture in southern Styria, Gamlitz
The landscape of southern Styria is characterised by wine-growing. Along with the natural parks and local communities, Styrian authorities have launched the 'Building with the Landscape' ('Bauen mit der Landschaft') initiative. It offers comprehensive advice to developers, with the aim of preserving the collective impact of the cultural landscape.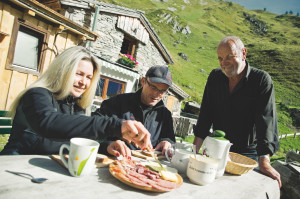 "Ramsauer Bioneers"
In Ramsau, a group of people including businessmen, organic farmers, caterers and hoteliers have made a commitment to sustainability, as the 'Ramsauer bioneers'. All the bioneers produce regionally, process non-GM products, and are guided by the waste and energy criteria of the Austrian eco-label which they have been awarded. The sustainable management of local resources is part of the profiling strategy being used deliberately in communications, and – at the local level – is a constant thematic focus for holidaying in Austria. http://www.bioregion-ramsau.at
A holiday from your car in Werfenweng
The Salzburg town of Werfenweng contributes to environmental protection in a very unique way: guests can take a holiday from their car both in summer and winter. While holidaymakers are encouraged to arrive by train from which a transfer service is offered, those arriving by car can leave their car parked in Werfenweng, with the keys stored in the safe of the tourist office for the duration of their stay. For five euro, guests receive a prepaid card mobile phone and a SAMO advantage pass that takes care of all mobility issues: ELOIS, the electromobile, can always be summoned for taxi services. There is also a complementary night time taxi service. The electricity for ELOIS comes from environmentally-friendly solar energy. Werfenweng has at least 40 establishments that offer holidays from your car.
The non-invasive mobility concept has been introduced in 22 alpine venues in Europe dubbed 'Alpine Pearls'. A long-distance hiking trail connects all of the Alpine Pearls in the six countries of Austria, Switzerland, Italy, France, Germany and Slovenia.
Fact Box:
Environmentally-friendly tourist services
www.umweltzeichen.at
Institute for Integrative Tourism & Development
www.respect.at
Climate compensation for air travel
www.atmosfair.com
Sustainable travel destinations
www.alpine-pearls.com
Austria – arrive and revive