THE SEVEN TYPES OF ECOMMERCE BUSINESS – AND WHY IT'S ESSENTIAL TO KNOW WHICH TYPE YOU ARE
THE SEVEN TYPES OF ECOMMERCE BUSINESS – AND WHY IT'S ESSENTIAL TO KNOW WHICH TYPE YOU ARE   
By Chloë Thomas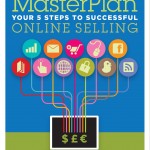 eCommerce businesses come in many shapes and sizes and unless you know, with clarity, which type you are you'll find your business struggling to succeed.
For example there are those that sell just one thing right through to the likes of Amazon and Tesco who sell almost everything! Some have shops, some sell on eBay, others send out catalogues. The type of eCommerce business you are in affects everything you do with that business. If you have shops then you need to keep a certain amount of stock on the shelves – or your shop will look empty – and at the same time keep your website in stock too. If you sell on ebay you don't have to spend too much time on your marketing – ebay brings you traffic, you don't have to, but you do need to streamline your processes as much as possible to reduce your overhead costs.
There is an easy way to classify eCommerce businesses that splits them into just seven different types. Once you know your type, you can easily work out what to do next! Every single eCommerce business fits into one of these seven types – no really, they do. Understanding which of these your eCommerce business fits into will fundamentally change the way you run and market your business.
What are the Seven Types of eCommerce Business and which are you?
Online Only
the only way to see the products is online
Examples: asos.com, lookfantastic.com, Made.com
Mail Order
a transactional website plus a printed catalogue, and possibly one or two physical stores
Examples: Boden, House of Bath, Lands End
Big Bricks and Clicks
lots of physical stores and an eCommerce website
Example:Argos, Boots, Topshop
Boutique Bricks and Clicks
just one or two physical locations plus the eCommerce website
Example: Boswells, Burford Needlecraft, Brownsfashion.com
Mainstream PiggyBack
using the likes of Amazon or eBay to market the products, with no website of their own
Example: Amazon, eBay
Niche PiggyBack
where sellers of similar products come together to market more easily, usually retaining their own blog or eCommerce site elsewhere too.
Example: The craft world (Etsy, Folksy), Hotels (hotels.com, laterooms.com), jewellery (Boticca), and Books (abebooks.co.uk) are good examples.
Full Multichannel
Using multiple shops, catalogues, and eCommerce – by far the most complex and most difficult to achieve and run.
Example: Bravissimo, Crew Clothing, Next
Mail Order is very different to Online Only because a catalogue exists for a long time which puts restrictions on your merchandising – you've got to keep products in stock for longer, and you are very likely to have to deal with backorders. Bricks and Clicks are different to other types because you've got all the overheads of stores to deal with, but also the opportunity to use those stores to drive traffic to your website – and you can create a pick-up-in-store delivery option. The PiggyBack types are a whole new way to do business online – no more struggling to get your website right, just use someone else's and let them bring you business. Then there's Full Multichannel – encompassing it all, and the most heavily reliant on good integrated systems.
How do I work out which I am?
That's fairly straight forward – it's all to do with where you sell your products. If you sell from a physical shop then you're either Full Multichannel, or one of the Bricks and Clicks types. If you have a catalogue you're either Full Multichannel or Mail Order. If you don't have an ecommerce website of your own then you're one of the PiggyBack types.
Am I stuck with the eCommerce Business Type I've got right now?
Over the years your business may progress between different types, but it will always be one of the above. You may start on a Niche PiggyBack structure, move to an Online Only, and finally a Boutique Bricks and Clicks. For companies in non-PiggyBack structures, you may end up on eBay, Amazon or similar as an additional route to market.
I know what I am – what does that mean?
Your eCommerce Business Structure influences everything you do in your business, from your USP to your team structure, to your finances. As discussed above it has a big impact on how you market your business too, if you're a PiggyBack then the person you piggy back on is driving you traffic, so you don't need to worry so much about marketing, you need to focus on product and price. Whereas if you're an Online Only you have to drive your own traffic – so you've got be busy with your marketing.
This table shows the essential marketing methods for each eCommerce Business Structure: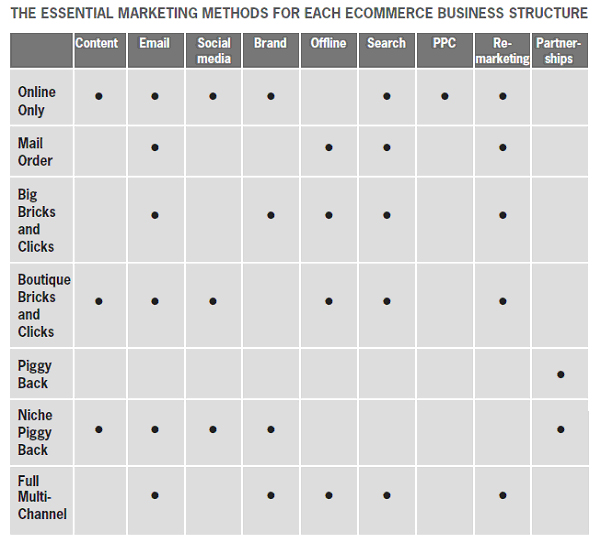 You should use this table as a checklist – which of the marketing methods that really suit your eCommerce Business Structure are you not yet using? Give them a go – you'll see an improvement in sales.This doesn't mean that a Full Multi-Channel business shouldn't use Social Media, but it does mean that a Full Multi-Channel business is seriously missing out if it's not using Email.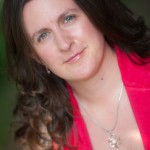 About the Author
Chloë Thomas is author of eCommerce MasterPlan, and runs online marketing agency indiumonline. You can get eCommerce MasterPlan at all good bookshops, on
Amazon.co.uk, and direct from www.eCommerceMasterPlan.com. Kindle and Apple electronic versions are also available.