REDUCING WASTE IN THE COFFEE INDUSTRY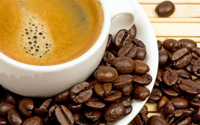 REDUCING WASTE IN THE COFFEE INDUSTRY.
By CHANTAL COOKE.
Most of us hate waste. And most of us enjoy a good cup of coffee. In fact in the UK we buy over 27,680 tonnes of coffee a year.
And in the process our coffee drinking habit produces a lot of waste!
However, Jeremy Knight has found a way to help re-use this waste. His company Redcup takes used coffee grounds, mixes them with UK sourced sheep's wool (as well as other ingredients) and then turns this into pellets that are a great natural garden fertiliser. The resultant product is called Greencup and is available in Notcutts Garden Centres nationwide.
The operation also tries to be as green as possible – when his lorries are delivering new coffee supplies to clients, they collect the old coffee grounds and return them to Redcup. In addition Greencup is powered by Löfbergs Lila where their organic fair-trade coffee is ethically sourced from cooperatives around the world. The coffee is shipped by boat and by train to their roasting house. Smart in-house logistics reduce the number of deliveries.
This is another example of how, if we put our minds to it, we can usually find a good way to reduce, re-use or recycle our waste products.
Have you heard of any other great solutions? We'd love to hear about them.
For more information see: www.greencup.co.uk