PUBLIC SPEAKING: TALKING THE TALK
In Public Speaking circles, Talking the Talk is Walking the Walk. Great oration has shaped our world: Hearts won. Minds inspired. Causes won. Nations forged. All by the spoken word.
Individual lives can be changed too.
Jack Petchey's "Speak Out" Challenge is the biggest public speaking event of its kind in the world. Created in partnership with Speakers Trust, it has trained more than 100,000 young people in the art of public speaking. There are trophies and certificates and cash prizes to be won, but the real reward for those taking part is the boost in self-belief that comes with confidently addressing a room full of people, and the positive impact that self-belief has on their futures.
Camomile Shuma is originally from Zimbabwe, her native tongue is Shona, and she arrived in the UK speaking virtually no English. However, Camomile was one of three young people who spoke at the launch of the 2014 "Speak Out" Challenge programme at the Palace of Westminster, delivering a 2 minute speech on the power of young people to the patron, Baroness King of Bow and a room full of peers from previous years' competitions.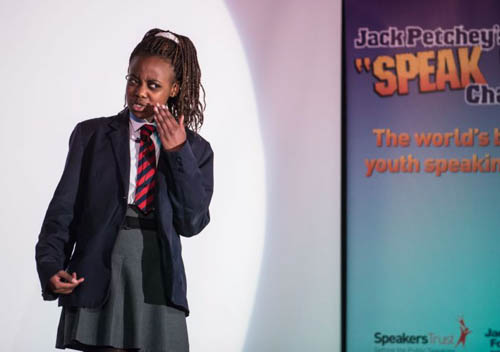 Camomile's interest in public speaking was sparked when "Speak Out" Challenge instructors visited her school, Colchester Academy. Inspired by their talk, Camomile entered the 2013 "Speak Out" Challenge.
Competing students prepare a three minute speech on a topic of their choice. A panel judges delivery (body language, tone, pace etc.) structure (clear beginning, middle, end and a thread that carries you through), and content (interesting, engaging, clear). Camomile's talk at the East Essex final was about her native language, entitled "Forgotten Words".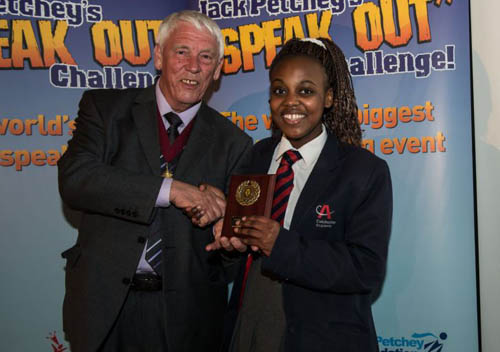 Although Camomile didn't make it to the 2013 Grand Final, she continues to enjoy public speaking, and she says that taking part has helped her to grow in confidence. She believes people see her differently now. They see her potential: Camomile was elected Head Girl at her school, and she became part of the Jack Petchey's Achievers Network – a programme designed for young leaders.
Camomile also received recommendations from her local MP, Bob Russell, who was inspired by her speech, which he witnessed when he was invited to her school for a speaking competition she was hosting. Camomile introduced the competition with a thought provoking speech about 'speaking out' that Mr Russell later told teachers and head teachers completely captivated him.
After taking part in the Jack Petchey's "Speak Out" Challenge! Camomile went on to participate in other competitions around the country, using the techniques she gleaned from taking part in the Challenge. Camomile won best speaker in all of the competitions.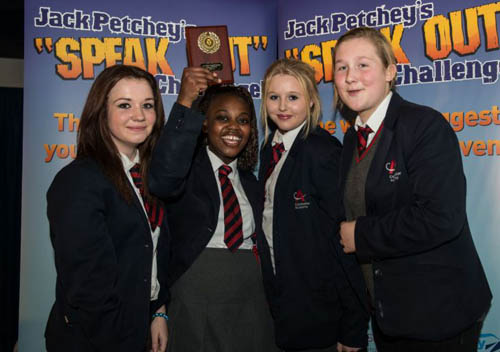 Camomile is currently in her final year (year 11) at Colchester Academy and she hopes to study PPE at Oxford (Politics, Philosophy and Economics); Camomile believes she wouldn't have chosen this path if it hadn't been for the Jack Petchey's "Speak Out" Challenge!
FACT BOX:
Jack Petchey's "Speak Out" Challenge! is the biggest public speaking event of its kind in the world. Now in its ninth year £4million pounds has been invested in schools to train over 100,000 year 10 students so far.
See: www.speakoutchallenge.com
Twitter: @SpeakersTrust / #SpeakOutChallenge / #speakout
YouTube: view here
The Jack Petchey Foundation was founded by Jack Petchey CBE in 1999 and has invested over £85 million in programmes to inspire and motivate young people.
See: www.jackpetcheyfoundation.org.uk
Twitter: @JPFoundation
The Speakers Trust is the UK's leading public speaking training charity, specialising in the education, not-for-profit and community sectors.
See: www.speakerstrust.org/contact-us/
Twitter: @SpeakersTrust