BECOMING A LONDON LEADER IN SUSTAINABILITY
By Rhiannon Lewis
Would you like to help make London a more sustainable city?
Do you have an idea for a project that will improve quality of life for Londoners?
London Leaders brings together London's leading lights in sustainability, to deliver real change, and inspire others to do the same. Being part of this pioneering, pan-London programme means you are helping to make a sustainable London a reality.
Applications for the 2011 London Leaders programme are now open.
The 2011 programme will run from February 2011 to February 2012.
What is London Leaders?
London Leaders is a pioneering, pan-London programme run by the London Sustainable Development Commission to:
– Inspire and catalyse positive change
– Demonstrate sustainability in action
– Increase London's capacity for leadership in sustainable development
Each year, we select 15 people from all walks of life to be London Leaders. Each person commits to delivering a unique project over the course of a year that will improve quality of life for Londoners.
Past London Leaders have included working mums, chefs, teachers, musicians, business-owners and representatives from London's football clubs. In 2009 Chantal Cooke co-founder of PASSION for the PLANET was one of our London Leaders with her "Munch Less Meat" project to help reduce the amount of meat we consume in the capital.
Successful London Leaders will receive bespoke support from the London Sustainable Development Commission and London Leaders programme team at the GLA to develop and deliver a project that demonstrates sustainability in action.
Our inspirational London Leaders have been delivering real change since 2007 – and now it could be your turn.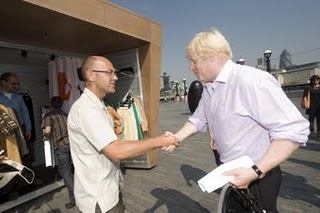 What's in it for you?
-The opportunity to play a key role in the development of sustainability thinking and practice in London
-Support to make contacts, implement and publicise your project
-Access to innovation and strategic thinking in the heart of London
-Advice on funding and sponsorship options
-Leadership training and other professional development opportunities
-The opportunity to showcase your personal and organisation's commitment to sustainability
-Opportunities to speak at conferences and events
What do we ask of you in return?
-Participate actively in the programme for 12 months
-Commit to and deliver a project that, however big or small, goes beyond 'business as usual' and delivers practical, positive change
-Attend programme/project/networking sessions – approx. 12 meetings over 12 months
-Play an active role in the London Leaders Network and inspire and motivate others to make sustainable change happen
-Participate in an evaluation of your involvement in the London Leaders programme after 12 months

What are we looking for?
The LSDC is looking for dynamic individuals from across London that are passionate about making a difference, and can commit to deliver a project, however big or small, that goes beyond 'business as usual'.
Applicants should exemplify delivery of sustainable development in one or more of the following areas:
-Climate change and resource use
-Local quality of life
-Sustainable economy
-Equal life chances for all
We welcome applications from people from all backgrounds and sectors – business, public, academic and the third sector and individuals from local communities – that live or work within the Greater London area.
The closing date for applications is Friday 4th February 2011 at 5pm.
For More Inforamtion: http://www.londonsdc.org/londonleaders/become_london_leader.aspx
Once again we are pleased to team up with PASSION for the PLANET as the official London Leaders radio station.

About the Author: Rhiannon Lewis is part of the Sustainable Development Team at the Greater London Authority