LIVING THE CALIFORNIA LIFE IN VALLEY CENTER
LIVING THE CALIFORNIA LIFE IN VALLEY CENTER   
By CHANTAL COOKE   
I have spent the last couple of weeks house-and-dog-sitting for friends in Valley Center, California. Valley Center is not the sort of place you'd visit as a tourist – there's not a lot going on and it's a bit too far from both Los Angeles and San Diego to make it a stop off point or worthy of a day trip.  So if you're in Valley Center you're probably a local. And that means I have been pretending to be a local while I am here.
Despite its name there is no real centre to Valley Center – it's a loose collection of large houses, each set in a decent sized plot of land, plus there are some orange and avocado groves and a lot of fields. Its surrounded on all sides by hills and most activity (the bank, post office, petrol station, the few shops and fruit stalls, etc.) happens around the cross roads of Cole Grade Road and Valley Center Road.
So what I have discovered about living here over the last 14 days?
1)      June. It's the perfect time of year to be here. The temperature is warm, the sun shines, the sky is blue and there is a gentle breeze. Comfortably warm in t-shirt and shorts, but not baking hot.
2)      Everyone has a dog.  Ok, maybe not EVERYone, but it seems most people do – and they have more than one. And they bark a lot when you go by. Having a dog gives you a great excuse to go walking – provided you don't mind walking up and down hills as it's not very flat here.  One of my walks takes me past lots of horses and through an orange orchard with trees heavy with fruit; another crosses the tops of three hills and affords fantastic views over the valley; and the other is perfect for early evening – down a steep hill to a large pond (that the dogs always jump in) then up the other side and through the dappled light of the avocado groves and then out onto the top of the hill to watch the sun go down and the sky go pink.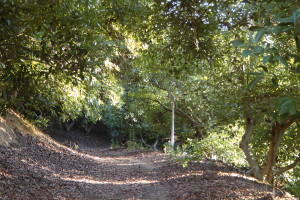 3)      Get a pool.  Again, a bit like a dog, everyone has one. You don't need a swimming pool – you simply need a splash-about-in-the-water pool. Sitting in the sun, dangling your feet in the cool water, reading a great book – well, what more could you want?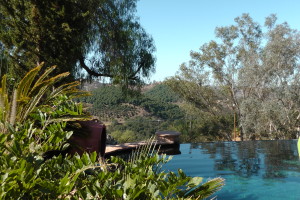 4)      Wildlife. Keep your eyes open … there is a lot of wildlife to enjoy here and it's quite different from the UK. Look out for coyotes and roadrunners, watch ground squirrels and rabbits, listen to unusual birds and catch a glimpse of the tiny hummingbirds feeding on the flowers, then look up to see turkey vultures and red-tailed and red-shouldered hawks. And expect to be awed by giant, brightly coloured butterflies.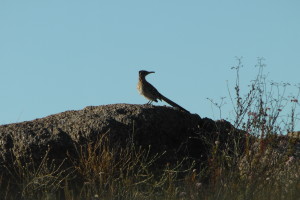 5)      Avocadoes. I love avocadoes, but in the UK they are expensive and often disappointing. Here the opposite is true – they are cheap and always perfectly ripe and delicious. Pick up five for $1 from a farmer's stall by the side of the road.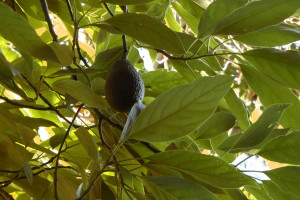 6)      A little bit of culture. Valley Center has a lovely public library  which is very welcoming and runs daily events. There is chair yoga on Monday and Wednesdays and mat yoga on Tuesday and Thursday, and a gentle (very gentle) zumba class on a Saturday morning. Plus activities for children, writing groups, book groups, crafts… it's a real hub of the community and worth a visit. Next door is the Valley Center Historical Museum where you can visit the smallest post office in the USA! And it is tiny! Then take a gentle amble around the nature garden and learn the names of some of the native plants.
7)      Food.  I am not a massive fan of American food – it always seems a bit light on the vegetables and a heavy on the fat, sugar and portion size!  However I have discovered two great places to eat. Both are very casual so don't worry about dressing up.
Mommas is open mornings only and serves a delicious oatmeal with blueberries, cinnamon and banana, plus one of the best 'iced coffee frappes' I have ever tasted.  Sit at their tables outside under the trees and listen to the birds while you chill out.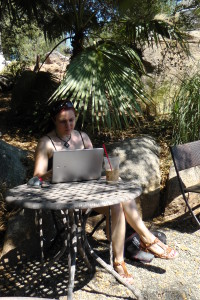 In the evening, if you are feeling hungry, then Portinos  is the place to go. Again, very casual so no need to dress up. You can choose from American style pasta, pizza and salads. Try the Portinos Special Salad – lots of greens, candied walnuts, raisins, apple slices and crumbled cheese. Delicious. And as if that wasn't enough, it comes with soft garlic buttered bread sticks.
8)      Get told off. I got told off by a short guy from Texas. And it was the nicest telling off I have ever had. In fact he was so nice about it I completely forgot I was being told off! And I went away wondering how on earth he'd made his point clearly and so pleasantly.  I am tempted to get told off again – just to learn his amazing technique.  If you'd like to experience getting told off, then the trick is to walk your dogs, off the lead, around the church park.
There is a lot more to do in Valley Center than I imagined – and I haven't even talked about the Lavender Farm, Bates Nut Farm, the karaoke nights at the Eagles Nest, Lake Wohlford café and open houses with cookies and milk – you'll have to come visit and pretend to be a local for a few days!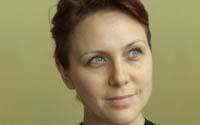 About the Author:
Chantal Cooke is an award winning journalist and broadcaster with a passion for the planet. In 2002 she co-founded the award winning radio station PASSION for the PLANET and in 2009 Chantal was awarded London Leader in Sustainability status. Chantal also runs a successful communications agency – Panpathic Communications.