FIESTAS ON YOUR DOORSTEP IN SPAIN
FIESTAS ON YOUR DOORSTEP IN SPAIN: THE DANCE OF THE MOMA IN VALENCIA.  
By PATRICK WALLER, THE SPANISH THYME TRAVELLER.  
It is one of life's mysteries that we sometimes don't see things even when they are right in front of our noses. We travel to ridiculously far away places to explore when we don't even know the hills behind our own house or the village, 25km away.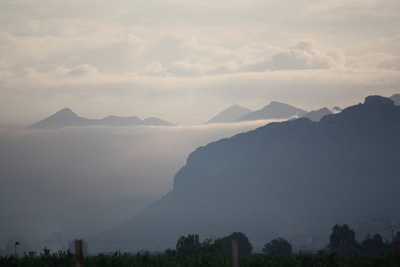 I read somewhere that when you stay or live somewhere, to really get to know the place you should make a 10km circle around your house and then explore within that circle on foot to really know your 'patch'; then, the surrounding 30-40kms on a bike; then up to a 100kms by car, always moving further out working in a circle.
The idea is more or less close to my own philosophy for exploring around my house. I know within the 40km mark pretty well. Being a walker and lover of finding new routes, places to eat, canyons, forests, etc., I do 'explore' quite a lot.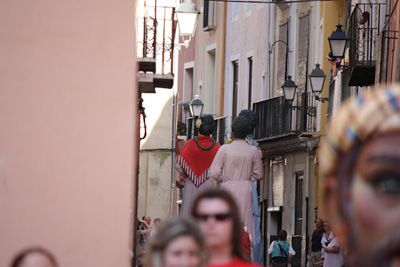 However, even the most intrepid and dedicated explorer misses details, events and wonders of nature. I, for some reason, have never managed to see The Dance of The Moma! I have heard of it and indeed knew it occurred annually but I have never seen it. As it is part of the Corpus Cristi celebrations and has religious connotations I never really understood what it was all about and I was never really interested in it.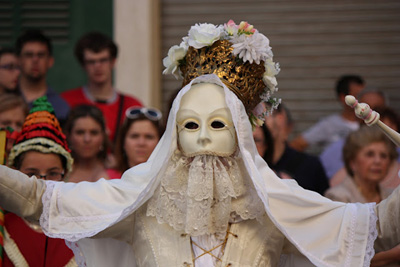 About six months ago I visited a bodega (Los Frailes in Fontanares) and the kind owner got me to try a bottle of wine with the name La Moma (excellent wine, by the way!) and asked me did I know what La Moma was.
She explained to me that it was a historical symbolic figure which represents Virtue and appears every Corpus Cristi in Valencia and also in several towns in the province. In the Dance of The Moma, Virtue is tempted by seven figures who represent the Seven Deadly Sins. All very Catholic mixed up with a bit of theatre.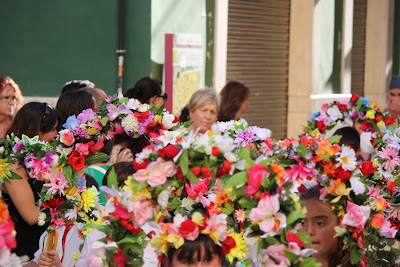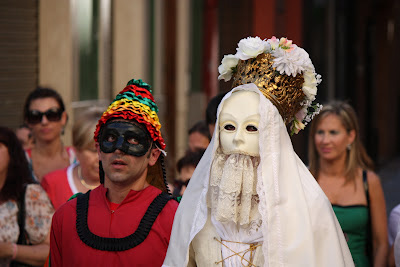 So, having learned about La Moma my wife Julia and I went to see the Corpus Cristi procession and the Dance of the Moma, and we were not disappointed. It was a mixture of theatre, religion (albeit not patently present) and tradition.
The costumes were brilliant and there was a distinct medieval atmosphere, which was enhanced by the narrow old streets of Xativa and by the appearance of the Cabezudos (Bigheads) and the Gigantes (Giants) who wandered, danced and marched from church to church in the old part of town.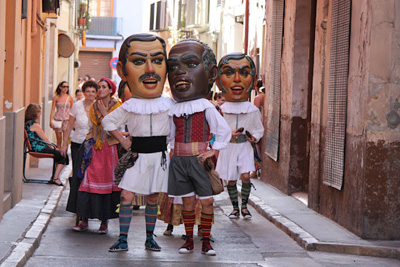 Not normally one for religious processions/events I did enjoy the theatrical side and can see why the church encouraged this type of activity to capture the imagination and attention of the illiterate masses in medieval times.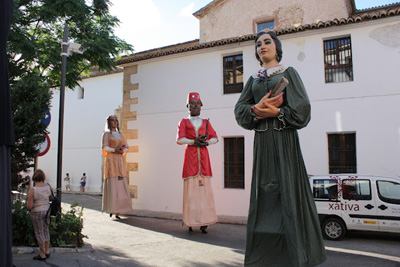 The Dance of the Moma dates back to the 15th century and is an elaborate dance which supposedly only a few can learn (a secret tradition) and was not celebrated much in Franco's time because of its carnival type dance. Revived by a group of Valencianos in the 1960s who were interested in their historical culture, it survives today to be an integral part of the Corpus Cristi procession in Valencia and some of the towns of the interior making it into something well worth experiencing.
About the Author
Patrick Waller is co-owner of The Spanish Thyme Traveller – a boutique travel company specialising in Spanish holidays with a distinctive, personal touch and true passion for all things Spanish. http://www.thespanishthymetraveller.com