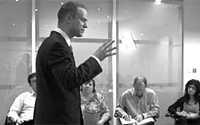 NLP CRISIS MANAGEMENT MODEL.
By NICK HILL.
Introduction
In my delivery of Neuro-Linguistic Programming (NLP) training courses for the purpose of workplace leadership development and management development, I am called upon to discuss change management strategy for my clients and sometimes the need for crisis management also arises. This can be due to a loss of a key account or perhaps a fall in market share.
I have designed the below model to provide a simple step by step approach to managing crisis in the workplace. Keep in mind that I have created this strategy for organisations that are still afloat but have the threat of going under or are making severe cut backs.
1. Identify the worst case scenario
This step ensures that you become clear on the worst case scenario by bringing it to your conscious awareness so you can draw a line under the problem at its very worst. This contrasts with toying with the idea by having it play on your mind. In times when conflict management is necessary in the workplace, the parties can often focus on the worst case scenario without being aware of an immediate strategy to improve on the worst. You will tend to find that once you have ascertained what the worst case scenario is, that the actual situation isn't always as bad as you once thought.
Being able to elicit unconscious cognitive patterns to make yourself consciously aware of them, so that you can manage them more effectively, is an essential self management skill and at the heart of NLP. If the worst case scenario is, in actual fact, worse that you originally thought then at least you are now consciously aware of it. You might then want to consider doing what NLP refers to as a contrastive analysis and compare your circumstances with those people or organisations that are worse off than you. By doing so, you will immediately be able to benefit from a valuable and more balanced perspective. The ability to remain grounded and centred in a crisis management situation is a critical leadership skill.
2. Prepare to accept the worst case scenario
This step will enable you to let go of that which you have no control over. This is another indispensable self management skill. Such situations can sometimes feel like we are clinging on to what we hold dear by our finger tips in fear that we might lose them. The art of running appraisal meetings will test your leadership skills when you need to deliver corrective and firm feedback to a team member for the purpose of performance management. Even when using the NLP feedback model, if you are not prepared for a potentially defensive or impolite response, it could seriously affect your emotional state and your choice of words.
Your emotional intelligence will expand in the moment that you decide to consciously turn your attention to that which has even deeper value for you or at least matters for which you do have control over. Then make a sincere list of your assets that cannot be affected by the worst case scenario such as the basic organisational or team needs that will still be met. Then write in (what I like to call) an NLP in leadership journal until you have convinced yourself that these matters are worth far more than what you could lose even if it means your title, position and reputation.
3. Design coping strategies to manage the worst case scenario
This step then gets you into a proactive state which refocuses your attention on how to cope in such circumstances, rather than focusing on the problem. A high proportion of change management training is delivered after the worst case scenario has occurred by which time we are already at step three. The prevailing problem could well have been prevented if the
organisation had invested time earlier on to engage in brainstorming workshops or sufficiently exercised their communication skills to strategise a way forward. The NLP tool of 'future pacing' gives leaders and managers the conscious ability to anticipate a problem before it strikes and is a key component for effective leadership development training. The phenomenon of 'learned helplessness' causes the state of despair; experienced by people that have exhausted all possibility of a recovery.
In my personal experience, perceived worst case scenarios rarely occur. Michel de Montaigne is famous for saying, 'my life has been full of terrible misfortunes most of which never happened.' Should the worst case scenario actually occur, however, you will be fully prepared and ready to demonstrate your leadership skills, providing that you have satisfactorily completed these first three steps. Keep writing in your journal and get your unconscious thoughts on paper. Visit or at least contact people within organisations that have survived the storm and model their coping strategy.
Such questions that you can ask yourself would be:
'How can we ensure that we survive the storm?
'How can we guarantee that our basic organisational needs are met?'
'How can we safeguard the emotional and mental health of the team?'
'Who can we contact that will support us?'
4. Design strategies to prevent the worst case scenario
Now that you have accepted the worst case scenario and have put in place a crisis management coping strategy, you will now be in much more of a resourceful state to consider improving on the anticipated worst case scenario. NLP offers the goal setting tool known as the well formed outcome which is invaluable in leadership and management when designing a way forward. The purpose of this step is to devote time to building your defences to sufficiently protect you from disaster. It is in these times that we can find ourselves to be the most resourceful and where our problem solving and creative thinking abilities are put to the test. If leadership skills and leadership styles are confirmed in times of crisis and change management, it is through the act of quickly and emphatically strategising a way forward that is ecologically sound for all concerned.
Such questions that you can ask yourself would be:
'How can we preserve our assets at this time?'
'What resources can we draw upon that will help us?'
'What can we do differently to what we have done before?'
'How have other organisations stayed afloat in times like these?'
Conclusion
Of course, it is my hope that crisis never befalls you or your organisation, however, the above four steps will help to steer you in the right direction, should it ever occur. They will give you a balanced perspective on your actual situation and a sense of certainty that should the worst happen, you will have strategies to help you cope. The steps will also refocus you onto solutions rather than the problem and give you preventative medicine to help you avoid a catastrophe. The next step for you would be to engage in valuable NLP and
leadership exercises for the purpose of teambuilding to reframe your circumstances and develop strategies to improve your situation, so that you can drive through the storm, emerging as victors when it is all over.
About the Author
Nicholas C. Hill FIC FInstLM is an INLPTA licensed NLP Business Trainer and Executive Master Coach. As Managing Director for The Hill Consultancy Ltd, he designs and delivers NLP Training courses in leadership development and management development, exclusively for leaders, managers and business owners that want to reach the top of their profession.