DREAMING OF A GREEN CHRISTMAS [PART 3]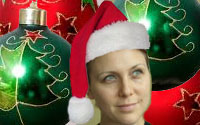 TOP TIPS FOR A LOW CARBON CHRISTMAS [PART 3].  
By CHANTAL COOKE.
Christmas isn't far away, and if you want to make it a low carbon one, here are a few tips …
1) Ditch the turkey – meat production accounts for over 18% of global greenhouse gas emissions (higher than transport!) so cutting back on your meat can make a real difference. How about a healthy nut roast instead? For some meat free recipes try the Munch Less Meat website.

2) No Christmas is complete without chocolate – and now is a great time to treat yourself (remember the diet doesn't start until January!) so if you do fancy some chocolate – look for fair-trade brands. They taste great and help the farmers in the cocoa growing regions.
3) Try a candlelit Christmas dinner. By turning the lights off and going for atmospheric candles you'll reduce your power consumption and in turn your CO2 emissions. It may not make a huge difference, but it's true that every little bit helps and it'll be more Christmassy with candles anyway!

4) Compost your vegetable scraps – don't put them in your dustbin. As they rot down in landfill sites they produce leachate and while sitting in your dustbin they attract vermin. Go for a compost bin or a Greencone if you have a garden. If not then ask your local council – many local councils will collect compostable food scraps.
5) Christmas is a time of giving. If you can afford it make one of your gifts a donation to charity – however small, you can be sure your cash will be put to good use. If you haven't got any spare cash then donate some of your time. A day volunteering can make a huge difference to you and the charity. It's a great way to give back and for many is an inspiring way to start the new year.
More Low Carbon Christmas Tips on Friday.
About the Author: Chantal Cooke is co-founder of PASSION for the PLANET and a London Leader in Sustainability.