DREAMING OF A GREEN CHRISTMAS [PART 2]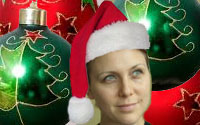 TOP TIPS FOR A LOW CARBON CHRISTMAS [PART 2].  
Christmas is getting closer – are you ready? And will it a low carbon Christmas?

2) If you are buying Christmas cards or wrapping paper – then buy recycled paper and ideally look to support a charity. Many charities offer lovely Christmas cards and paper with profits going to fund their work.
Here are a few top tips to help you cut your carbon and your costs this Christmas…
1) Rather than buying rolls and rolls of wrapping paper, you could make your own by decorating newspaper, or wrap your presents in pretty pieces of fabric that can be reused again and again.

3) Big bowls of nuts are synonymous with a tradition Christmas so make sure you include some fair-trade Brazil nuts. Eating Brazil nuts from the Amazon gives people a sustainable income and helps to preserve the forest, soaking up even more carbon from the atmosphere!

4) When you are shopping for Christmas lunch look locally produced meat and vegetables. Transporting food long distances from overseas or even just from the other end of the UK produces many tonnes of CO2 every day, so check the labels and ask the shopkeeper where the food was produced.
5) After Christmas lunch, if you're visiting family and friends locally why not suggest that you all walk, rather than take the car. It might even help to work up an appetite for the mince pies at teatime, as well as reduce carbon emissions from using petrol.
More Low Carbon Christmas Tips on Monday.
About the Author: Chantal Cooke is co-founder of PASSION for the PLANET and a London Leader in Sustainability.