SPAIN: FOODIES' PARADISE AND A LAND OF QUALITY INGREDIENTS
SPAIN: FOODIES' PARADISE AND A LAND OF QUALITY INGREDIENTS   
By Patrick Waller   
When it comes to great recipes and excellent food, the secret is in the raw materials. This is what any chef in the world will tell you. Spanish food without doubt is up there with the best in the world. It has a diversity and depth which makes it accessible and popular to all tastes.
But  where do Spaniards buy their food?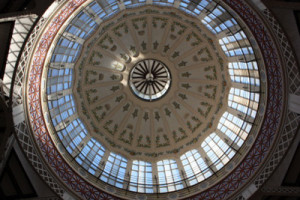 The ceiling of Valencia Central market
The crude reality, in these modern times, is that the average Spaniard buys his groceries from a modern supermarket – usually Mercadona, Dia or Carrefour. However, many people still go to the typical indoor food markets. Sadly, they are slowly dying out all over Spain, except where they are subsidised by the tourists in the big cities, where hordes of food-loving visitors stroll through the markets, marveling at the fantastic produce on show.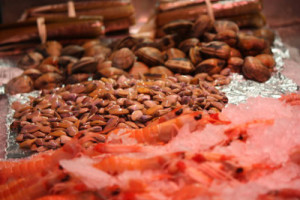 Seafood on show in Valencia Central Market
So are there no Spanish buyers in the food markets? Well, yes there are, but they tend to shop in these markets for something special rather than as a daily occurrence. In times past, people shopped daily in these markets because fridges were either non-existent or very small. My mother-in-law at her ripe old age (I won't tell you her age because she would be mortified! Well, in truth, she changes her age according to who she is talking to, so even I don't know after all these years!) still goes to the Central Market in Valencia.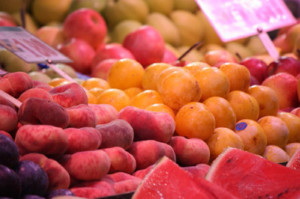 Fresh Fruit in Valencia's Central Market
She goes to her local market on a regular basis and to the central one a couple of times a month to buy quality fish and seafood. My mother-in-law is indeed an amazing cook and always uses quality ingredients.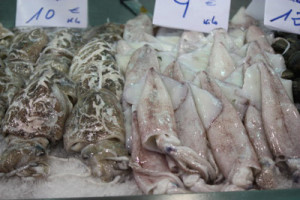 Cuttlefish: a Spanish speciality
Her trips to Valencia Central Market involve a good walk and a bus ride with her shopping trolley. It's a sort of Iron Man course for pensioners because coming back with a full shopping trolley is a real challenge to get on and off the bus.
But there is a very good reason why she shuns her local supermarket with all the mod-cons and packaged goods to cross the city with her trolley packed with cuttlefish, squid, pescaditos and prawns: the quality of the food. She prefers to make the journey and suffer the difficulties in order to have what she knows, from her decades of cooking, is the best.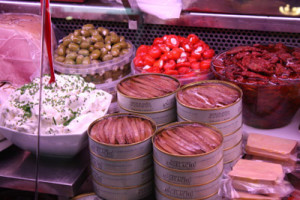 Large anchovies, stuffed vegetables and delicacies in Valencia Market
Using this simple analogy of quality raw ingredients then Spain as a country and as a tourist destination has quality ingredients in abundance: great food and wine, amazing cities, great rural interiors, fantastic architecture, lovely outgoing people, fantastic and unique historical monuments, quiet provincial towns where you can soak up that Spanish lifestyle, music, fiestas, real coffee, sunshine, spectacular mountains …the list is endless.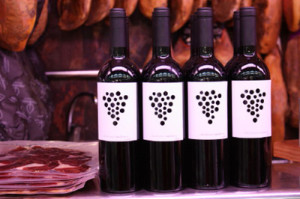 Valencia has some class (undiscovered) wines
Spain is without doubt the best recipe around for holidays whether it be a cultural, food and wine, activity or beach holiday.
About the Author
Patrick Waller is co-owner of The Spanish Thyme Traveller – a boutique travel company specialising in Spanish holidays with a distinctive, personal touch and true passion for all things Spanish.