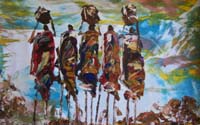 SHAKE MAKELELE – BRINGING KENYAN ART TO LONDON


Shake Makelele is a Kenyan artist using oil, acrylic and water-colours to create vibrant works of art on paper and on canvas.  He comes from Taita in Southern Kenya – near the Tsavo National Park.


Shake uses art to "express my views, my creativity and share it with the various people of the world. I also like to share my experiences about the social and cultural issues affecting my people."


He has had many exhibitions around the world, and for him each provides a unique experience; "In Scotland we even went up to The Isle Of Skye in Portree. It was amazing. The people in that region are so cultural and they have their own language. I also exhibited in Trieste in Italy. Again, it was a really enjoyable experience, as we met many people with whom we could share experiences – the African and the Italian perspective."


Kenya is a country full of beautiful landscapes but it's the Maasai and Turkana lands that really inspires Shake.
"I have a great deal of respect for the Maasai and Turkana tribes, as they have maintained their culture though time, and while they have been influenced by the modern world, they still fight to keep the traditions alive." explains Shake.
Shake also loves the wildlife of Kenya and most likes to visit the Maasai Mara, watching the animals migrating and crossing the Mara River, and "wondering how they know when to start the migration." His best game-viewing partners are his children. "They will enjoy each and every moment and ask me many questions, although I might not be able to provide answers to them all!" says Shake.
Kenya has seen many changes over recent years so how does Shake feel about the country and where it is headed? "It feels good, as there are is a lot of transformation taking place in Kenya, especially after the new constitution was put in place. All the people are excited every time a new bill is signed by the president and it becomes a law. Also the building of roads, and the various projects being carried out by the government are helping to make Kenya a business hub for Africa."
Shake is keen to welcome visitors to Kenya; "Come and share your experience with the people you meet here and wherever you go.  Any cultural sharing and comparison is a good thing – that way we will be able to make the world a better place for us all. Even though we come from different countries, we live on the same planet and this makes us equal, though maybe due to our financial status we my seem different."
So where would Shake take a new visitor to Nairobi? He suggests downtown Nairobi on the River Road. "This is where one can get things cheap. Also one of the oldest buildings is to be found here and it's a very historic area. If you want to get to know the people of Kenya it's always best to see how they are going on with their daily lives. It's the busiest part of Nairobi 24hrs a day, and there is certainly a lot of life in these parts. In fact visiting Kenya is the experience of a lifetime."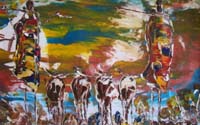 About Shake Makelele
Shake Makelele is part of the Crazy About Kenya project, which was set up by Acacia Africa. The main aim of the project is to promote Kenyan culture.
For more information about;
Acacia Africa: www.acacia-africa.com
Crazy About Kenya: http://crazyaboutkenya.com/artists/ShakeMakelele/
Shake Makelele: http://www.shakemakelele.co.ke