Q&A: NELL'S DAIRY – MILK THE TRADITIONAL WAY
We chat to Caroline Fleming founder of Nell's Dairy about why their milk is un-homogenised and what this means for us and the cows…
What inspired you to set up Nell's Dairy and how has the dairy changed since it first started?
I grew up on a farm, so a love of the industry has been instilled in me from a young age! Nell's Dairy was inspired by a trip my husband and I took to Italy – we noticed all the locals buying their milk from vending machines and we wondered, why there was nothing similar in the UK – our eureka moment!
This enabled Adam, my husband, to realize a lifelong dream and start to build his own herd of pedigree Guernsey cows! This takes time, so we started off very small, but now we are milking between twenty, to twenty-five, per day. Our business has also expanded as we now sell our milk online nationwide as well as to local shops who stock it on their shelves.
You state that you make milk 'in the traditional way' – what does this mean for the cows, the actual milk production and the end consumer?  
What we mean when we say the traditional way is our girls aren't constantly pushed for yield, as most dairy herds are these days. Instead, we focus on quality; we milk once a day, so the cows are less stressed, which leads to a better quality milk. We also feed our girls mostly on grass based feeds – all of which are organic. A lot of intensive dairy herds are kept indoors all year round now, but not at Nell's Dairy – we try and get our girls out on the beautiful Cotswold pasture as much as possible! So generally, our traditional milking practice gives our girls a better life.
We also process our milk in the traditional way, or in other words, as little as possible! Our milk isn't homogenised as most milk is these days, so you will find it separates out to leave a delicious, creamy layer on the top. We also pasteurise our milk at a low temperature for a long time; this makes the process much longer than in commercial pasteurising, but it preserves the natural flavour of the milk more.
We feel that the less you do to your food, the better; and anything you do do, must be done in the most gentle way possible. We believe this leads to a better product and thus, benefits the end consumer more.

Your milk is un-homogenised? What does this mean and why have you chosen to do this?  
Homogenisation is a process whereby the milk is forced through a sieve at high pressures to emulsify the fat particles so that it stays suspended in the liquid. By not doing this, you will notice that when you leave our milk undisturbed for a few minutes, a layer of cream starts to form on top of the milk.
The homogenisation process has no impact on the quality of milk; it simply makes it more uniform – so we argue that it is just unnecessary processing! We wanted our milk to be as natural as possible and so we do not homgenise our milk.
What are you cows fed on and are they organically reared?
The milk produced by our cows is 100% organic because our cows are reared on 100% organic land. The farm that our cows are reared on was organic long before they got there and having the herd there fits in really well with the system.
Our cows are mostly fed on grass based feeds, whether it be straight organic grass leys or grass silage (fermented grass) which is cut ready for the winter months.
What feedback have you had from customers about your milk?
Our milk has washed down very well with all of our customers – generally, people find it difficult to find anything in the supermarket that competes with it in terms of its flavour, texture and health credentials.
We also receive a lot of praise on how we run our business as well, putting quality and the welfare of our girls ahead of profit margins!
We are very grateful to our customers – they have helped tremendously to spread the word about us and they continue to be loyal supporters of our cause!
What next for Nell's Dairy?  
We are currently working on our Nell's Dairy Hub. This will enable our customers to place an order online and then collect it from a collection point near them. This means that customers will be able to have milk delivered somewhere convenient, without incurring any delivery charge whatsoever!
We are also starting to supply our milk to local cafes and coffee shops, so watch this space!
Where can we buy/find out more in UK?
You can buy our milk online at www.nellsdairy.co.uk or alternatively you can visit the Burford Garden Centre or The Upton Smokery in Burford or Potterspury in Northamptonshire.
Our milk vending machine at The Cotswold Farm Park is also still open!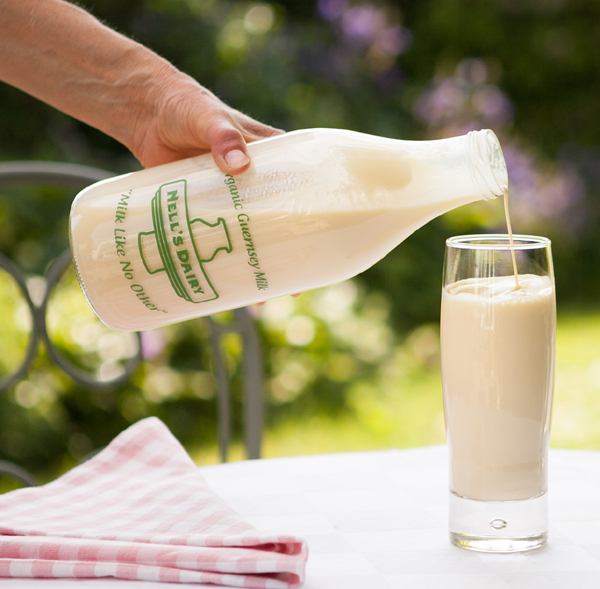 TASTE TEST:
We received a sample of Nell's Dairy organic milk and put it to the test…
In short; it was delicious! It tasted like milk used to taste when we were growing up.  It has a rich creamy yellow colour and is perfect for porridge and cereals. We found it too rich for tea (we're used to semi-skimmed milk) but in coffee and hot chocolate it was perfect.  We definitely prefer this to the usual organic milk bought at the supermarket or delivered by the milkman – it has far more taste. We'll be buying again.