Q&A: CORRYMOOR MOHAIR SOCKS
We chat to Stephen of Corrymoor Mohair Socks – a Devon-based company producing mohair socks from their herd of organic angora goats.
What inspired you to launch Corrymoor Mohair Socks?
We settled here in the lovely Blackdown Hills in East Devon in 1986 and soon acquired some Angora Goats. We started by using the lovely mohair from the goats to make into shawls, scarves, gloves and so on and sold these at country shows and other fairs.
After a while, we realised we needed to add more value to the products and did some rational thinking about the fibre. What can you make using a fine fibre that is very resistant to abrasion, doesn't shrink, takes dyes to give nice bright colours, has a magnificent lustre and, best of all, doesn't pick up smells? Answer: Socks.
We started making them by hand on a knitting machine but quickly realized the potential and managed to find a family run firm of socks knitters in the Midlands. They started making four styles for us and we now make 14 styles and dye them in 16 colours. We have sold over 530,000 pairs of socks since we started.
Why do you choose to farm your goats organically?
I am a vet by training and my wife, Jenny, has a degree in ecology and so it was natural for us to set up the farm with an ecological bias. We started with a low input: low output system and soon realized that what we were doing was "Organic". Remember this was 1986 and Organic was "cranky" and farming angora goats, even more so!  As the farm developed and we started up a suckler herd of cattle and a flock of sheep, we stuck to our organic principals and have been registered with the Soil Association since 1990.  Our neighbours all thought we were mad, but now "organic" isn't so silly and, in any case, they all wear the socks!
Why should I choose mohair socks – why not cotton, or wool for example? 
Mohair is ideal for socks as it is much more resistant to abrasion than cotton or wool. Mohair doesn't shrink, doesn't pick up smells, is very difficult to felt and is ideal for any situation where hard use is the name of the game. And what part of our daily life gives the hardest wear on any of our clothes – of course, our socks.

How do you get the hair from the goats to make the socks?
The goats are shorn in much the same way as sheep are shorn.  We take a great deal of care to shear them carefully and to get the fleece off as cleanly as possible. Of course, we know each of the animals individually and so it becomes quite a "personal" process!
Each fleece is weighed and the weight is carefully recorded. The goats grow so much mohair that we have to shear them twice a year – once in the summer (July) and once in the winter (January). Even in the winter shear they are quite glad to get their fleeces off (the equivalent of about five sweaters) and, after shearing, they play and run around with each other in their new found freedom! Of course, they are housed and we give them extra food at this time and make sure they have extra nice dry bedding.
The mohair is sorted into different grades. The finest is Kid mohair which is used for making into fine sweater and scarves or for selling to hand spinners. We use the middle grade, "Young Goat" mohair for the socks – the other grade, "Adult" mohair is used for carpets and furnishings.
After sorting, we wait until we have enough mohair for a batch (about 1500kgs) and then we send it off to be washed (scoured), combed and then spun into our own special yarn.
This then goes to the knitters who knit the socks to our specifications.
Where are the socks made?
The socks are knitted on traditional machinery by a family business that has been making socks for 5 generations. They are in Leicestershire which was once the centre of the UK hosiery industry.
They come in a range of gorgeous colours – what do you use to dye them?  We used commercial acid dyes which enable us to get lovely bright colours time and time again.  We did consider "natural dyes" in the early days but there were problems with repeatability and with potential toxicity of mordants.
 What next for you/your range?
We try to introduce something new each year to keep our faithful Corrymoor Socks-a-holics coming back. This year, we will extend the range of socks with stripes and also extend the choice of our "Collections" – gift bundles of socks at discounted prices.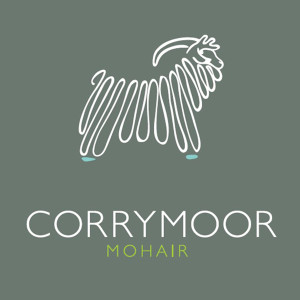 Where can we buy/find out more in UK? 
We have an increasing number of outlets around the UK – as well as some in Denmark, Spain, the US and Slovakia! But the best place is to visit our website where you can see the whole range www.corrymoor.com  and also you can see the shows and other events which we will be attending this year.