OFF GRID AND ECO: PLAYA CATIVO IN COSTA RICA
By CHANTAL COOKE
Playa Cativo is something special. Tucked away in the south west corner of Costa Rica is the Piedra Blanca National Park. It hugs the edge of the Golfo Dulce, staring out across the water to the Osa Peninsula.
It's the perfect place to see wildlife, go hiking or kayaking, and generally soak up the beauty of the area.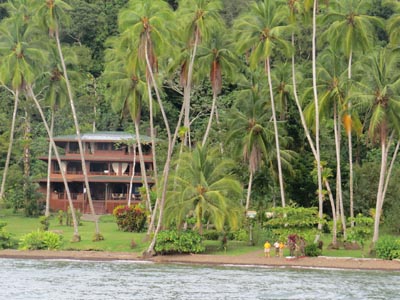 And if you stay at Playa Cativo you can also bask in the green glow of the property's environmental credentials.
It's remote and off grid – but that doesn't mean it skimps on luxury. With a combination of hydro power and solar panels, plus being mindful of their energy consumption, they come pretty close to 100% green energy. Much of the food is grown in their own organic farm, and pool is filled with fresh water from the spring – so it's super clean.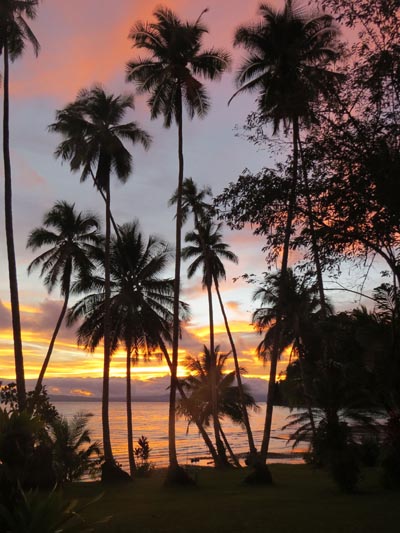 The hotel has also chosen the environment over aesthetics when it comes to the bed linen. None of the bedding is ironed – because ironing uses a huge amount of energy; so better a few wrinkles than a few tonnes of carbon. Another way they save energy is by not providing hair dryers. One quick drying session can use more energy than all the lighting in the hotel. So air drying is de-rigueur here.
All the waste is sorted; organic waste is composted, what can be recycled is separated out and, along with the remainder, is taken to a processing facility in Golfito.
The hotel is proud of its green credentials and very willing to tell guests about what they are doing and hopefully encourage them to take some green ideas home.
And talking of home … the hotel strives for a 'homely' feel – you are welcomed on the beach when your boat arrives, there is no check in desk to queue at and guests are encouraged to pop their heads around the kitchen door if they'd like a drink or a snack.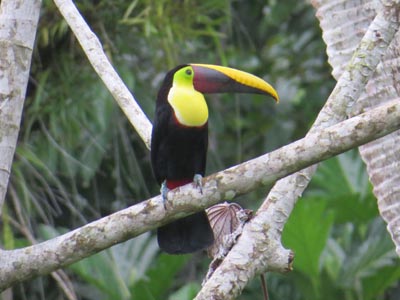 There are only seven rooms here – with a maximum of 21 guests. The rooms are luxurious and offer wonderful views of the ocean. Some are open on three sides providing a sense of being outside when you're inside.
There's plenty of wildlife to see here too ; orange chinned parakeets, black mandible toucans, blue grey tanager and the pendulum tailed blue crested motmot – and many, many more birds, mammals and invertebrates to marvel at.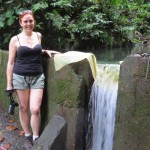 You can also take a walk to the organic farm, or a climb up the hillside to see the dam for the mini hydro-power plant.
Or just sit on the veranda, listen to the ocean and the birds, and relax.
Either way – you'll feel like you are in a green paradise.
FACT BOX:
Playa Cativo – http://www.playacativo.com/
Visiting Costa Rica – www.visitcostarica.com
ABOUT THE AUTHOR
Chantal Cooke is an award winning journalist and broadcaster with a passion for the planet. In 2002 she co-founded the award winning radio station PASSION for the PLANET and in 2009 Chantal was awarded London Leader in Sustainability status. Chantal also runs a successful communications agency: Panpathic Communications.