ARE YOU SEEING THE RIGHT THINGS WHILE ON HOLIDAY?
ARE YOU SEEING THE RIGHT THINGS WHILE ON HOLIDAY?
By CHANTAL COOKE.
Sometimes I wonder if we really know what's worth seeing while on holiday.
Travelling across South Dakota do I stop in the famous town of Deadwood, where Calamity Jane shocked the locals with her bawdy ways, which included cracking a whip, chewing tobacco and cussing?
Do I stop at Saloon Number 10 where Wild Bill Hickok was shot on August 2, 1876 by the drifter John McCall leaving behind the legacy of the Deadman's Hand?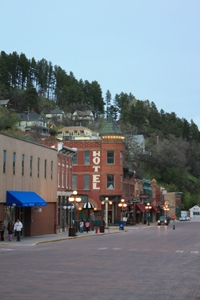 Do I climb the small hill to Mount Moriah Cemetery where Hickok's body now rests?
Do I stop at the saloons lining the main street and try my hand at the tables or on the slots?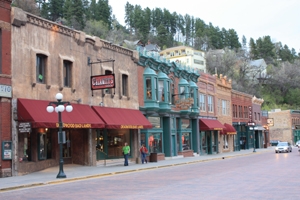 Do I soak up the Disney-like atmosphere of a town that was once on the frontier of the Wild West – where gun fights were the norm and hunting Indians was considered a good job to do?
Or do I drive on North towards Spearfish Canyon taking a little detour to Terry Peak?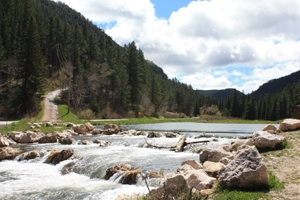 Do I stand atop terry Peak and gaze out across South Dakota, Wyoming and Montana – 100 miles in each direction?
Do I breathe in the cold mountain air whisking through the pines and silver birch trees?
Do I watch the tiny chipmunks hunt for food and the Black Cap Chickadees flit between the trees?
Do I drive down between the canyon's ruddy brown spires of water polished rock stopping to gawp at millions of H2O molecules tobaggoning down the cliffs?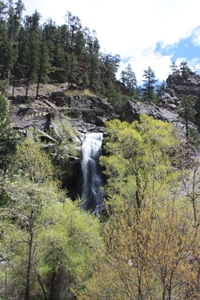 Do I watch American Dippers skimming the creek water as it rushes on its long journey to the Mississippi?
Do I stop to photograph a brightly coloured Tanager bird sitting in the trees by the road?
Do I stare open-mouthed at each corner as new views open up before me or mountains, trees and foamy water?
I guess it depends what you want from a holiday. And there's nothing wrong with wanting both. Let's just hope the Disney of Deadwood never spoils the stimulating scenery of Spearfish.
Travel Notes: A great place to stop after soaking up Spearfish Canyon is the Green Bean fair-trade and organic cafe in Spearfish town centre.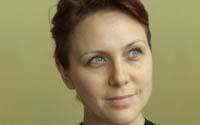 About the Author:
Chantal Cooke is an award winning journalist and broadcaster with a passion for the planet. In 2002 she co-founded the award winning radio station PASSION for the PLANET and in 2009 Chantal was awarded London Leader in Sustainability status. Chantal also runs a successful communications agency – Panpathic Communications.