Q&A: CHILPA – CHAMPIONS OF SLOW FASHION
We chat with Maru Rojas, founder of Mexican slow fashion brand Chilpa:
What is Chilpa?
Chilpa is a UK-based Mexican fashion brand. We specialise in handmade ethical textiles such as traditional Mexican scarves (known as rebozos). A rebozo is a long flat garment similar to a scarf, used since colonial times to cover up and carry babies, and for centuries they have been made in small-home based workshops on mechanical foot looms. Although time consuming, this method is eco-friendly and has a minimal environmental impact.
We believe in quality design made by people who get a fair price for their work and currently work closely with 3 communities of artisans in the Central mountains of Mexico, Tenancingo and Oaxaca.
Chilpa is proud to be a social enterprise, and we will donate 50% of all our profits to a fund established to preserve this tradition within the community. Our aim is to provide training and skills for younger generations of artisans.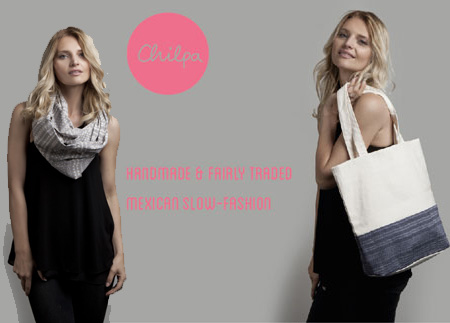 What inspired you to set up Chilpa?
After moving to the UK 7 years ago, I set up Chilpa because I was tired of Mexican mis-representations in the media in so many negative ways. I had also seen how fashion designers became famous by using rebozo fabrics, without acknowledging the people who made it and I wanted to do the opposite. My background is in fine arts/visual arts so I wanted to do something creative that highlighted the beautiful artisanal work done in Mexico. I was also aware that there are fewer rebozo weavers every day so with Chilpa I want to make sure this tradition is preserved.
You say you champion 'slow fashion' – what is this and why do you think it's important?
Slow fashion is the opposite of fast fashion, where mass produced garments are turned around from design stage to shop floor in a few weeks. Due to the poor quality of the materials, the low prices and the changing trends, this disposable fashion quickly ends up being discarded. Slow fashion in the other hand focuses on taking time to ensure quality, encouraging the use fabrics that have a minimal environmental impact and will last longer. It's a "whole-picture" approach to fashion where all things are considered: from the materials, to the manufacturing process to how long the garments will last.
I think this is important for two main reasons. Firstly, most manufacturing plants have terrible working conditions and do not pay living wages. Rana Plaza was only a wake-up call but conditions like this prevail. Mexico is a textile manufacturing country and many fashion brands employ women (especially in the North) yet pay average wages of $1.75USD/day.
Secondly, the fashion industry is the second most polluting industry, second only to oil. Most people are not aware of this so I believe slow fashion is a way of helping people make better choices when buying clothes.
Chilpa champions slow fashion because we ensure we pay a fair price, set by the artisans, for all their products. We visit their work places (often a small workshop at home or close to home) and the whole manufacturing process uses no electricity or fossil fuels. When possible, the scarves are dyed with natural dyes. When using man-made dyes it is done by hand in small batches which has minimal environmental impact.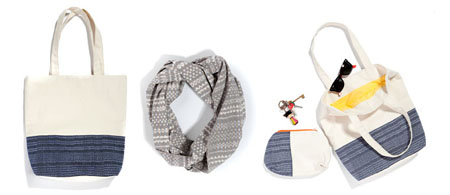 Part of your aim is to preserve the tradition of rebozo weaving in Mexico – what is this and why is it under threat?
Rebozos have been woven and worn in Mexico since before colonial times by women of all classes and backgrounds. However, as times change and fashion trends evolve there was a steep decline in the use of rebozos. This was also a result of new man-made fabrics which could be mass produced to look like rebozos (rebozos were originally made in silk and cotton only). With time, the community of weavers became much smaller. Because all their knowledge and skills was passed down by word-of-mouth there is a real risk of the tradition disappearing completely.
One example is the "rebozo de aroma", which was a rebozo worn only for special occasions – mostly funerals as it is an intense black. It is perfumed with a concoction of herbs during the dyeing process and it preserves this fragrance indefinitely. However, the last rebozo weaver who knew how to make these died five years ago without leaving further details of the technique.
In general, younger generations of Tenancingo and other rebozo weaving towns are looking for other work opportunities that promise a better future. There are very few young weavers to continue with teh tradition.
How are your products made and what makes them a more ethical choice for consumers?
We work with three different communities of weavers and each community has their own traditions which affect the way the products are made. What they have in common is that they're all woven in foot looms or back-strap looms. Most of our rebozos and products are made with locally grown cotton. The communities of Oaxaca employ natural dyes mostly whereas in Tenancingo they are made with traditional Ikat techniques that require man-made dyes. For our new range of products we've stuck with locally sourced canvas and tried to use jute as much as possible. Jute is a a fibre that is grown in Mexico which requires much less water to grow and almost no pesticides.
The manufacturing of our bags and purses is done by a family of women seamstresses in the same town in Tenancingo, who also set up a small workshop from home. They started doing this in their spare time but we hope it will become full-time employment with Chilpa.
What products are in your range?
We're currently promoting our new range of bags & purses, made with rebozos from Tenancingo. They are available on Kickstarter until October 7th. We've been looking to make these water repellent and just yesterday I finally found an eco-friendly option using nano technology. Once I've done some tests we hope to make all the bags on our crowdfunding campaign water repellant at no extra cost. This extends the life of the products and reduces water consumption, etc used in cleaning.
We also have a range of large rebozos dyed with natural dyes (images attached) and our traditional Tenancingo rebozos. All of these can be found on our website.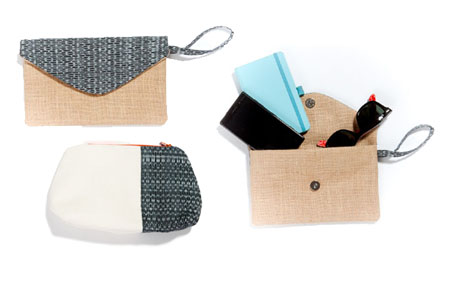 How can I support your campaign and buy your products?
We need to reach our target on Kickstarter by October 7, 2015. We launched this campaign because we want to provide sustainable employment to the artisans of Tenancingo (with whom we've been working the longest) but also further training opportunities. The artisans often find the main obstacle to their success is the lack of experienced weavers who can work with them in the production process and we're striving to change that by donating 20% of the funds to training and development. We also wanted to create everyday contemporary products that incorporated this beautiful fabric, but unlike other large designers, we want to always give recognition to the artisans. So like all our products, each bag will come with a label with the name and photo of the artisan who made it.
The main way to support us now is through Kickstarter, but of course our products are available online all year round. We will be exhibiting at the Barbican Christmas Market, Designer Makers market and Slow Food/Slow Living Market in the next few months.
Kickstarter campaign: https://www.kickstarter.com/projects/chilpa/sustainable-mexican-bags-and-scarves-made-with-lov
Twitter: @WeAreChilpa
Facebook: www.facebook.com/WeAreChilpa
Website: www.chilpa.co.uk