AFTERNOON TEA AT CANNIZARO HOUSE
Lord Tennyson, Oscar Wilde and even the last Maharajah of the Punjab – have all visited Cannizaro House in Wimbledon.
So, with a pedigree like that it's definitely a good place to try out a quintessentially English pastime – afternoon tea.
Part of the property have been refurbished in recent years and the terrace, which used to be outdoors and was a lovely place to sit in summer overlooking the lawns but not so great in winter, is now enclosed in glass creating a large, high ceilinged orangery style room with views across the lawns and towards the forested areas of the extensive grounds.
It's an elegant setting, ideal for afternoon tea. There is a choice of teas and tisanes and as 'free refills' are included you can have a good stab at trying out a variety of different blends.
The vegetarian finger sandwiches were a little disappointing as they were simply plain salad between bread – no variations, and not very exciting or innovative.  But they were freshly made.
All the food was presented on a classic afternoon tiered cake stand with small, sugar dusted scones on one layer and a range of bite sized cakes above. There was plenty of clotted cream to smother the fluffy scones with – so my taste buds thanked me (although I am not sure my arteries were so enthusiastic!)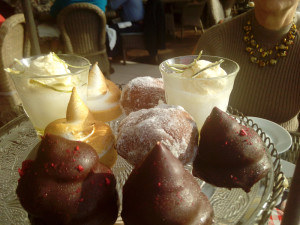 The selection of cakes was unusual and not at all 'traditional' – making a nice change for those, who like me, tend to indulge in afternoon tea as often as possible! A small foamy lemon dessert in a shot glass was a good way to make the transition from scones to cakes. Tiny lemon meringue pies, miniature rhubarb and custard doughnuts, and a cream filled, chocolate coated, swirl finished off the experience – along with plenty of tea, which the waiters readily topped up as soon as we looked like we might be reaching the bottom of the pot.
And as if that's not 'naughty' enough – how about adding a gin to the experience?  Choose from The Sipsmith Sloe, Gin Mare or Monkey 47 – all carefully selected to sit well alongside tea and cakes…
An elegant setting, a refined atmosphere (dogs are allowed – which was wonderful) and a modern take on an old tradition all made for a thoroughly enjoyable and very relaxed afternoon.
And with ample to eat – I'd suggest skipping lunch to ensure you have plenty of room for all the delicious goodies on offer.
FACT BOX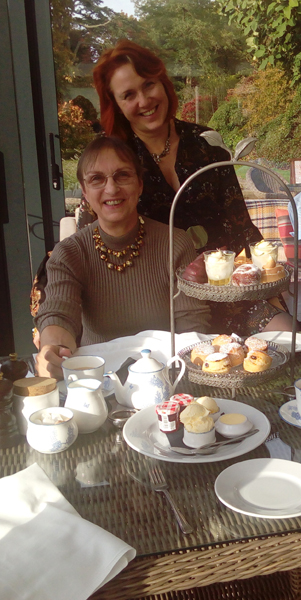 Cannizaro House, Wimbledon is part of the Hotel du Vin group: https://www.hotelduvin.com/locations/wimbledon/
Hotel du Vin is an elegant collection of 17 town house and city centre properties with a particular emphasis on food and beverage. Each boasts its own individuality and personality, resonating from the character of the historic buildings that have been sensitively converted into stylish boutique hotels. The essence of the brand lies in its unyielding commitment to doing the simple things well. A love of wine resonates with substantial wine menu that features many of the world's best and often relatively unknown wine producers. The substance and style of the bedrooms are completed with attentive touches including Egyptian cotton bedding, monsoon power showers and roll-top baths.
Locations: Birmingham, Brighton, Bristol, Cambridge, Cheltenham, Edinburgh, Exeter, Glasgow, Harrogate, Henley-on-Thames, Newcastle, Poole, St Andrews, Tunbridge Wells, Wimbledon, Winchester and York
About the Author:
Chantal Cooke is an award winning journalist and broadcaster with a passion for the planet. In 2002 she co-founded the award winning radio station PASSION for the PLANET and in 2009 Chantal was awarded London Leader in Sustainability status. Chantal also runs a successful communications agency – Panpathic Communications.