3.5 MILLION CRYSTAL REASONS TO FEEL HEALTHY
3.5 MILLION CRYSTAL REASONS TO FEEL HEALTHY   
By CHANTAL COOKE   
The Austrian wellness hotel has finally made it to North America – and as you'd expect fromNorth Americait's bigger and glitzier than its European counterparts.
Wellness hotels offering visitors access to doctors, expert practitioners, bespoke treatments, relaxation and good food in luxurious and stunning locations have been the well kept secret of Austrians for decades. But now North Americans are waking up to the wellness concept on a grand scale.
In Austria you may be in the mountains like the Alpen Med Lamm in Seefeld, or nestled in the valley like the Wiesenhof in Pertisau, or sitting by a lake like Viva Mayr in Maria Worth. At Sparkling Hill in the Okanagan in British Columbia,  Canada you have lakes like small inland seas, and rolling pine covered hills that disappear, wave after wave, into the distance.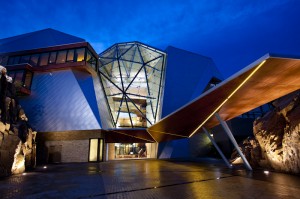 And it's not just the scenery that's bigger. Sparkling Hill covers 250,000 square feet – the biggest spa hotel in Canada, and considerably bigger than those in Europe.
The treatments are European inspired but with a local twist. For example; the Canadian Glacial Clay Wrap and the Maple Sugar Scrub – both worth a try.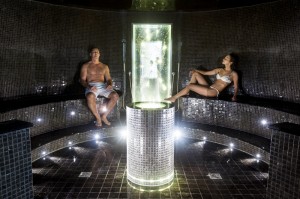 At Sparkling Hill they offer a range of holidays; weight loss, anti aging, cleansing, couples relaxation… take your pick or create your own by simply relaxing and enjoying the facilities.
With fitness classes each day, a well equipped gym and 11km of self guided trails around the lake and though the forests of Predator Ridge, if you choose to indulge in the typical Austrian topfenknödeln and apple strudel you'll have plenty of opportunities to work off the calories.
Sparkling Hill also has North America's first (and, so far, only) cryochamber.   A popular health treatment in central Europe, cryochambers are also used by many professional athletes including the Austrian National Football team, who can often be found getting their high performance bodies briefly chilled in the -110 Celsius chamber. It sounds unbearably cold, but in fact it's surprisingly bearable – for the two minutes you need to stay in there!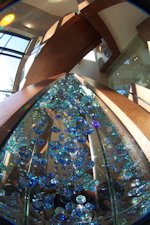 Sparkling Hill is aptly named. In summer the lake sparkles and in winter the snow sparkles – and all year long the 3.5million Swarovski crystals, decorating every aspect of the hotel, sparkle. From the reception to the restaurant, the bar to the bedroom, the spa to the swimming pool – twinkling crystals enticingly remind you that you're here to treat yourself
And if all that luxury and pampering just isn't enough to keep you entertained then the Predator Ridge Golf Resort is on the doorstep, and slightly further afield in Vernon you can try wild harvesting, stand up paddle boarding, and even opal mining!
Sparkling Hill has a lot to tempt you and even more reasons to return.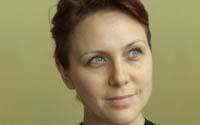 About the Author:
Chantal Cooke is an award winning journalist and broadcaster with a passion for the planet. In 2002 she co-founded the award winning radio station PASSION for the PLANET and in 2009 Chantal was awarded London Leader in Sustainability status. Chantal also runs a successful communications agency – Panpathic Communications.