IS THIS THE UK'S SAFEST SANITISER AND DEODORANT – ALL IN ONE?
First it was wet wipes, then those little bottles of alcohol based sanitiser, and now a water based sanitiser called Aquaint.
Aquaint claims to kill 99.9% of all bacteria in seconds – and yet be safe enough to drink.
It contains just two ingredients; water and Hypochlorous acid. Hypochlorous acid is naturally present in the body in order to fight bacteria and germs. So it is harmless if ingested.  Therefore, you can use it on your hands, face, mouth, on your babies' dummies, on clothes and even to clean fruit and vegetables.
So I thought I'd give it a try – as a deodorant. In theory it should work as body odour is a result of bacteria breaking down the proteins in sweat.  So if it kills 99% of bacteria – it should help combat body odour.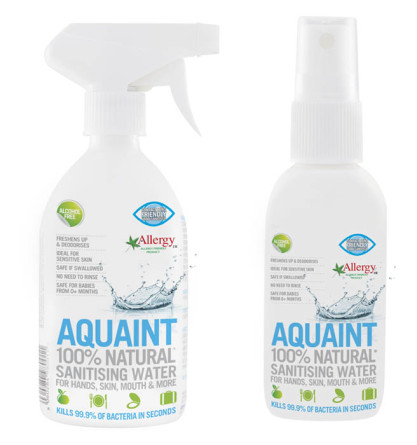 I started by using just a small spray of the Aquaint under my arms – and I can confirm it did work!  It's a little odd spraying what feels like water on your armpits, but it was easy, quick, and no danger of white marks on my clothes.
So then I thought I'd try it on my gym kit… there are some items which no matter how much I wash them still seem to smell as soon as I get warm again while exercising. Yes, Aquaint did help. It didn't eliminate all the smell immediately, but over time it helped.
And finally I tried it on a dry clean top where the arm pits needed cleaning – and, like the gym kit, it certainly helped. And it didn't damage the top.
This is definitely a handy product to have and I like the fact it is natural, safe and multi-purpose (so more environmentally friendly than buying a myriad of products each with its own packaging and associated carbon costs).
It comes in a large bottle (£4.99) and a smaller handbag sized spray (£2.49) which is ideal for travelling; a sanitiser, a deodorant, and a sort of 'dry cleaner' for your clothes – all in one bottle.
FACT BOX
Endorsed by Allergy UK as an allergy friendly product.
Passed official UK Drinking Water tests.
More information: www.aquaint-uk.com
ABOUT THE AUTHOR
Chantal Cooke is an award winning journalist and broadcaster with a passion for the planet. In 2002 she co-founded the award winning radio station PASSION for the PLANET and in 2009 Chantal was awarded London Leader in Sustainability status. Chantal also runs a successful communications agency: Panpathic Communications.