FAKE CLUB – The Sun Kissed Look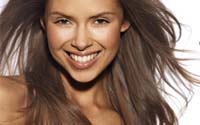 A TAN WITHOUT THE SUN, OR STREAKS.
By CHANTAL COOKE.
Fake tans are a great way of taking the glare off lily white legs. The trouble is if done badly you end up swapping the glare for something even worse – streaks.
We've all seen it (and possibly done it) – streaky legs, blotchy ankles and tan that doesn't look quite right on the feet.
So it was with interest, but a touch of cynicism, that I tried Tantastic Fake Tan. It promised that the Tantastic Applicator Mitt would make all the difference.
And it did.
Tantastic is an instant fake tan. It's a dark brown liquid (which was a little worrying at first) but with the Applicator Mitt on I was easily able to smooth it over my legs and get an even finish. I was also able to gradually fade it over my feet and up beyond the top of my legs where I wanted to stop the tan. There were no odd tan lines, strange circular pattern on my ankles or dark wrinkles on my knees.
It dried within a few minutes, was non-sticky and didn't rub off on my clothes.
The colour was immediate so I could easily see where I had spread the tan and ensure that it was even. Over the next few hours it darkened a little to give me a more golden glow.
And because I used the Mitt there was no left over tan on my hands or caught around my nails to show up as a brown discolouration later!
Tantastic promises no parabens and only natural DHA plus it contains vitamins E and B5 – and they tell me its not tested on animals either.
Overall I was thrilled with the results of Tantastic – by far the best fake I have tried. My one complaint – I wish it was permanent and would never wash off!
See: http://www.tantastic.co.uk