RASPBERRIES KEY TO MAXIMISING WORKOUTS
RASPBERRIES KEY TO MAXIMISING WORKOUTS   
The key to maximising your workout for a toned beach body could be sitting in your fridge; , as top sports nutritionist Anita Bean suggests that raspberries can help you get the most out of your fitness routine this summer.
Recent research suggests that the phytochemicals in raspberries, which give them their ruby rich skin, guard against exercise-induced muscle damage (EIMD) after a strenuous session and speed up recovery1,2,3.
A tough 45 minute gym session burns 300 calories but it also triggers a natural rise in free radical production – molecules that sabotage cell membranes and have a damaging inflammatory effect on muscles, making it harder to get satisfactory results the following session.
A powerful post-gym pick-me-up, a handful of raspberries is packed with anti-inflammatory compounds and antioxidants that immediately start to reduce this damage. Even better, they should be eaten whole as research has shown that taking antioxidant supplements doesn't have the same effect4, and could even be harmful5.
Raspberries also hold the key for those hoping for a post-run 'glow'. Free radicals attack collagen and skin's lipid barrier, resulting in tired skin and wrinkles. Research carried out by the University of East Anglialast year showed that anthocyanins, found in raspberries, are crucial to removing these damaging molecules from the body6.
Anita Bean, leading sports and exercise nutritionist and author of Food for Fitness, said:
 "Raspberries are a source of powerful health-promoting compounds that can help you recover more quickly after exercise. I recommend them to anyone looking to maximise their training, whether they are professional sportspeople, looking to shed a few pounds before their holiday or inspired into action by Britain's role in this year's summer of sport.
"The right nutrition plays a crucial role in the health, wellbeing and performance of athletes, and that's why I recommend raspberries in my clients' daily diets.
"By enhancing recovery and reducing muscle soreness, raspberries can help everyone make greater fitness gains."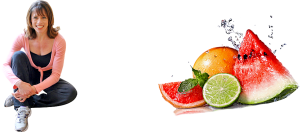 A spokesperson for British Summer Fruitsa, said:
 "Raspberries are a valuable source of vital antioxidants and nutrients. With new varieties of high-quality and excellent flavour available, they are a fantastic natural revitaliser after the gym."
Getting the most from your workout in the run-up to the holidays means knowing how to get the ultimate combination of powerhouse foods that will work with raspberries and promote muscle repair. Anita Bean has created two ultimate raspberry recovery recipes: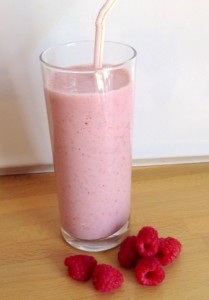 Refresher raspberry and chia shake
This smoothie contains the optimal amount of protein (20g)* to promote muscle repair as well as carbohydrate to refuel your muscles after exercise. The addition of the raspberries makes it a rich source of vitamin C, supplying 34mg or 42% of your RDA; while the chia seeds supply valuable amounts omega-3s, fibre, antioxidants, calcium and magnesium.
85g raspberries
150ml skimmed milk
½ banana, sliced
100g strained 0% fat Greek yogurt
1 tablespoon (15g) clear honey
1 tablespoon (8g) chia seeds
Crushed ice (optional)
Place the ingredients in a smoothie maker or blender and blend until smooth. Pour into a glass and serve immediately
Nutrition:
269 kcal
20g protein
4g fat (1g saturates)
37g carbohydrate (35g total sugars)
7g fibre
*Phillips, S. M., Moore, D. R., Tang, J. E., et al., 'A critical examination of dietary protein requirements, benefits and excesses in athletes', International Journal of Sports Nutrition and Exercise Metabolism, 17 (2007), pp. 58–78.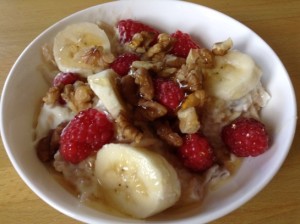 Reviving raspberry bircher muesli
This easy-to-make recipe makes the perfect post-workout breakfast or healthy snack as it contains the ideal 3:1 ratio of carbohydrate to protein to refuel depleted muscles. The high polyphenol and vitamin C content of the raspberries helps reduce muscle damage and inflammation and promotes recovery; while the walnuts supply valuable omega-3s, vitamin E and magnesium.
150g strained 0% fat Greek yogurt
15g oats
1 tablespoon (10g) sultanas
1 small apple, grated
50g raspberries
½ small banana, sliced
1 tablespoon (15g) clear honey
1 tablespoon (10g) chopped walnuts
In a small bowl, mix together the yogurt, oats and sultanas. Cover and leave overnight in the fridge.
To serve, stir in the grated apple, raspberries and bananas; drizzle with the honey and scatter over the chopped walnuts.
Nutrition:
396 kcal
21g protein
9g fat (1g saturates)
55g carbohydrate (44g total sugars)
7g fibre
FACT BOX and REFERENCES:
British Summer Fruits is an organisation that represents 98% of berry growers in the UK. It funds Seasonal Berries – a year-round campaign that celebrates the seasonality of soft fruits. www.seasonalberries.co.uk
Bowtell JL, Sumners DP, Dyer A, Fox P, Mileva KN: Montmorency Cherry Juice Reduces Muscle Damage Caused by Intensive Strength Exercise. Med Sci Sports Exerc 2011, 43(8):1544-1551. PubMed Abstract | Publisher Full Text 
  Trombold JR, Barnes JN, Critchley L, Coyle EF: Ellagitannin Consumption Improves Strength Recovery 2–3 d after Eccentric Exercise.Med Sci Sports Exerc 2010, 42(3):493-498. PubMed Abstract | Publisher Full Text 
McAnulty LS, Nieman DC, Dumke CL, Shooter LA, Henson DA, Utter AC, Milne G, McAnulty SR: Effect of blueberry ingestion on natural killer cell counts, oxidative stress, and inflammation prior to and after 2.5 h of running. Appl Physiol Nutr Metab 2011, 36(6):976-984. PubMed Abstract | Publisher Full Text
Theodorou AA, Nikolaidis MG, Paschalis VP, Koutsias S, Panayiotou GP, Fatouros IG, Koutedakis YK, Jamurtas AZ: No effect of antioxidant supplementation on muscle performance and blood redox status adaptations to eccentric training. Am J Clin Nut 2011, 93:1373-83. Publisher Full Text 
 Gomez-Cabrera MC, Domenech E, Romagnoli M, Arduini A, Borras C, Pallardo FV, Sastre J, Viña J: Oral administration of vitamin C decreases muscle mitochondrial biogenesis and hampers training-induced adaptations in endurance performance. Am J Clin Nutr 2008, 87(1):142-149. PubMed Abstract | Publisher Full Text
University of East Anglia and University of Harvard, January 2013