PUTTING THE 'SHAKE WEIGHT ROLL' TO THE TEST
There are lots of exercise 'gadgets' that claim to help you get the perfect body quickly and easily – and although many of them can help, I am not convinced the '2 minutes a day for one week' type claims are ever going to do anything!
But that doesn't mean the gadgets aren't valid or useful. Anything that gets you moving and exercising is better than sitting on the sofa doing nothing.
I am not an exercise fan so in order to ensure that I do actually do something and that when I am exercising I make the most of the time, I see a personal trainer once a week. For me it's by far the best approach to getting fitter.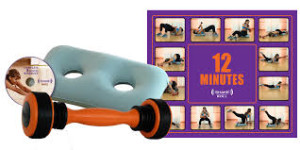 My trainer, Amanda Napper, is a great fan of what she calls 'gym toys', i.e. new bits of kit to use in the gym and keep things interesting.
So when I was given a chance to try the new Shake Weight Roll https://www.shakeweight.co.uk/  – Amanda was my 'go to' person.
The Shake Weight Roll is a dumbbell design, with moveable weights attached to a spring inside, so rather than simply lifting the weight you shake it and make the internal weights move. It works through a method called "dynamic inertia." The user performs this shaking motion in various positions to target the major muscles of the upper body, such as those in the chest, shoulders, and arms. The movement of the device is generated by the user – it is not battery powered.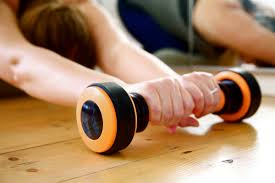 In addition, it can be used as a roller – think ab roller, not foam roller – so you can roll the weight along the floor in order to perform a range of different exercises.
Amanda put the Shake Weight Roll to the test with me and a number of her other clients.
Here are her thoughts:
The Shake Weight Roll appeared sturdy and of good quality. I love new gym gadgets and I was very keen to try it out. I started by watching the DVD and did the exercises they recommended. I found the shaking motion hard to master.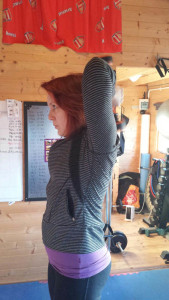 It weighs 2llb 13.5 ounces / 1.295 kilos (as per my kitchen scales).  This weight is too low to produce a noticeable change in muscle if used as a dumbbell; none of my clients use weights this low so it was not beneficial to use it simply as a weight. I have one client who would use this level of weight, but we generally use two weights for most exercises (bicep curls, chest press, fly, front raise, lateral raise etc.)
Like me, my clients found the shaking (up and down) motion hard to master but, that said, if you did manage to shake it for a reasonable time (over 30 seconds) then the muscles did start to ache – indicating that they were being engaged.
We also tried it as a roller. The double handed abdominal rollout (shown in the video) is a very advanced exercise and has the potential to be dangerous if not performed correctly. The Shake Weight Roll was too narrow to be comfortably gripped with both hands. This is an advanced exercise and the narrow base makes the exercise even harder.
However, the single handed abdominal rollout with press up was much more suitable for my clients and the Shake Weight Roll seemed much better suited to this. Please remember though that this is extremely advanced so unless you really know what you are doing, I'd recommend you only performed it under supervision.
The oblique double handed side to side exercise (as demonstrated on the video) was a very good stretch and I'd definitely use it for that.
Whilst the Shake Weight Roll is probably better than someone doing no exercise at all, the weight is very low and you'd soon need something heavier to lift in order to build any muscle. Building muscle is important as muscle needs to be fuelled constantly – meaning it continues burning calories and fat stores long after you stop exercising. Cardio vascular exercise will stop using your stores approximately 10 minutes after you stop exercising. The other big thing to remember is that our bodies are very clever and they adapt really quickly to enable us to do something which we previously considered to be hard. There is little room for progression with the Shake Weight Roll – once your body has adapted to it then what do you do?
Overall, I do believe that any exercise is better than no exercise, so if this inspires someone to get moving – then that is great. Also, it's important to keep exercise interesting and varied, so adding this to your workout or range of gym toys in order to give some variety is also to be recommended. But could you use just this and expect great results? In my opinion; no.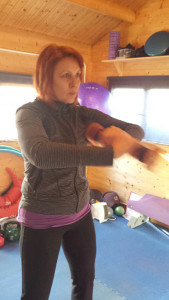 FACT BOX:
Amanda Napper Personal Trainer
ABOUT THE AUTHOR
Chantal Cooke is a professional journalist and co-founder of PASSION for the PLANET radio, and Panpathic Communications. Follow her on Twitter @ChantalCooke