O'Right Haircare Products
Q&A: STEVEN KO, FOUNDER OF O'RIGHT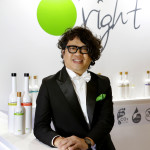 O'right is an environmentally friendly haircare brand – kind to the planet and good for hair. Here we chat with O'right's founder about the brand's dark green credentials:
What inspired you to create the O'right range of products and make them environmentally sensitive?
I suffer from serious allergic symptoms, so in order to improve my health and with the ultimate aim of changing the chemical ridden environment, I am constantly looking everywhere for natural ingredients to make O'right's products healthy and eco-friendly.In 2002, the year O'right launched both of my parents passed away from kidney disease and cancer. Suffering from this sad bereavement, I decided to do something to help people stay away from heavy metals and harmful chemicals. The idea of introducing green haircare products to the market was on my mind from then on.
You claim 'the world's greenest shampoo' – what makes the products so green?
O'right is the world's first cosmetics company to be certified as "Carbon Neutral" in 2011.  
O'right successfully launched the Tree in the Bottle shampoo. The bottle is made of PLA, which is the most eco-friendly plastic material made from plant wastes. The bottle can be buried in the soil. Under proper environmental conditions, the bottle will decompose and the seeds inside will sprout into a tree to generate fresh air.
O'right successfully creates a "green supply chain" which connects suppliers and all of O'right's departments. This supply chain makes suppliers an active participant instead of playing a passive role in the action of creating green values. With shared consensus and mutual trust, we successfully engage the upstream and downstream suppliers in the "Eco Promise" to make the earth more beautiful.
Green material sourcing and product development
O'right keeps purchasing safe and nontoxic materials. By using a large amount of green materials, O'right reduces the use of petrochemical plastics. Priorities are given to the suppliers who are conscious of their environmental and social responsibilities. Eco friendly formulas and packaging materials are constantly developed to reduce the burden of the environment. O'right's eco shampoo is low-carbon and easy to rinse off, saving 20-30% of water for each wash. 
Green Production
O'right uses 100% clean electricity generated onsite from solar and wind power are used for the manufacturing of the products.
Green Product Delivery
O'right implements the policy of collective delivery and customers are encouraged to combine their purchase orders. For delivering O'right products, transporters with hybrid trucks are preferred. GPS tracking devices are required to arrange the shortest delivery route and reduce unnecessary energy consumption.
Green Services for Consumers and End-users
We arrange green seminars for salon partners and have green publications – the O'right quarterly magazine in which we provide information on green trends.
Product Recycling
We develop a packaging reverse logistic to reuse valuable resources. In the three recycling steps, we recycle cartons of bottles delivered for production, shipping cartons and used bottles. The recycling model is absolutely a contribution to environmental protection.
How green is your HQ in Taiwan?
The HQ in Taiwan relies on 100% clean energies of solar and wind power, along with three water recycling systems to effectively reutilize rainwater, water from the pre-production filtration process and post-production water. The water-saving rate is up to 65.5%.
Last but not least, O'right is one of the very few haircare manufacturers in the world with green R&D equipment, eco-friendly design, green production and an excellent green team. The HQ in Taiwan received the Taiwan EEWH Green Building Gold certificate in 2012.
How have you also made the products healthier (not just greener)?
O'right is dedicated to developing eco haircare products. The formulas are upgraded by using selected top amino acid and certified organic glucoside foaming agents, making it more healthy as well as ecofriendly.To ensure the top quality of our products, we use ultrapure water processed in eight purification steps. Super critical Fluid Extraction (SFE) technology is used to retain the active ingredients of plants and local organic plant materials are purchased for extraction to support local farming industry.
Why do you think this is so important?
Every small step counts in bringing about a big change! We are deeply aware that an enterprise must do something for the health and well-being of humans, society and the environment. With the concept of Natural, Pure, Eco-friendly, we hope our products can become green seeds sown around the world, and with these green hopes, we believe we can together make the future more sustainable and beautiful.
Are the products or the ingredients tested on animals?
For all new ingredients and raw materials we do not consider materials tested on animals, but it is not to forget that no longer than ten years ago, materials had to be tested on animals, so most of the materials cosmetic manufacturers all over the world are using right now have been tested on animals. For our own finished products we do the tests on ourselves I.e. the employees.
On our website you also will find a corporate statement in regards to animal testing: http://www.oright.com.tw/en/#/oright?id=11
Where are the products made?
The O'right products are made in Taiwan
Where can we find out more and buy the products in the UK?
If you want more information on O'right please visit the website www.o-right.co.uk O'right is currently stocked in leading online beauty retailers, premium salons, Harvey Nichols and online at www.o-right.co.uk