FOOD TO HELP YOUR BODY FIGHT A COLD
By FIONA KIRK   
You know a bad cold or a mild bout of flu is not life-threatening, you also know there is no known cure so all you can do is cope the best you can while your body fights the virus and that takes time – time you probably don't have.
Many food remedies have been providing symptomatic relief for centuries and some now even have scientific research behind them indicating that perhaps great granny and ancient healers knew a thing or two!
Those that have earned their stripes on the anti-viral, immune-boosting front and are associated with reducing the duration of colds and flu include garlic, onions, chilli and peppers, ginger, Shiitake mushrooms and fermented soya products.
So how do you get these into your day when you are feeling dreadful and there's nothing in the fridge?
Here are a few soups you can make ahead of time, freeze in small containers then all you have to do is drag yourself out of bed, sling a portion in the microwave and reap the nourishing benefits.
Chinese Little Gem and Tofu Soup
(makes 4 servings)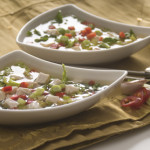 Ingredients
1 tablespoon light olive oil
6-8 spring onions, white part very finely sliced, green part sliced into 1cm pieces
2 cloves garlic, peeled and very finely sliced or crushed
2cm piece of fresh ginger, peeled and thinly sliced or grated
1 litre vegetable stock
300g smoked or unsmoked tofu, cubed
1 small red pepper, deseeded and very finely diced
2 little gem lettuce, shredded
1 teaspoon Tamari
Sea salt and freshly ground white pepper
Method
Warm the oil in a soup pot, add the white part of the spring onion, the garlic and the ginger and sauté gently for 10 minutes or until the onions are soft (don't let them brown).
Add three quarters of the stock, bring slowly to the boil, reduce the heat then add the tofu, red pepper, the green part of the spring onion, the lettuce and the Tamari/soy sauce.
Stir well and simmer gently for 8-10 minutes.
Add the remainder of the stock if you like it more 'liquid', taste and season if required before serving.
Spinach and Watercress Soup
(makes 4 servings)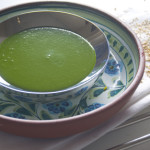 Ingredients
2 tablespoons light olive oil
1 medium onion, peeled and finely chopped
1 litre vegetable stock
1 heaped tablespoon porridge oats
2 bags spinach leaves
1 bag watercress
Fresh lemon juice
Sea salt and freshly ground black pepper
Method
Warm the oil in a large soup pot and sauté the onion gently until soft.
Add the stock and the porridge oats, bring slowly to the boil, turn down the heat and simmer for 15 minutes.
Add the spinach and watercress and keep stirring whilst bringing the soup back to the boil then turn off the heat.
Liquidise the whole lot until you have a smooth, foamy soup then return to a clean pan.
Heat through gently, add a good squeeze of lemon juice and check the seasoning.
You can grate a little lemon zest on top of each bowl for added zing.
And, if you want to take preventative action right now, look no further than a daily supplement of Beta 1,3-1,6 Glucans, the new and exciting immunity giants.
About the Author
For more information about nutritionist and author Fiona Kirk, visit: www.fatbustforever.com