DITCH THE BOTTLE – OPT FOR THE TAP
By VIC JONES
Tap water is cheaper, more eco-friendly and just as good for you as bottled water.
Bottle water costs on average 500 times more than tap water.  The average person spends £25,000 on bottled water in their lifetime, when tap water costs just 0.097p a litre – around 1p for a bucket of water.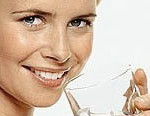 We get through some 18 billion plastic bottles every year in the UK, with only 25% being recycled which means that 38 million end up in landfill or being incinerated every single day.
So do yourself and the planet a favour and turn on the tap.  The UK's tap water is among the safest in the world so what's not to like.  It's checked 30,000 times a year for chemicals and bacteria and undergoes hundreds of taste tests.
Studies show that most people can't tell the difference between bottled water and tap water in blind tastings.  However, there are regional variations in the taste of tap water around the UK as a result of minerals being absorbed by water as it travels through the ground.
If your tap water doesn't suit your taste buds then a simple solution is to use a reusable filter water bottle, for example the H2WOW, Clear2go or Brita.
For every bottle sold H2WOW makes a donation to international water aid charity Just a Drop.
ABOUT THE AUTHOR
Vic Jones is Director of H2WOW   info@h2-wow.co.uk. H2WOW bottles cost £14.99 available at www.h2-wow.co.uk